Tastemaker – Michael Amazona Del Mar
Casting and Show Director
Events Producer & Entrepreneur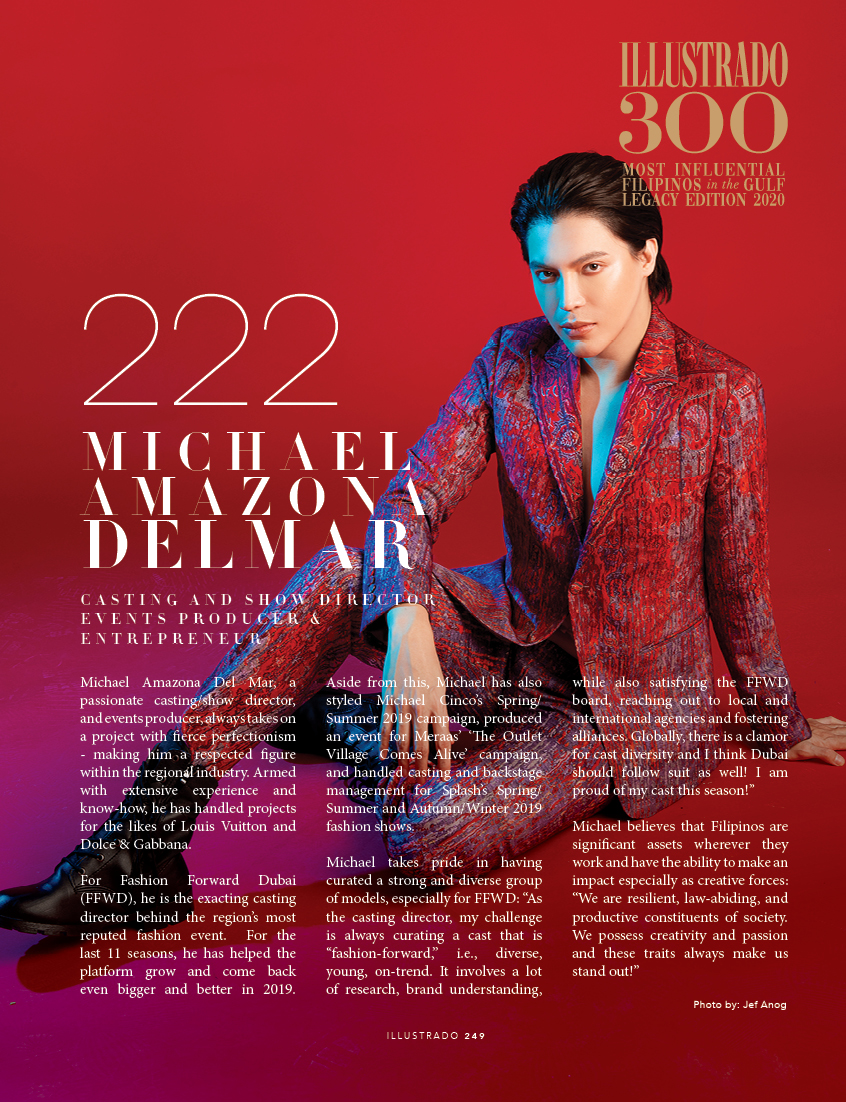 Michael Amazona Del Mar, a passionate casting/show director, and events producer, always takes on a project with fierce perfectionism – making him a respected figure within the regional industry. Armed with extensive experience and know-how, he has handled projects for the likes of Louis Vuitton and Dolce & Gabbana.
For Fashion Forward Dubai (FFWD), he is the exacting casting director behind the region's most reputed fashion event.  For the last 11 seasons, he has helped the platform grow and come back even bigger and better in 2019. Aside from this, Michael has also styled Michael Cinco's Spring/Summer 2019 campaign, produced an event for Meraas' 'The Outlet Village Comes Alive' campaign, and handled casting and backstage management for Splash's Spring/Summer and Autumn/Winter 2019 fashion shows.
Michael takes pride in having curated a strong and diverse group of models, especially for FFWD: "As the casting director, my challenge is always curating a cast that is "fashion-forward," i.e., diverse, young, on-trend. It involves a lot of research, brand understanding, while also satisfying the FFWD board, reaching out to local and international agencies and fostering alliances. Globally, there is a clamor for cast diversity and I think Dubai should follow suit as well! I am proud of my cast this season!"
Michael believes that Filipinos are significant assets wherever they work and have the ability to make an impact especially as creative forces: "We are resilient, law-abiding, and productive constituents of society. We possess creativity and passion and these traits always make us stand out!"
 Illustrado 300 Most Influential Filipinos in the Gulf is Supported by: Kaya Skin Clinic,  Emirates Airline, and Unilever.
Special Thanks to Michael Cinco, Ezra Couture , Giordano, Darcey Flowers, IKON Solutions, Victors Freight, MPQ Tourism, Asia Gulf Companies –La Carne & Filfood, WOL Water
Get a copy of Illustrado 300 Most Influential Filipinos in the Gulf Legacy Edition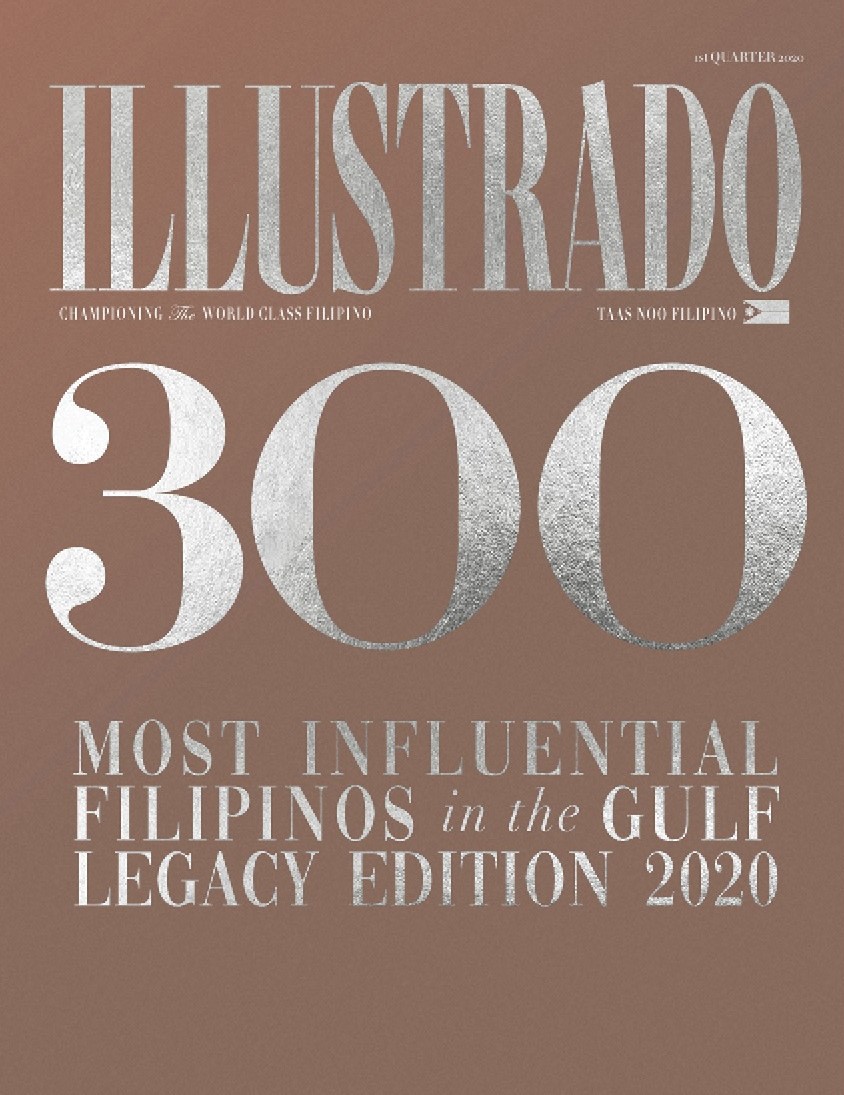 Michael Amazona Del Mar
Casting & Show Director
Events Producer & Entrepreneur 
Casting and show director/events producer Michael Amazona has come a long, long way from his model booker days.  The casting director for the initiative that marked Dubai as a fashion destination for the world, Michael has also worked with some of the world's and the region's biggest brand names not only in casting but also in show directing as well as producing events.
From directing the launch of Louis Vuitton's Haute Joaillerie, to directing Michael Cinco's show at the Arab Fashion Week, 2018 has been a year of many firsts for Michael. He also managed the Dolce and Gabbana show at the Dubai Mall – his most massive production to date featuring 130 top models flown in from Milan. Splash Fashions also turned to Michael for casting and backstage management on their return to the runway after a three-year hiatus, for their 25th Anniversary Fashion Show. On the events front, Michael also conceptualized and produced "Jungle Journey," the most visited in-mall children's attraction during DSS 2018 which saw 20,000 visitors.
Being part of the frontline in a vibrant industry, Michael believes that Filipino representation can be further amplified if we pool together our expertise.  "It is important that we unite for our common good. Given that we all have personal interests, if we pool together our expertise especially on solutions and services that we excel in, then we become a driving force in this economy."
……………………….
Special thanks to our sponsors: Emirates Airline, Stars n Bars La Mer, Liali, Instax – Grandstores UAE, Dusit Thani Dubai, Gver – Your Friendly Marketplace for Sharing, Meeting Dancewear , MPQ, CMG, Filbrit, and our partners Rozen Antonio Photography,  Alex Callueng Photography, Jef Anog Photography, and Ethereal Photography.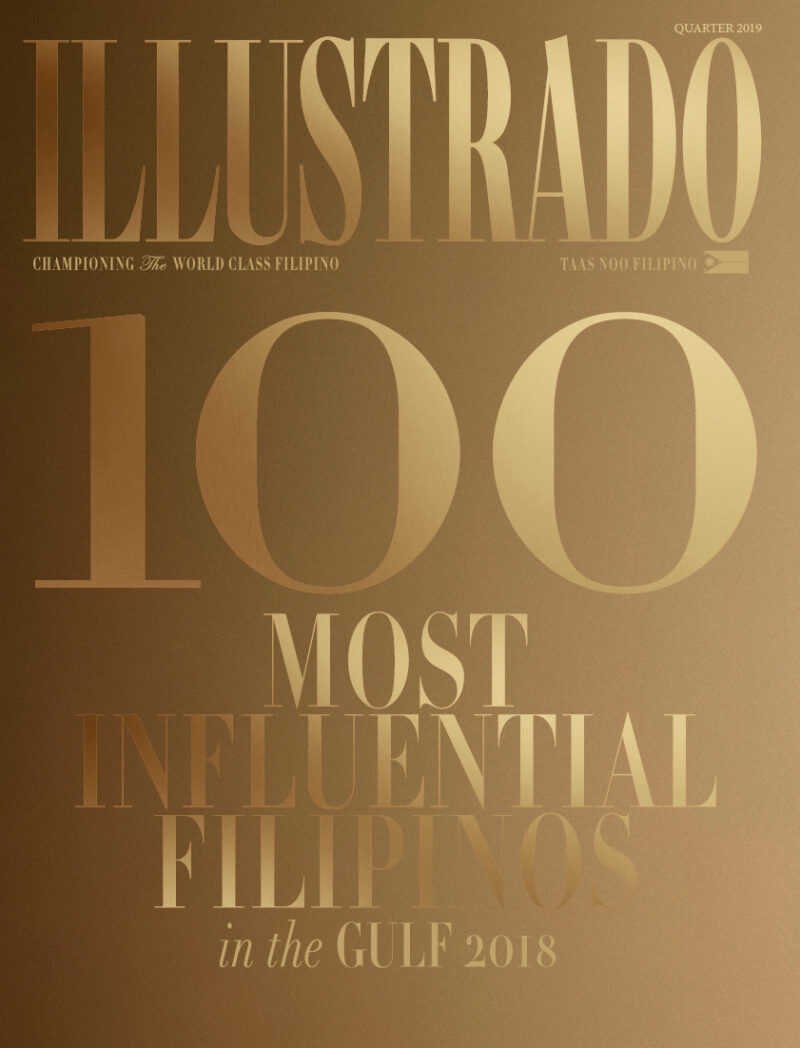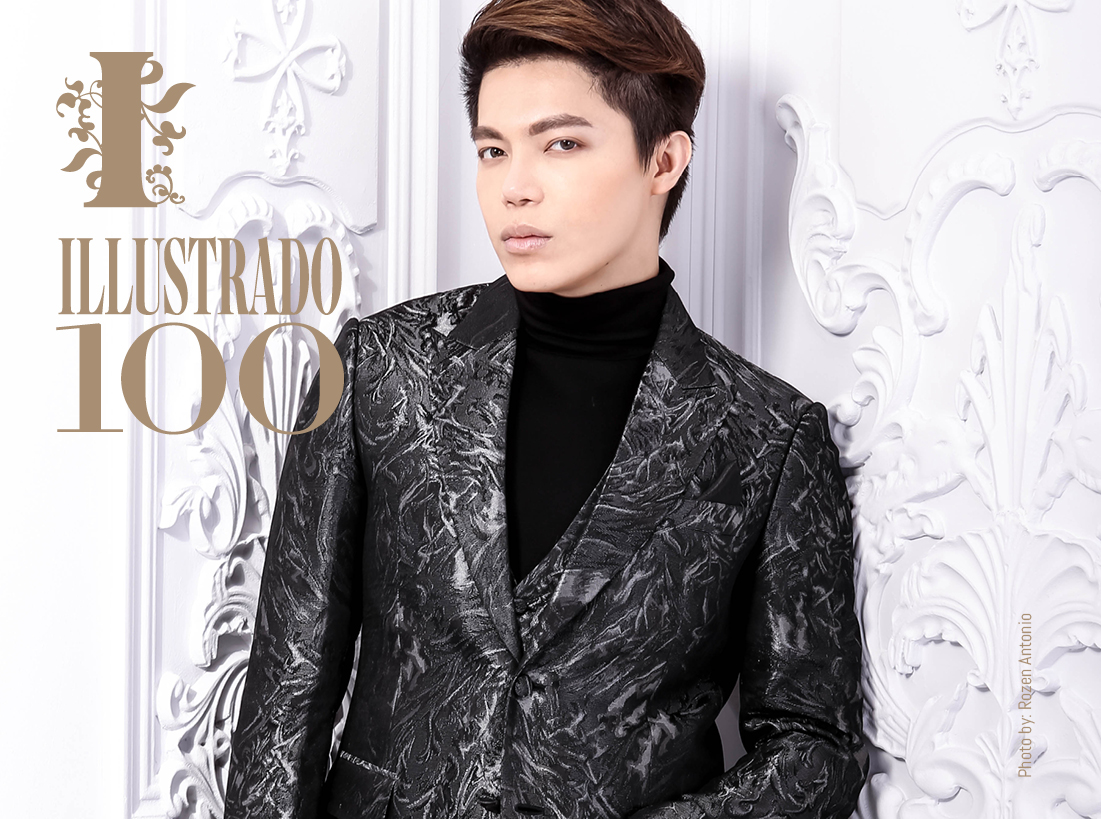 Michael Amazona Del Mar
Casting Director of Fashion Forward
Michael Amazona Del Mar is the Casting Director of what is regarded by many as the single most definitive platform for fashion in all of the Middle East: the Dubai Fashion Forward. Having started out as a model booker, Michael slowly but surely found his way into the elite cabal of Dubai's fashion intelligentsia, where he now sits as a production tour de force. He expounds: "In a crammed period of three weeks, it's my job to be present in all the go-sees, plan & schedule all separate events, and coordinate everything without hitch nor fail."
Michael also takes great pride in having a hand in revolutionizing the standards of casting in the region's modelling industry. He recalls, "In 2012, Bong Guerrero, CEO of Fashion Forward and someone whom I consider a great mentor, gave me a call and asked if I wanted to come on board his company as Casting Director. At the time, 'Casting Director' was not a real profession in Dubai, as models got their bookings directly from the clients. And when I took on the challenge, the tides shifted dramatically. The 'small time model booker' became the 'client' to all the major model agencies in Dubai and around the world."
Of the legacy he wishes to impart, Michael had this to say: "I would like to be remembered as the person who started the casting direction revolution in Dubai –  the person who standardized the Quality of Fashion Show Models across the board and established protocols by which model agencies now abide.
Photo by Alex Callueng; Photography Assistant – Bethoven Filomeno
Special thanks to – Giordano, Nikon, Liali Jewellery, Lulu, Mitsubishi and Western Union.