Tastemaker – Michael Conde
Designer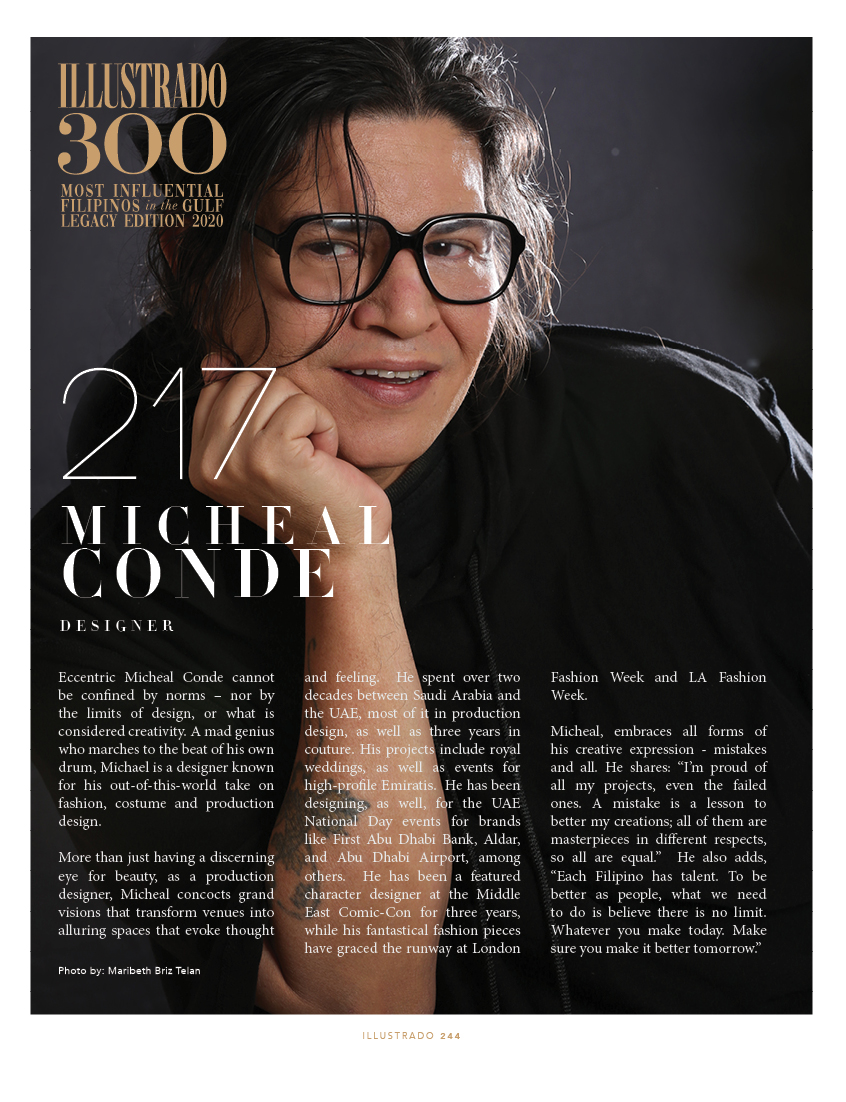 Eccentric Micheal Conde cannot be confined by norms – nor by the limits of design, or what is considered creativity. A mad genius who marches to the beat of his own drum, Michael is a designer known for his out-of-this-world take on fashion, costume and production design.
More than just having a discerning eye for beauty, as a production designer, Micheal concocts grand visions that transform venues into alluring spaces that evoke thought and feeling.  He spent over two decades between Saudi Arabia and the UAE, most of it in production design, as well as three years in couture. His projects include royal weddings, as well as events for high-profile Emiratis.  He has been designing, as well, for the UAE National Day events for brands like First Abu Dhabi Bank, Aldar, and Abu Dhabi Airport, among others.  He has been a featured character designer at the Middle East Comic-Con for three years, while his fantastical fashion pieces have graced the runway at London Fashion Week and LA Fashion Week.
Micheal, embraces all forms of his creative expression – mistakes and all. He shares: "I'm proud of all my projects, even the failed ones. A mistake is a lesson to better my creations; all of them are masterpieces in different respects, so all are equal."  He also adds, "Each Filipino has talent. To be better as people, what we need to do is believe there is no limit. Whatever you make today. Make sure you make it better tomorrow."
Illustrado 300 Most Influential Filipinos in the Gulf is Supported by: Kaya Skin Clinic,  Emirates Airline, and Unilever.
Special Thanks to Michael Cinco, Ezra Couture , Giordano, Darcey Flowers, IKON Solutions, Victors Freight, MPQ Tourism, Asia Gulf Companies –La Carne & Filfood, WOL Water
Get a copy of Illustrado 300 Most Influential Filipinos in the Gulf Legacy Edition