Dr. Michael Purugganan
Scientist
Find ways of enhancing the region's most important and most prolific plant – the date palm, that's Dr. Michael Purugganan's mandate in the UAE capital.  "Our date palm genome project at NYU Abu Dhabi has moved into a new phase with exciting new projects.  We are about to announce a new discovery about North African dates like the Medjool dates, as well as new genes we have found. My research laboratory is also starting new collaborations here in the UAE as well as in France and Saudi Arabia," enthused the globally renowned biologist.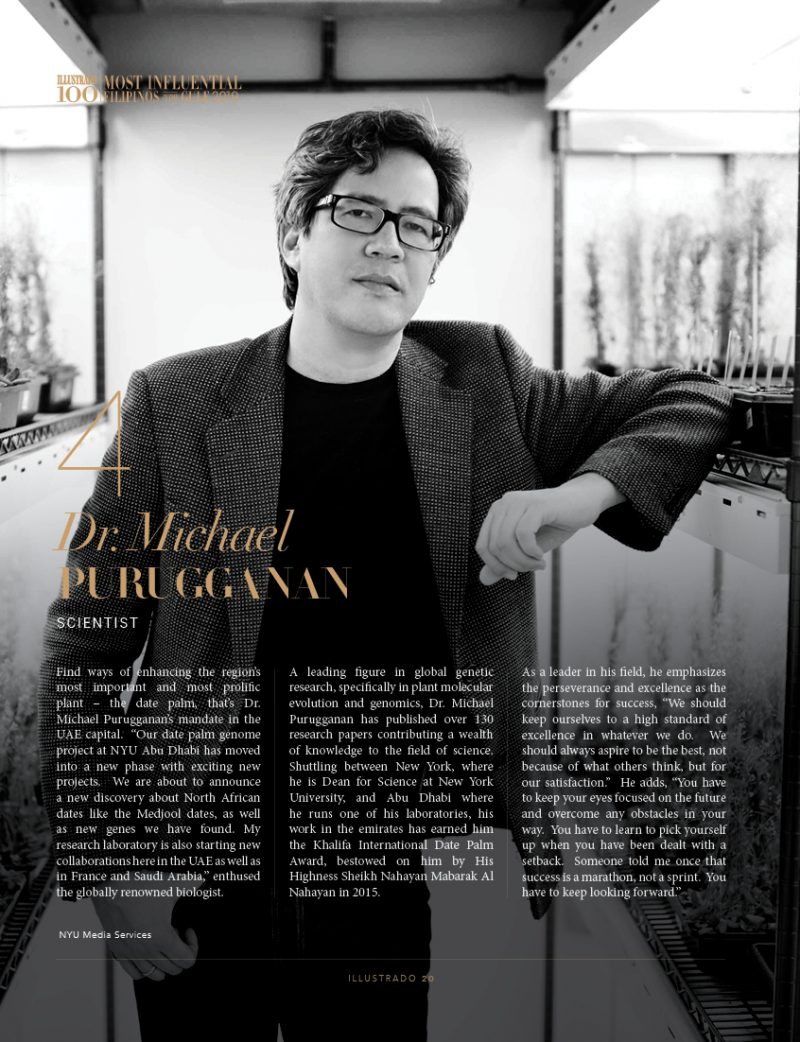 A leading figure in global genetic research, specifically in plant molecular evolution and genomics, Dr. Michael Purugganan has published over 130 research papers contributing a wealth of knowledge to the field of science. Shuttling between New York, where he is Dean for Science at New York University, and Abu Dhabi where he runs one of his laboratories, his work in the emirates has earned him the Khalifa International Date Palm Award, bestowed on him by His Highness Sheikh Nahayan Mabarak Al Nahayan in 2015.
As a leader in his field, he emphasizes the perseverance and excellence as the cornerstones for success, "We should keep ourselves to a high standard of excellence in whatever we do.  We should always aspire to be the best, not because of what others think, but for our satisfaction."
He adds, "You have to keep your eyes focused on the future and overcome any obstacles in your way.  You have to learn to pick yourself up when you have been dealt with a setback.  Someone told me once that success is a marathon, not a sprint.  You have to keep looking forward."
……………………….
Special thanks to our sponsors: Emirates Airline, Stars n Bars La Mer, Liali, Instax – Grandstores UAE, Dusit Thani Dubai, Gver – Your Friendly Marketplace for Sharing, Meeting Dancewear , MPQ, CMG, Filbrit, and our partners Rozen Antonio Photography,  Alex Callueng Photography, Jef Anog Photography, and Ethereal Photography.