Dr. Miguel Syjuco
Novelist, Journalist, and Educator
He's got memes created in his 'honor' and a slew of haters on social media. He has been bashed and harassed and has made a number of prominent 'enemies' – something which appears to be typical, nowadays, for anybody who is publicly known and takes a strong stance whether pro-or against the current government within the rambunctious Philippine political landscape. But for activist Miguel Syjuco, these are all just part and parcel of the duty that he has voluntarily signed up for – something that he has to live with to continue his advocacy.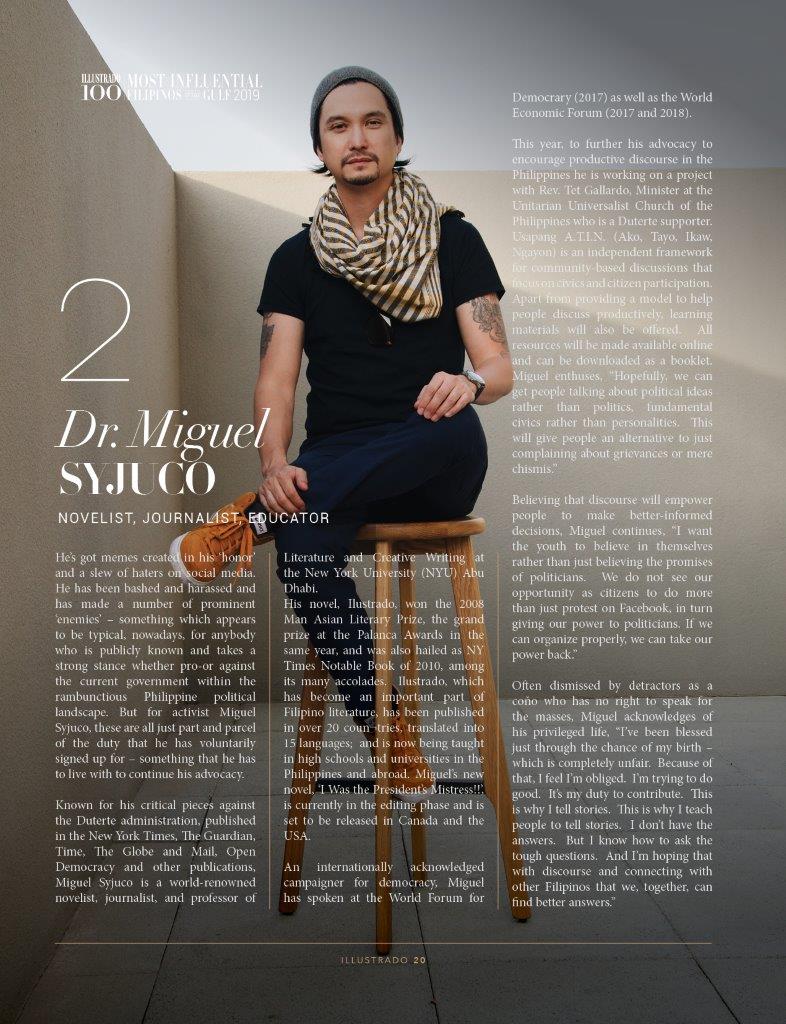 Photo by Alwee Villarosa – Shot at Rove Trade Centre Dubai
Known for his critical pieces against the Duterte administration, published in the New York Times, The Guardian, Time, The Globe and Mail, Open Democracy and other publications, Miguel Syjuco is a world-renowned novelist, journalist, and professor of Literature and Creative Writing at the New York University (NYU) Abu Dhabi.
His novel Ilustrado won the 2008 Man Asian Literary Prize, the grand prize at the Palanca Awards in the same year, and was also hailed as NY Times Notable Book of 2010, among its many accolades.  Ilustrado, which has become an important part of Filipino literature, has been published in over 20 coun­tries, translated into 15 languages;  and is now being taught in high schools and universities in the Philippines and abroad. Miguel's new novel, 'I Was the President's Mistress!!', is currently in the editing phase and is set to be released in Canada and the USA.
An internationally acknowledged campaigner for democracy, Miguel has spoken at the World Forum for Democrary (2017) as well as the World Economic Forum in 2017 and 2018.
This year, to further his advocacy to encourage productive discourse in the Philippines he is working on a project with Rev. Tet Gallardo, Minister at the Unitarian Universalist Church of the Philippines who is a Duterte supporter.  Usapang A.T.I.N. (Ako, Tayo, Ikaw, Ngayon) is an independent framework for community-based discussions that focus on civics and citizen participation.  Apart from providing a model to help people discuss productively, learning materials will also be offered.  All resources will be made available online and can be downloaded as a booklet.  Miguel enthuses, "Hopefully, we can get people talking about political ideas rather than politics, fundamental civics rather than personalities.  This will give people an alternative to just complaining about grievances or mere chismis."
Believing that discourse will empower people to make better-informed decisions, Miguel continues, "I want the youth to believe in themselves rather than just believing the promises of politicians.  We do not see our opportunity as citizens to do more than just protest on Facebook, in turn giving our power to politicians. If we can organize properly, we can take our power back."

Often dismissed by detractors as a coňo who has no right to speak for the masses, Miguel acknowledges of his privileged life, "I've been blessed just through the chance of my birth – which is completely unfair.  Because of that, I feel I'm obliged.  I'm trying to do good.  It's my duty to contribute.  This is why I tell stories.  This is why I teach people to tell stories.  I don't have the answers.  But I know how to ask the tough questions.  And I'm hoping that with discourse and connecting with other Filipinos that we, together, can find better answers."
……………………….
Special thanks to our sponsors: Emirates Airline, Stars n Bars La Mer, Liali, Instax – Grandstores UAE, Dusit Thani Dubai, Gver – Your Friendly Marketplace for Sharing, Meeting Dancewear , MPQ, CMG, Filbrit, and our partners Rozen Antonio Photography,  Alex Callueng Photography, Jef Anog Photography, and Ethereal Photography.