Mme. Yasmin Balajadia Cortes
Diplomatic Spouse
"I gauge every duty based on whether or not I can proudly defend it before my children, and how they can perceive these as beneficial to humanity or not." Spouse of Consul General Paul Raymund Cortes, Mme Yasmin Balajadia Cortes is not only a doting mother of three, but in a broader sense, the genteel nurturing figure serving as a patron endeavoring to constantly uplift and unite the local community with her initiatives under the Philippine Consulate General (PCG) of Dubai and the Northern Emirates.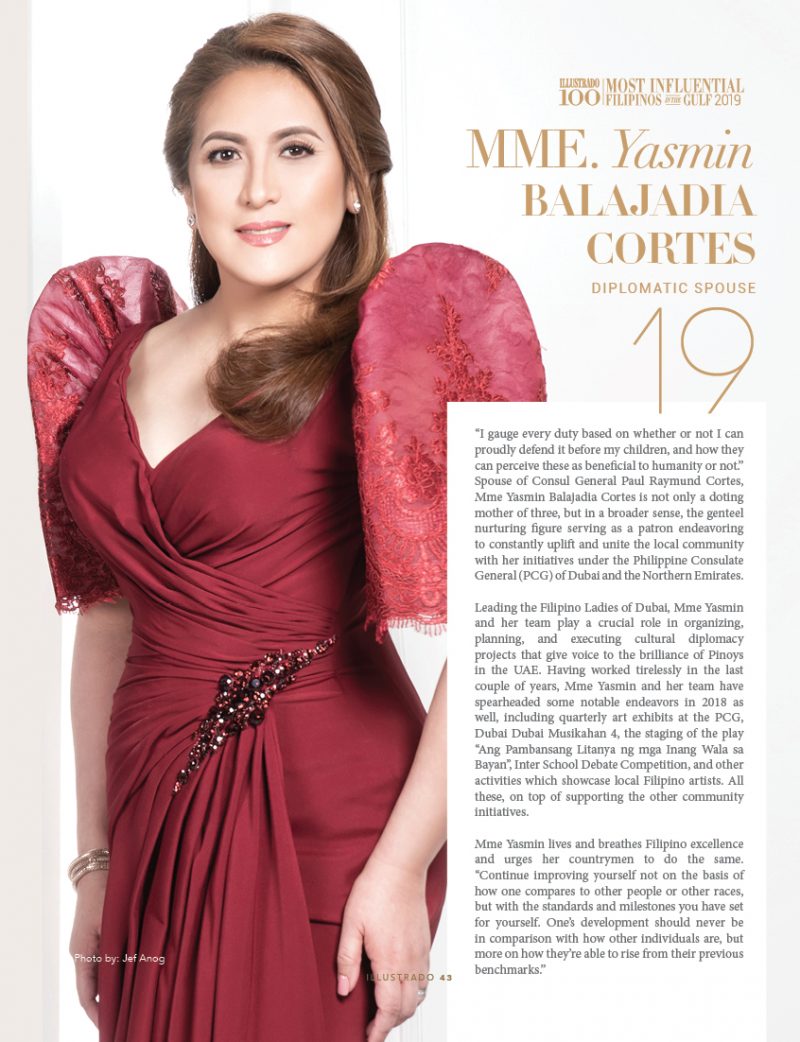 Leading the Filipino Ladies of Dubai, Mme Yasmin and her team play a crucial role in organizing, planning, and executing cultural diplomacy projects that give voice to the brilliance of Pinoys in the UAE. Having worked tirelessly in the last couple of years, Mme Yasmin and her team have spearheaded some notable endeavors in 2018 as well, including quarterly art exhibits at the PCG, Dubai Dubai Musikahan 4, the staging of the play "Ang Pambansang Litanya ng mga Inang Wala sa Bayan", Inter School Debate Competition, and other activities which showcase local Filipino artists. All these, on top of supporting the other community initiatives.
Mme Yasmin lives and breathes Filipino excellence and urges her countrymen to do the same.
"Continue improving yourself not on the basis of how one compares to other people or other races, but with the standards and milestones you have set for yourself. One's development should never be in comparison with how other individuals are, but more on how they're able to rise from their previous benchmarks."
……………………….
Special thanks to our sponsors: Emirates Airline, Stars n Bars La Mer, Liali, Instax – Grandstores UAE, Dusit Thani Dubai, Gver – Your Friendly Marketplace for Sharing, Meeting Dancewear , MPQ, CMG, Filbrit, and our partners Rozen Antonio Photography,  Alex Callueng Photography, Jef Anog Photography, and Ethereal Photography.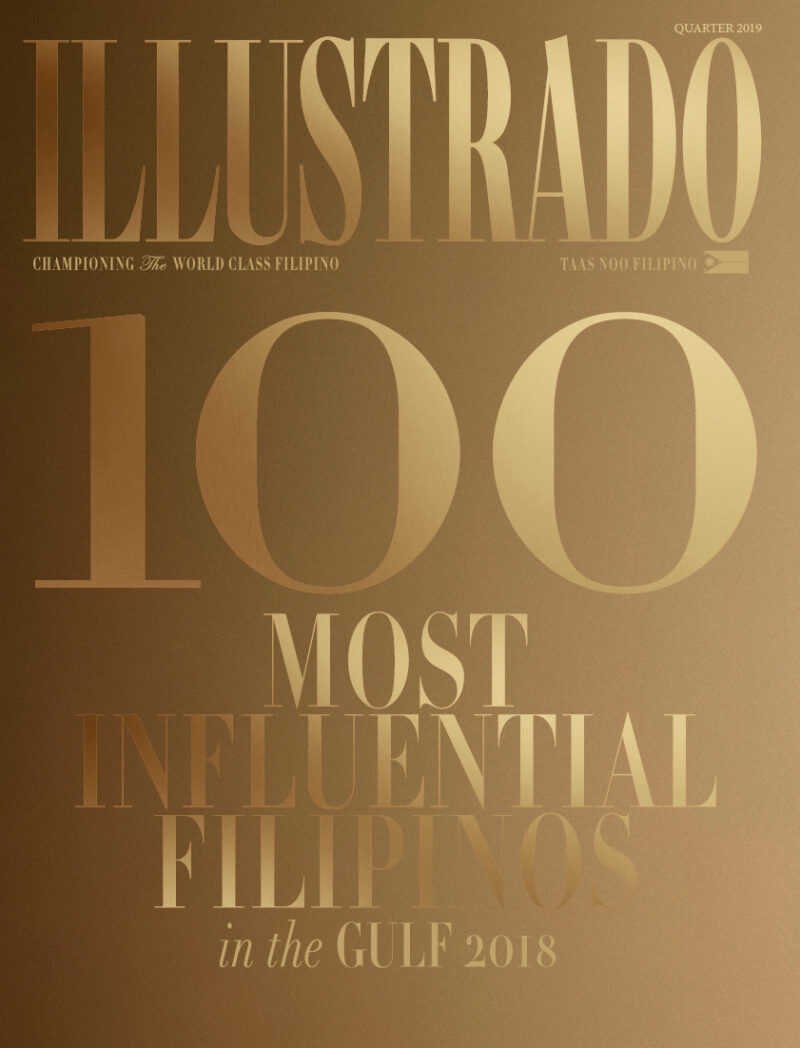 100 Most Influential Filipinos in the Gulf: Mme Yasmin Balajadia Cortes – Trailblazer
Leading the Filipino Ladies of Dubai, Madame Yasmin Balajadia Cortes plays a pivotal role with her team in organizing, planning and executing most of the cultural diplomacy initiatives of the Philippine Consulate of Dubai and the Northern Emirates.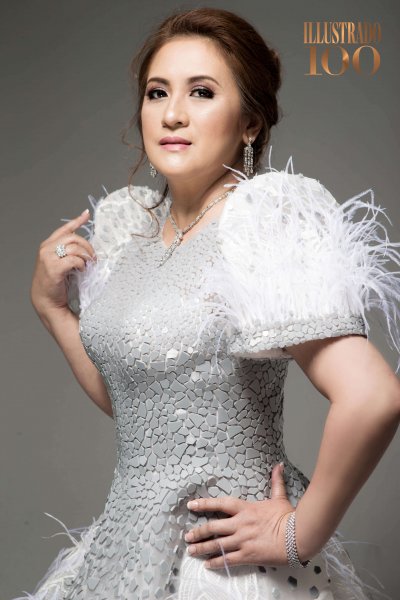 The charming and hard working spouse of the Consul General together with her team has held numerous successful projects last year, the most prominent of which were Dubai Dubai Musikahan, Ulirang Ama and Ina, painting and photography exhibits, as well as filmmaking workshops for Filipino students which brought often overlooked Filipino talents into the limelight.  Madame Yasmin reflects, "These programs allowed us to reach out to sectors of the community that seem outside the margins of the Filcom's consciousness."  She also "Through our programs, we have allowed Overseas Filipinos to bear greater pride in their culture, music, dance, film, photography, and visual art."
A testament to the modern global Filipina, who is empowered and independent. Madame Yasmin shares her belief in doing her part in nurturing the Filipino community.  She remarks, "The Filipino diaspora is unique in the sense that not only are we spreading the caring reputation of the Filipino people, we are also raising the next generation of global citizens. For this, Filipinos must be proud of themselves, assured that they have a special role in the history of man."
________________________________________________________________________________________
Photography by: Alex Callueng
Illustrado 100 was made possible by sponsors: Giordano, Liali Jewellery, Mitsubishi UAE- Al Habtoor Motors, Michael Cinco Couture, Mapúa Institute of Technology, Centro – Amwaj Rotana Hotel , Max's Restaurant Middle East and GVER – Your Friendly MarketPlace for Sharing
Co-Sponsors: Herschel Supply Co., Rove Hotels, The Medical City – Dubai , Filipino Institute UAE, MPQ Tourism, JAMES Travel and Tours Dubai, Off the Hook Seafood Restaurant, The Original Barrio Fiesta Restaurant – Dubai and Tapa King UAE.
Read more Illustrado 100 on www.illustradolife.com