New Queens From The Philippines – Karen Ibasco & Wynwyn Marquez
There are 3 big "B's" that Filipinos go crazy about: Boxing, Basketball and of course (drum roll) — BEAUTY PAGEANTS!! It's as if the world stops and everyone gathers and watches together to support our bets in both the local and international pageant circuits. Whether we admit it or not, we have a soft spot for these B's and people cannot just trash talk about them because they're kind of our national sport and we take them seriously. Very seriously.
Just yesterday, two beautiful Filipinas wowed the crowd and the judges in their respective pageants. Philippine bets Teresita Ssen "Winwyn" Marquez was hailed as Reina Hispanoamericana 2017 and Karen Ibasco as the Miss Earth 2017.
During the preliminary competition, Wynwyn captured not just the Filipino supporters but also fans from other countries. She instantly became a social media darling especially in her "pasabog" in the candidates' guesting in the Bolivian TV Show: El Mañanero. From that moment, we already know she's a true queen!
And down to our favorite part — the Q&A portion, Wynwyn was asked "How would you promote Hispanic-American culture with the great difficulty or barrier of language?" and with grace and confidence, she answered "Language can be learned. But the will and determination to contribute something to the organization cannot. It has to come from the heart and it has to be natural. I believe that kindness is the universal language. If you treat people with tolerance, patience, and love, you will understand each other. The Hispanic culture is not about language only. It is about love for God, love for country, love for history and culture, and love for family."
"And as a Filipina with a unique heritage, I have instilled that. I am ready to promote the Hispanic culture not just in Asia but in the whole world. It is time to celebrate the Hispanic culture. It is meant to be celebrated. Gracias."
Wearing an Ezra Couture piece, she graciously walked with confidence and really represented a Filipina woman.
Asked about his inspiration creating Wynwyn's gown, Ezra Santos said: "It's my first time to do an evening gown for a beauty pageant contestant, the producer Mr. Arnold Vegafria ask me to dress Winwyn Marquez. We met up in Manila and ask her what color she wanted she said green and I said emerald green is a beautiful color! I made her a fully beaded emerald green dress that is simple halter gown that accentuates her beautiful shoulder and body, she has a beautiful skin and I knew that she is for a win , the dress is made with Swarovski emerald stones in different shapes and sizes with a belt to emphasize her small waist line and deep bare back. The dress is a bit heavy but she just walked and glided like a beautiful swan.."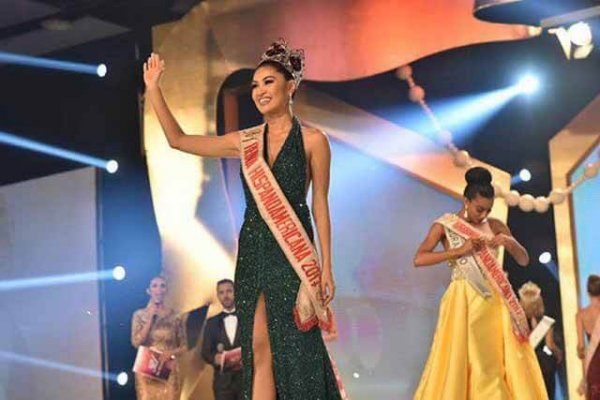 Prior to the coronation night, Wynwyn also bagged multi awards. Her awards were: Miss Ipanema special award, Miss Personalidad Udabol 1st Runner-Up, third place at the Miss Silueta Philips (Swimsuit) competition, Best in National Costume competition 3rd place, top 5 finalist for Miss Deporta (Miss Sport), Best Smile contest fifth place.
Filipinos from all over the world just can't contain their excitement and sense of pride as another rep was crowned as the Miss Earth 2017. Karen Ibasco was crowned at the pageant's grand coronation this Saturday night, November 4, at the Mall of Asia Arena in Pasay City.
https://www.instagram.com/p/BbE27zwFgPg/?taken-by=missearth
The 26 year-old university instructor showed not only beauty but also brains. In the Q&A portion of the pageant, the candidates were asked the same question "What/Who is the biggest enemy of Mother Earth?" which she answered:
"I believe that the real problem in this world is not climate change. "The real problem is us because of our ignorance and apathy. "What we have to do is to start changing our ways, to start recalibrating our minds and redirecting our steps because together, as a global community, our micro-efforts will have a macro-effect to help save our home, our planet."
We've got 2 crowns already and by the looks of it, it seems like we're getting more.