Dr. Nino Miranda Decenorio
Educator, Altruist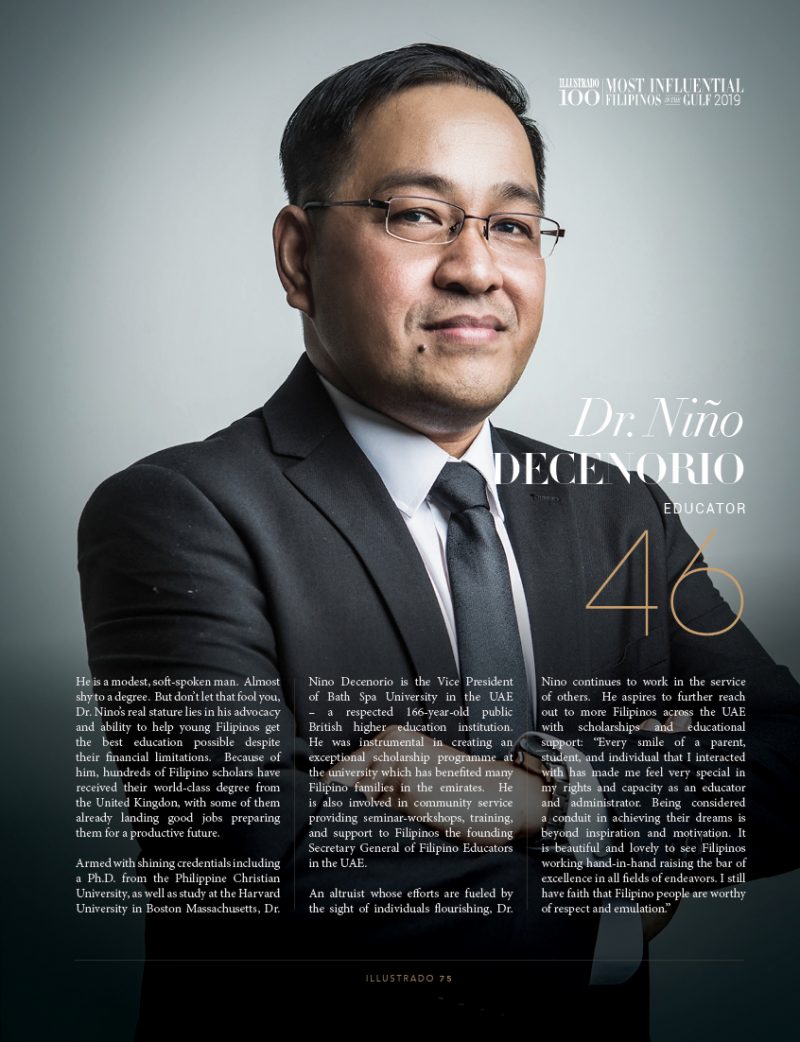 He is a modest, soft-spoken man.  Almost shy to a degree.  But don't let that fool you, Dr. Nino's real stature lies in his advocacy and ability to help young Filipinos get the best education possible despite their financial limitations.  Because of him, hundreds of Filipino scholars have received their world-class degree from the United Kingdom, with some of them already landing good jobs preparing them for a productive future.
Armed with shining credentials including a Ph.D. from the Philippine Christian University, as well as study at the Harvard University in Boston Massachusetts, Dr. Nino Decenorio is the Vice President of Bath Spa University in the UAE – a respected 166-year-old public British higher education institution.  He was instrumental in creating an exceptional scholarship programme at the university which has benefited many Filipino families in the emirates.  He is also involved in community service providing seminar-workshops, training, and support to Filipinos the founding Secretary General of Filipino Educators in the UAE.
An altruist whose efforts are fueled by the sight of individuals flourishing, Dr. Nino continues to work in the service of others.  He aspires to further reach out to more Filipinos across the UAE with scholarships and educational support: "Every smile of a parent, student, and individual that I interacted with has made me feel very special in my rights and capacity as an educator and administrator. Being considered a conduit in achieving their dreams is beyond inspiration and motivation. It is beautiful and lovely to see Filipinos working hand-in-hand raising the bar of excellence in all fields of endeavors. I still have faith that Filipino people are worthy of respect and emulation."
……………………….
Special thanks to our sponsors: Emirates Airline, Stars n Bars La Mer, Liali, Instax – Grandstores UAE, Dusit Thani Dubai, Gver – Your Friendly Marketplace for Sharing, Meeting Dancewear , MPQ, CMG, Filbrit, and our partners Rozen Antonio Photography,  Alex Callueng Photography, Jef Anog Photography, and Ethereal Photography.