MARIA LUISA ARANDA
Captain Potato Foodstuff LLC
Dubai, UAE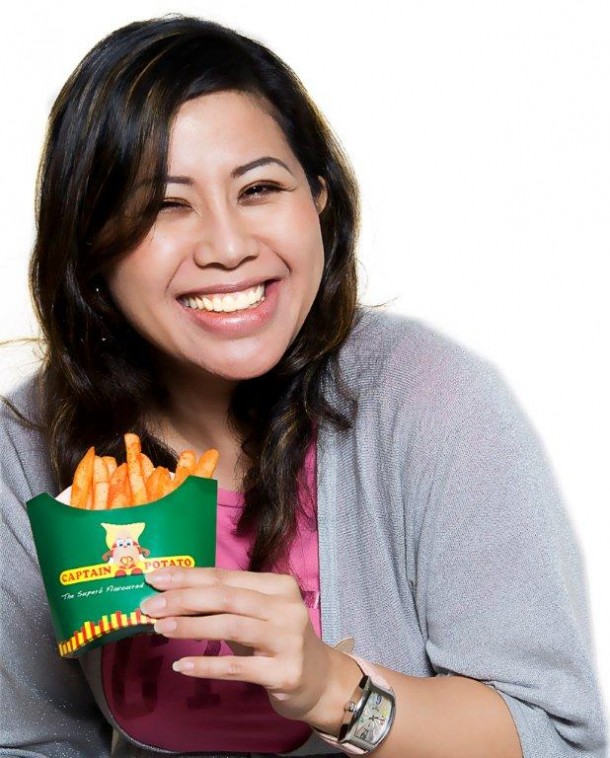 Please describe your business.
We are passionate about "All things Potato."
Captain Potato FoodStuff LLC is the owner/supplier for the popular brand "Captain Potato – The Superb Flavored French Fries." Our French Fries are known for mixed flavors such as BBQ, Cheddar Cheese, Sour Cream, Chili, and Mayo and Ketchup.
Can you tell us how you established your business?
 My family had their own business while I was growing up. Having grown in an entrepreneurial family, I guess it was natural that I will also have an inclination towards having my own business venture.
When I arrived in Dubai and I started marketing related activities for the company I was working for, I felt the urge to once again have my own business and be my own boss one day. During one of my travels to Manila, I started looking for potential business I could possibly bring into Dubai.
A brisk potato business where customers line up to buy these flavored French Fries caught my attention. I thought it would be a hit in the emirate.
I started Captain Potato FoodStuff LLC in October 2009 at the peak of the recession and global financial crisis and we've been operating since.
What was your start-up capital and your basic operations set-up?
My start-up capital was roughly in the range of AED 150,000. For the basic operations set up, I opened two kiosks – one in AlMaya Supermarket in Satwa and one in Grand Mart Hypermarket in Deira.  Since the concept came from the Philippines, I decided to target key areas of Dubai where there are a lot of Filipinos to make brand recognition for Captain Potato easier and the introduction of marketing initiatives smoother.
What obstacles did you encounter in your business?
In the first year of my business, the economy was already in the midst of the crisis. Most consumers were very conservative in spending their hard-earned cash. We didn't achieve the expected revenue that I had projected.  I ended up paying from my own pocket just to sustain the operational need of keeping the business afloat. We were also left short-staffed. I had to hire new employees and it was cash out again. That slowed down our business since I had to re-train and all.  It was a very difficult time.
The commercial rental fees in Dubai were also still high that time, which made me consider another business strategy. I relocated and opened a branch license in Fujairah. I saw an opportunity there because of its low commercial rent, and low overhead. With the sales from the Fujairah business, I managed to sustain the business and come back to Dubai again.
What are the landmarks in your business so far?
In the two years that we have been in operation, we have captured a huge and moneyed-captive market (middle income and above), we have increased our brand recognition in the market especially in local residence areas.  We have five outlets now all in all: Dubai Festival City, Uptown Mirdiff, Etihad Mall, Princess Haya's Family Gathering, and Jungle Bungle in Fujairah Tower.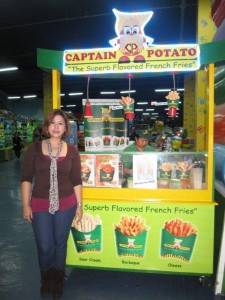 Occasionally we participate in various events; we also do corporate and school catering. Our products and brands are also available in some amusement centers like Dubai International Bowling Center and will be available very soon in Creek Park Dolphinarium.  We are now in the process of polishing our franchise system as we plan on selling this business model to neighboring emirates and other GCC countries.
What are the advantages and disadvantages of being an entrepreneur?
From all of this, I have learned that having your own business is like raising a child. No one will take as much interest and pride in it as much as you will. When I get compliments – whether it is about the great taste of our imported flavors from Philippines, the staff or the service – I beam with pride. I love, love, love hearing how people enjoy eating my Captain Potato. I get so much joy, inspiration and drive to keep doing this business.
As an entrepreneur you are holding multiple hats, you're the Operations, Finance, Logistics, Marketing, Human Resource and Administration Manager all rolled into one. Each hat requires your attention, patience and dedication.  This means that time management is essential but it all becomes worth it at the end of the day when you see that your little business venture is thriving and blossoming.
Being you own boss is another wonderful benefit, as long as you are responsible. I've been my own boss for so long now; I actually cringe at the thought of having someone tell me what to do. Of course, being your own boss also means that all decisions, good and bad, fall on your shoulders.
Would you encourage other Filipinos to go into business?  What is your advice to budding Pinoy entrepreneurs?
For anyone who wants to have their own business, they need to get as much help and advice as possible. Getting funding for your business venture is going to be high on your to do list.  You must be strong enough to lead the way and let your own interest and love for whatever it is you want to do, guide you. Loving what you do miraculously attracts all the necessary resources, people and opportunities.