y Philip Sto. Domingo
TRAVEL BUDGET: Approx 7,500 AED (inclusive of airfares: from Dubai-Delhi-Paro/ Paro-Delhi-Dubai)
Daily Tariff: $290.00 per night
Visa Fee: $40.00
The minimum Daily Tariff per night/ head includes:
Accommodation in 3 star hotels
All Meals in 3 star hotels /restaurant etc
All travel with a licensed English Tour Guide
All inland Transport
Entrance fees for all visiting points
Mineral drinking water
WHY I WANTED TO VISIT THIS PLACE
When your back is up against the wall and and you're in dire need of a good and a peaceful place for soul searching and self-discovery, where else should you go but to the world's happiest country which is Bhutan. Labeled as the "Land of the Thunder Dragon", it is a remote Bhuddist Kingdom on the Himalayas' eastern edge and is landlocked between Tibet, Nepal, China and India. A place where you can find solace and commune with nature at the same time.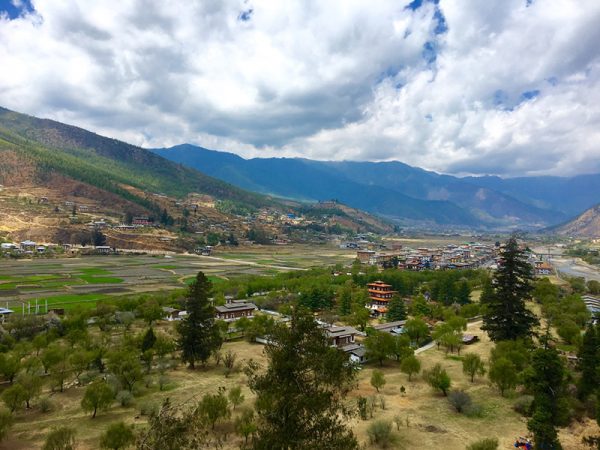 TOP PLACES TO VISIT IN BHUTAN
Great Buddha Dordenma in Kuenselphodrang, Thimpu, Bhutan
The best way to start your trip is to have a quick visit to Buddha Dordenma located at the top of the mountain of Bhutan. It is a gigantic Buddha statue at 169 feet and contains over 100,000 gilded bronze Buddhas inside. Gorgeous paintings adorned the walls as well.
The complex also provides a bird's-eye view of the city and the green wilderness below. The area is large, peaceful and astoundingly beautiful.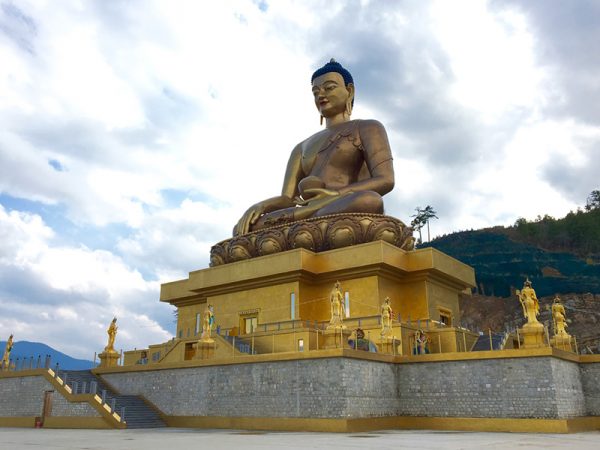 Tashichho Dzong at Chhagchhen Lam, Thimphu, Bhutan
Tashichho Dzong (also known as Thimphu Dzong) has been the seat of the government since 1952 and presently houses the throne room and offices of the king, the secretariat and the ministries of home affairs and finance. Other government departments are housed in buildings nearby. This dzong (fortress) is located close to Thimpu town and it is an impressive large structure surrounded by well-kept lawns and beautiful gardens. This is such a gorgeous place that captures the culture of Bhutan due to the colourful architecture and arts inside. Such a haven for photo enthusiast! Good to visit anytime of the day but it is even more gorgeous during evening as it is beautifully lit.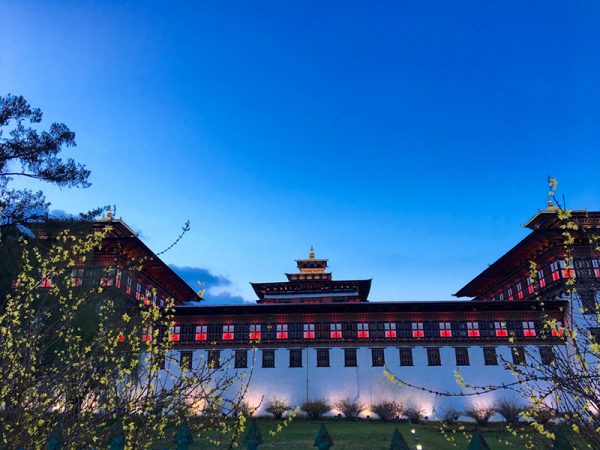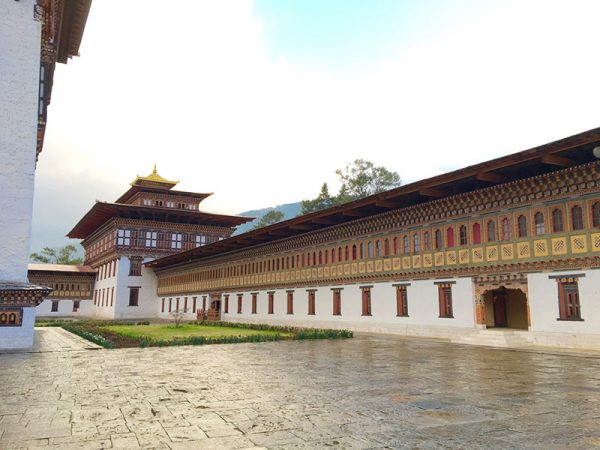 Paro Rinpung Dzong at Paro, Bhutan
Paro Rinpung Dzong is a large Buddhist Monastery and fortress located only a few minutes drive from Paro International Airport. Over-looking the fortress is the National Museum of Bhutan also known as Ta-Dzong, showcasing the art of living of Bhutanese people. Also in the museum are numerous exemplary show of endangered flora and fauna and the rich biodiversity of animals is Bhutan.This is another haven for photo enthusiast due to its beautiful architecture with deeply textured floors and great paintings. The place also houses about 200 monks complete with prayer halls, classrooms and festival grounds.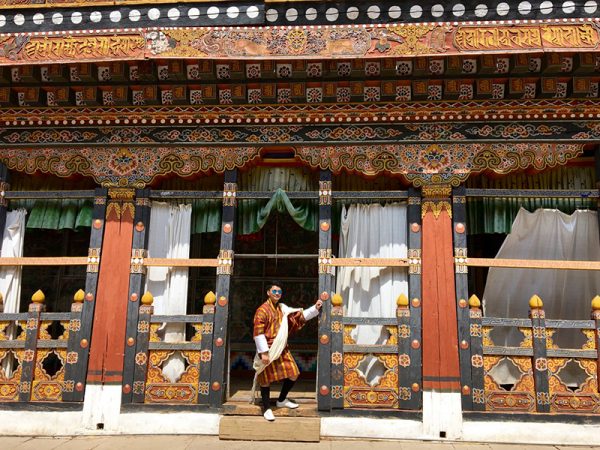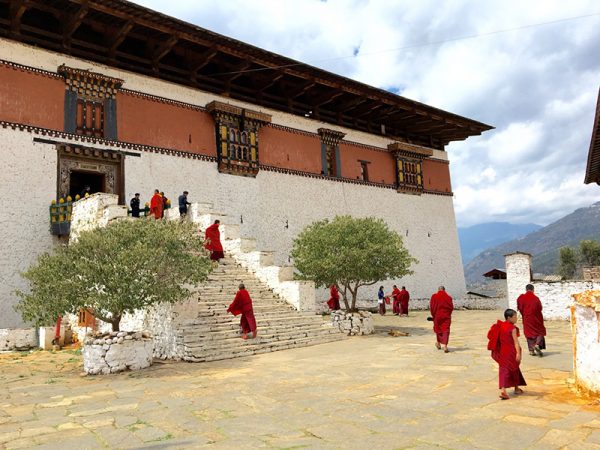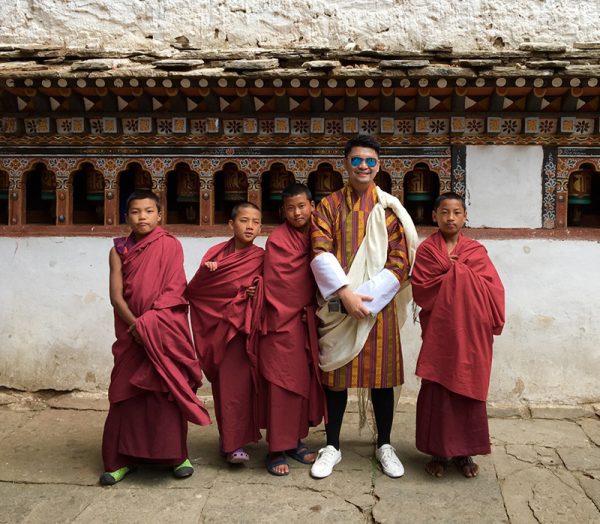 Below the dzong, a traditional wooden covered bridge called Nyamai Zamis located. The current bridge is a reconstruction of the original one. An earlier version of this bridge was removed in time of war to protect the fortress. The best part to take the pictures of Paro Dzong can be taken just downstream from the bridge.
Paro Taktshang also known as Taktshang Palphug Monastery / Tiger's Nest at Paro Valley, Bhutan
It would be a "sin" to not visit the Paro Taktsang, also known as the Tiger's Nest. This is the most famous landmark in Bhutan and located at the top of an 800 meter cliff in Paro. The place is widely regarded as one of the most important monastery in Bhutan and its history is associated with the visit of Guru Padmasambhava, the Indian saint who came to Bhutan in the 8th century AD. The construction of the monastery happened in 1692 and completed after three years in 1694.
It takes about 1.5 to 2 hours trek to reach the top (depends on your fitness level). Some roads are easy but there are paths that challenges your physical capabilities. I highly recommend that you bring lots of water and sweets to hydrate and replenish your body. Do not bring unnecessary items as this will only slow down your ascent to the mountain. Usually it's cold at the top so bring some warmers though the trek will surely make you sweat. Note that no photographs are allowed inside the monastery but the view during the trek and atop the mountain is amazing in itself so make sure to stop once in a while to appreciate the scenic view.
Your trip to Bhutan is never complete without climbing Tiger's nest. The journey fills you with spiritual bliss and reaching the top provides immeasurable sense of achievement.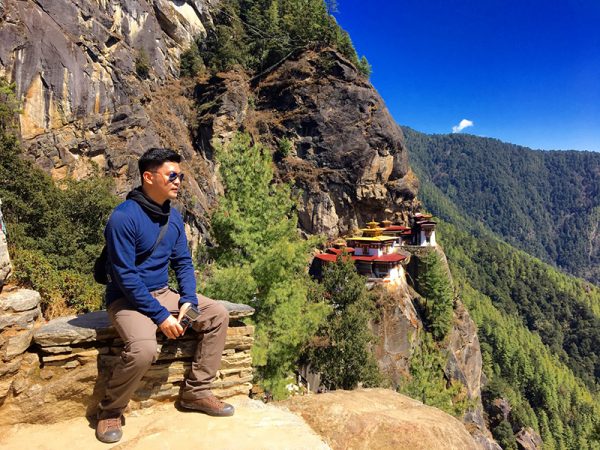 TOP TIPS FOR VISITING THIS PLACE
If you transit via Kathmandu or Delhi, select or request a left window seat, so you could enjoy amazing himalayan snow mountain view. From Bhutan returns to Kathmandu, choose right window seat.
Bhutan doesn't allow smoking. Tourists need to pay 200% tax if you want to bring cigarettes and smoking in public area is not allowed and considered offensive.
Respect local religion and traditions. Please take off shoes and caps when entering into temples and consult your guide before taking photos inside monasteries and temples.
Dress conservatively and don't show affection in public places. Dzong is a government office place and tourists with sleeveless shirt are not allowed to come inside, so prepare a long sleeve shirt if you are visiting Dzongs.
When shopping, the prices are usually fixed so no need to haggle. Also most places are not used to tipping. You tip only your guide and driver, and when on trek, the porters and cook.
Get in touch with the Bhutan Life Exposure Tours and Treks– One must need the support of a registered travel agency in Bhutan in order to get visa and tours. For my Bhutan Trip, I used "BLE Tours and Treks" to fulfil my dream of visiting this great country. Their website: http://www.ble.bt
THE MOST MEMORABLE EXPERIENCE I HAD IN THIS PLACE
Traveling to Bhutan is a memorable experience that I am not likely to forget. I have been to so many places but never have I seen a country as religious as Bhutan. Approximately 75% of the population follow Buddhism and the remaining practice Hinduism. Aside from the warmth and hospitality of the Bhutanese people, their charming country mesmerized me for its simplicity and natural beauty. Climbing Tiger's Nest puts a big 'tick' mark on my bucket list, but I can say that one of the highlights of my trip was when I get the chance to have a heart to heart talk with one of the monks manning an old Temple in Paro. It was indeed a very liberating experience learning something from a very sincere monk telling me about the meaning of life, happiness and how to overcome sufferings in this world. One quote from him that I will never forget is that "Happiness comes from within and it can be achieved through helping others". Traveling and seeing the beauty of this world is great but learning your 'life purpose' while you travel is priceless.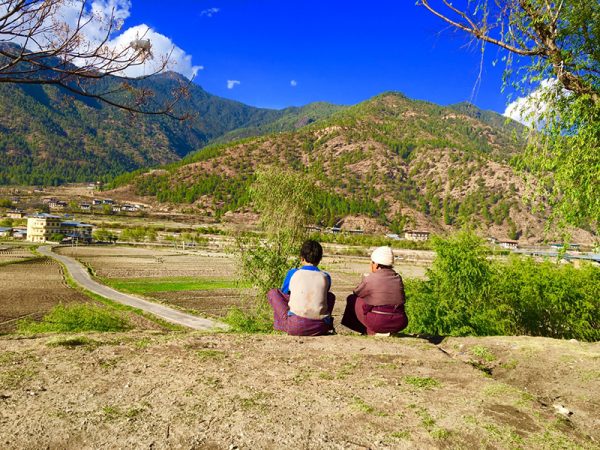 Yes, Bhutan is expensive but it is a trip worth taking.
Instagram logo: @philipdomingo  #follow_ipe