By Lalaine Chu-Benitez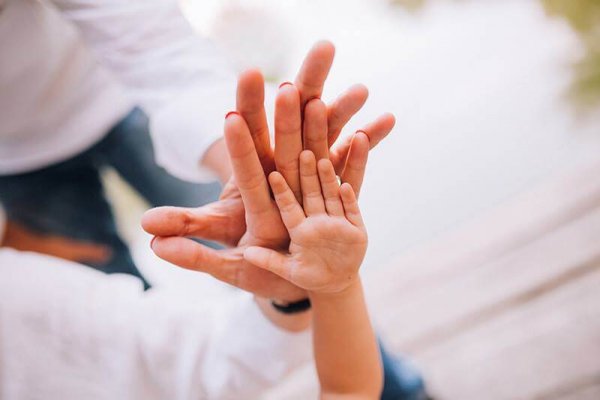 Most of us Filipinos, were brought up with kindness as one of the virtues we hold dear.  "Magpakabait ka" (be kind) is a common phrase we would have been told time and time again by our elders growing up.  Whether owing to our religious orientation, or the way we, as a people, value family and community, the idea of having concern and helping our 'neighbors' or 'kapatid' has always  been deeply ingrained in us.
However, actually practicing kindness – the act of being friendly and generous, even moreso, showing selfless concern for the well-being of others, does not come automatically for all of us.  In a way, it has become associated only with the seasons of benevolence like Christmas, Lent or Ramadan; or the domain of the handful uber blessed who can afford grand gestures to help out communities of the underprivileged; or a random-act-gone-viral-sensation, which we all praise, but somehow appear remote from our own daily lives.
The idea of kindness which our parents taught us is in desperate need of a comeback. It is not top-of-mind, but is just as important as discipline, the end of corruption, education, financial literacy, among other things our community aspires for.
Kindness can be about both small and big actions.  It is not exclusive only to the sector of "haves" in society.  Take it from these locally-based modest Filipinos, whom we've had to "coerce" to speak – so that we can learn just little bit more about altruism that can make this world better.
Nathaniel Alapide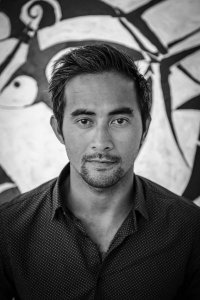 Just recently, artist and Illustrado 100 honoree Nathaniel Alapide answered a call for help for a stranger fighting for his life.  He shares, "I saw a post of a friend on Facebook asking people for blood donation. When I saw that, I immediately sent her a message of when and where I can go to donate my blood."
Asked how he came to the immediate decision to act and donate blood to a complete stranger, the artist comments, "Last January I lost two very special people in my life almost at the same week, so I know how it feels to have someone in a hospital fighting for their life.  That's why I acted quickly to help. Being able to give something to someone even to a complete stranger makes you feel good inside, especially if you know that somehow, it can save them. I believe that it is in our nature as human beings to help whenever we see someone in need."
Nathaniel, who says he was lucky to have been surrounded by a lot of kind people like his grandmother and my grandfather, who've set a good example for him at a very young age, says, "Kindness to me means treating everyone the same no matter who they are or where they come from, regardless of how they act or how they look, to treat them in a way that you would want to be treated."  He adds, "I always try to show kindness in any way I can, every day. It can be as simple as saying "thank you" or "good morning" or just giving a simple smile. The more you practice, it the more it comes out naturally.  One more thing to remember is that one act of kindness will always ignite another one.  Somehow the world gets better little by little."
Olga Barcelona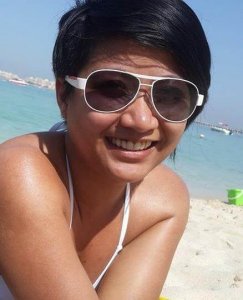 For the last four years, Olga Barcelona and business partner, Dawn Almario have celebrated their birthdays by asking friends to bring gifts for underprivileged kids, which are distributed to different areas in the Philippines. They have also sent school kits to schools in Binondo, Manila and Tondo.   At the height of the conflict in Syria, together with friends, they have pooled resources to make and send 500 relief bags for refugees, as well as financial support to the refugee camp in Lesvos, Greece.
At the moment, Olga is also supporting a college student in the Philippines and come September, she is planning to travel to Malawi, Africa to help with DNATA4Good's Build a School Program. She shares, "I will be doing a fundraiser through Dubai Cares and I plan to cycle and trek for this cause so I could get enough funds to help build schools in Africa. I will travel there and stay in the village for a week to help them build a school. This is the first time I am doing this alone, with people I don't know, but knowing that these people share the same passion with me makes me really excited to go on this trip."
Olga reveals, "It is the fulfillment of being able to help another human being that makes me want to do these things. I really believe this is my calling, to be of service to other people in my own little way. I think being kind to others, helps people realize that being kind is really easy.  If I do this, this will affect another person, and this person, maybe someday, will pay it forward too."
Olga, who learned about philanthropy from her parents, has been doing fundraisers to help the needy since her university days.  She says that volunteering in outreach programs has opened her eyes to the reality that there are so many people out there actually need help.   Her experience during the Ondoy disaster also taught her a humbling lesson.  "When typhoon Ondoy hit Manila in 2009, our house got flooded up to the roof. My family lost everything and I found myself just praying that they're all safe. Then, out of nowhere, people started donating to us – clothes, food, basic necessities and even financial help. I didn't even ask, but friends just came to help. It was then that I found myself extending my hand to others. I got involved in sending donations to other cities, even cooking food daily for those who were affected by the typhoon. After this episode in my life, I just found myself being more involved and kinder."
Olga says she believes that – "All of us can be kind in our own little way. That, if we all do this – even just by simply giving way in the elevator, or saying thank you to the cleaners, gardeners, guards, helping your colleagues even you're in a very tight deadline, we are creating a ripple effect. And if everyone just does this each and every time, then we are creating waves of kindness. A dream! If we can all just be kind and give time and be of service in one way or another, I think this world will be so much better."
Leonila Bandigan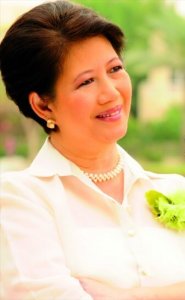 Very modest entrepreneurs, Leonila Bandigan and her husband Bobbie, are known for their volunteer service to the Filipino and church community in Abu Dhabi.  However, unknown to many, their family also supports over 100 students in Don Bosco Cebu, Ilo Ilo and Davao, providing for the education, as well as food and clothing.  They even went as far as including their beneficiaries in the payroll of their businesses  – Panaderia Manila Bakeries and Manila Star Restaurant, every single month.
Nila, who is quite the understated person who doesn't like to call attention to herself and her family's deeds, explains, "I am doing this to satisfy my yearning to share, especially now that my children are already finished with their studies and I am now only supporting my parents and some nieces and nephews."
Looking back, Nila says that kindness has always occupied a huge part of her life since she was young.   "It was always a natural thing within our family to give assistance to anyone in need, may it be through service or small amounts of money. My inang and tatang have been my role models and that trait has been passed on to us – their children."
The Good Samaritan considers a certain moment in her past as a turning point for becoming even more altruistic.  She explains, "I dreamt of becoming a doctor but due to financial constraints, I just took up a lesser degree.  Back then, I realized just how poor we were.  One time while watching TV, I also saw a family with three small children and the only food on their table is a plate of boiled rice and coco milk. According to the parents, only one child will eat first because he has to go to school, and the leftover will be shared by the whole family. I really cried that day, and told myself that while I am still capable, a share of our income will go to those children."
Nila believes that all of us should understand how we are all connected.  She emphasizes, "I believe that helping your family is an obligation, so if you are capable, extend help as well to others in need, regardless of religion or color. It is also our responsibility to assist other people because we are lucky God has given us all these blessings."
________________________________________________________________________________
Read more Pinoy Progressive articles on Illustrado Life.