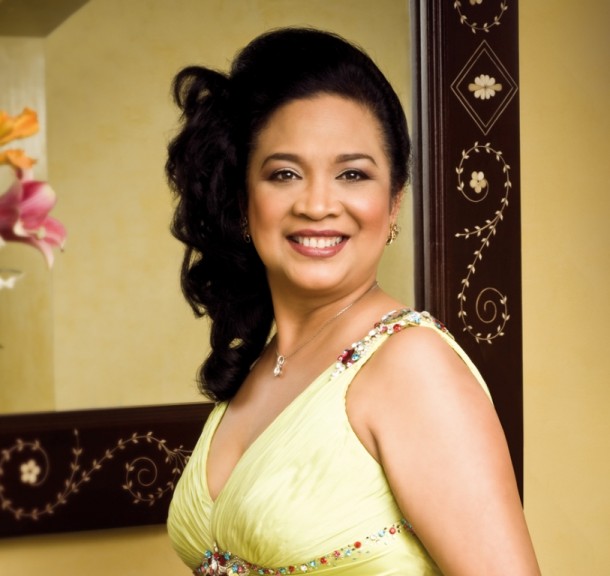 Text By Lalaine Chu-Benitez, Photo by Alan Desiderio
"Everytime I would cook food, I would always remember you when you were in Saudi Arabia."  Tears welled in Illustrado Women of Substance 2009 Honoree Isabelita Sabado Warren's eyes as she recalled her mother's words when the latter was still alive – referring to the period when Isabelita, just like so many thousands of Filipinos, bravely lived the life of an Overseas Filipino (OF) longing for home and her family, as she worked to make a future for herself in the kingdom.
Doting mother and entrepreneur Isabelita, the seventh of eight siblings, grew up sharing a special bond with her mother, Nanay Tuneng, in a cheerful home where life seemed to center around their abundant dinner table.  With her father Eugenio, a farmer of humble beginnings who had the knack for saving and acquiring land, the Sabado family of Magdalena, Laguna owned farmlands, fruit and vegetable plantations, as well as a poultry farm making them self-sufficient without needing to buy food from anywhere else.  "We always had fresh food from our own farms, and my mother loved cooking.  I remember that our table would always be full of wonderful dishes all the time.  We were very lucky."
Growing up in a typical matriarchal Filipino household, Isabelita recounted, "My father was the brains of the family.  But my mother definitely was the strength and the heart."  From her father, she seemed to have acquired an entrepreneurial inclination from a young age.  "I used to run movies in the neighborhood, with our family having the first TV in our community.  I also sold 'ice candy' to the movie goers," she chuckles at the memory.  "From my mother, I must have learned generosity.  She always ended up giving away food, which she intended to sell in our little carinderia, to our neighbors.  Looking back, I see a lot of my mother within me."
But the charmed life in the idyllic barrio had to take the backseat as Isabelita sought her own future away from home.  "I became a pediatric nurse and at the time that I decided I would go to Saudi in the mid-80's – it was so difficult.  I remember the morning when I was about to leave and my father spoke to me.  He was crying but he supported my decision. I just had to be brave and follow my destiny – even if that destiny was away from home."
Isabelita landed in Saudi Arabia as part of the pioneering team which established operations for the Saudi American Hospital.  With her skills and innate good nature giving her a good headstart, she was readily recognized by the management for the quality of her work and at only two years, was appointed the post of Chief Nurse.
Her life then in Saudi was just like any other OF's.  She recounts making USD500 every month and took pride in being frugal and managing to send most of her earnings to her family.  "It was quite lonely back then. But every time I would hear from home, my mother would always tell me about whatever food she was preparing.  Somehow, my family always thought about me whenever they would sit down to eat."
Though, Isabelita wouldn't be lonely for long. She met Glen Warren, a gentle American who worked in the construction business.  They eventually got married in 1989 and ended up raising their kids in the kingdom.  Despite that fact that the two of them started at the bottom of the ladder at the beginning of their careers, just like anybody else, hardwork and being financially smart led them to a very good future.  "Glen is very bright and really helped in growing his company.  I also worked very hard and little by little we were able put money away in savings."  Not for long, the couple's diligence paid off and they had the opportunity to put some money in a property in the US and eventually in some other investments.
The couple with their four kids in tow, moved to Florida in 1995, only to return to the Middle East, once again, in lieu of Glen's new assignment in Dubai in 1999. Isabelita who also worked as a nurse midwife in Florida, had to put the family's needs as her sole focus then – the constant travelling which was part of their life made it difficult for her to continue nursing.
As the kids grew older, Isabelita's calling for entrepreneurship surfaced and she decided to set-up her own business venture in 2004 – Tritrade International, a trading company at the Ajman freezone.  With virtually no commercial experience but armed with good business instincts and an even better 'can do' attitude, the former nurse and homemaker bravely entered the Filipino food import and distribution sector and competed with established traders in the emirates.  Isabelita virtually ran a one-woman-show in the beginning, helped by her young kids.  "I did everything with the help of the kids – we ran the office, took care of the goods and I even went to each supermarket myself trying to make deals with the retailers."  In a field dominated by strong players, survival was the order of the day.  "Our competitors were just waiting for us to fail.  Fortunately, I am a very good saleswoman," she says, her eyes twinkling.  And one is bound to believe that judging from how far Tritrade has gone.  From a monthly import of one twenty-foot container during their starting year, Tritrade now brings in up to six forty-foot containers every month and supplies popular Filipino brands – like Oishi prawn crackers, Barrio Fiesta condiments, Marifood bihon, Leslie Clover Chips among many other Pinoy food products to over 120 supermarkets in the country, growing in profitability right after their first year of operations.
But her best commercial project is yet to come.  Disappointed by the open market system where distributors are not protected, Isabelita decided to develop her own brand – a move that has put her in a unique position where locally-grown Filipino brands are very rare.  She went about developing a line of sauces, condiments, crackers and snack items in 2005, adding her own personal touch to the recipes while ensuring that the formulations are very 'health conscious.' In 2006, she launched her food range branded 'Nanay Tuneng' – commemorating her mother who fostered much love in the family through good food.  "My nanay always made our family happy with food. Food was her way of showing us love.  And when you're here, food is one way to surpass the loneliness.  When you eat something that reminds you of home, you somehow feel comforted."
Even more than her food brand, Nanay Tuneng's influence on Isabelita's life has seen an extension in her works – in the charitable activities she has initiated in her hometown.  For her birthday every November, she holds a month-long feeding program for close to 3,000 children in the 29 baranggays of Magdalena – aided by 10 volunteers who cook and deliver food to schools, and by some of her generous suppliers who donate raw materials.  She also opened a vocational school in her father's name, in collaboration with the TESDA in 2009 to provide free practical courses on electronics, plumbing, cosmetology, etc., to out-of-school youth to help alleviate the hopelessness she has sensed in the young people of her hometown. "This is my way of adopting my community and encouraging other people to make an effort to help.  I also want people to realize that you can be what you want to be no matter who you are in your life."  Unsurprisingly, as with other philanthropists in the country, she was asked by her community to run as Mayor.  An invitation Isabelita declined. She remarks, "My father taught us that you don't need to be a politician to help.  Anybody can help in their own way and we shouldn't be helping because we have vested interest."
Despite a full home life in Dubai with her husband and kids, a busy work schedule and constant travels, Isabelita also finds the time to support local community projects and is a key member of FILEX (Filipino Expats Foundation in the UAE). "I feel so lucky.  This is my way of paying forward the bountiful blessings I have received."
Somehow, looking at her life filled by good memories, familial affection and generosity, one can't help but think that food and mother's love really go a long way.