Tastemaker – Resty Lagare
Fashion Designer and Community Champion
Resty Lagare will always remember 2019 as a milestone year.  The establishment of his eponymous atelier has brought immense pride and joy to this leading designer in Kuwait, not to mention his success in LA Fashion Week, as well as Phoenix Fashion Week.  A Filipino who has been making an impact, not only in the Gulf but also in the USA, he remarks, "I'm proud of my great Filipino heritage.  We should all stand proud, but not haughty. Yes, we can truly be on par with the rest of the globe."
On a more personal front, Resty has marked his 25th year in the business by launching his own charity projects, which combine fashion with causes he is passionate about.  His first initiative was for a show for his hometown of Butuan City for street kids and orphans as recipients of all proceeds.  The other one was a women empowerment project for the benefit of distressed Filipinos in Kuwait.   The designer comments, "It feels good to be able to give back."
Resty shares that beyond everything that he's achieved and the clout he's built in the industry, not only in Kuwait but also in the USA, he believes that his talent can also be utilized as a force for good. He shares, "I want to do more fashion events with social relevance as well as fund noble causes, and I hope that, someday, Filipino designers can eventually conquer the world stage."
Illustrado 300 Most Influential Filipinos in the Gulf is Supported by: Kaya Skin Clinic,  Emirates Airline, and Unilever.
Special Thanks to Michael Cinco, Ezra Couture , Giordano, Darcey Flowers, IKON Solutions, Victors Freight, MPQ Tourism, Asia Gulf Companies –La Carne & Filfood, WOL Water
Get a copy of Illustrado 300 Most Influential Filipinos in the Gulf Legacy Edition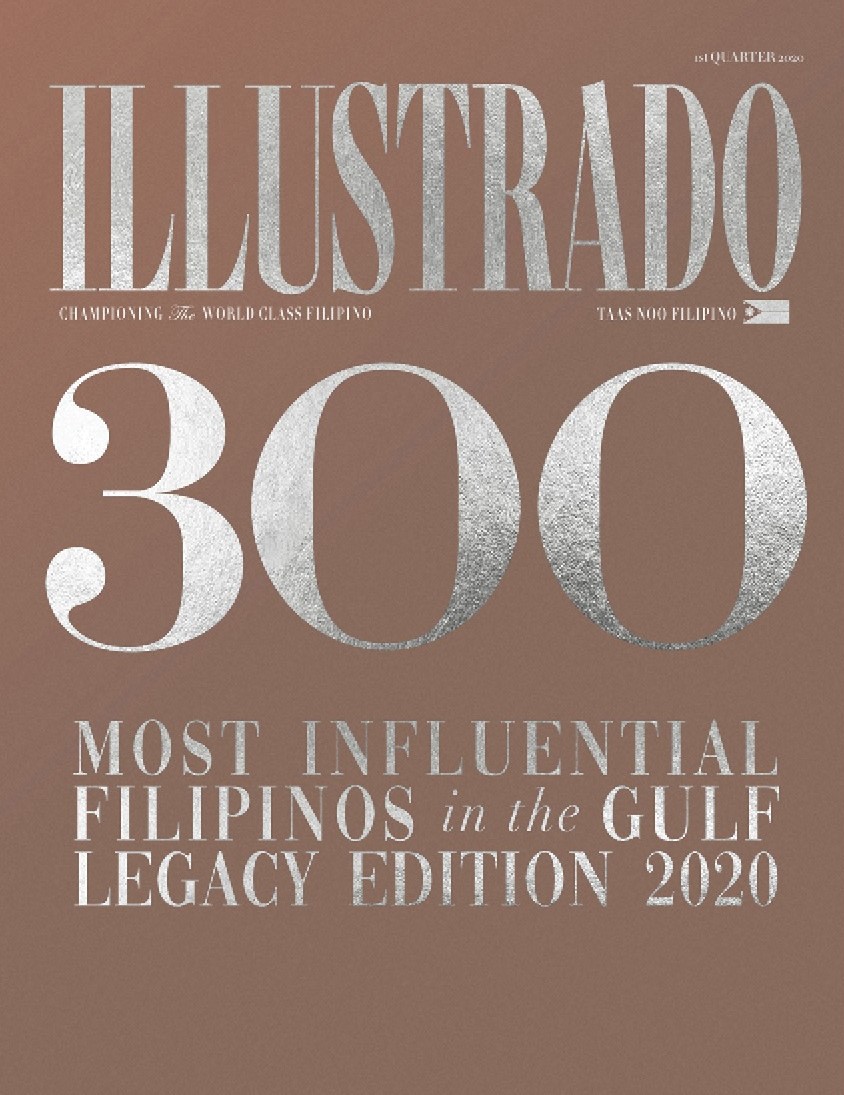 Resty Lagare 
Having one's creations worn by an array of high-profile clients is one thing – and an amazing feat at that. However, using one's craft to help others in need is something that's even doubly commendable. For the prolific Kuwait-based designer Resty Lagare, 2018 has been a generous year that allowed him to further both his career, as well as his passion for supporting worthwhile causes.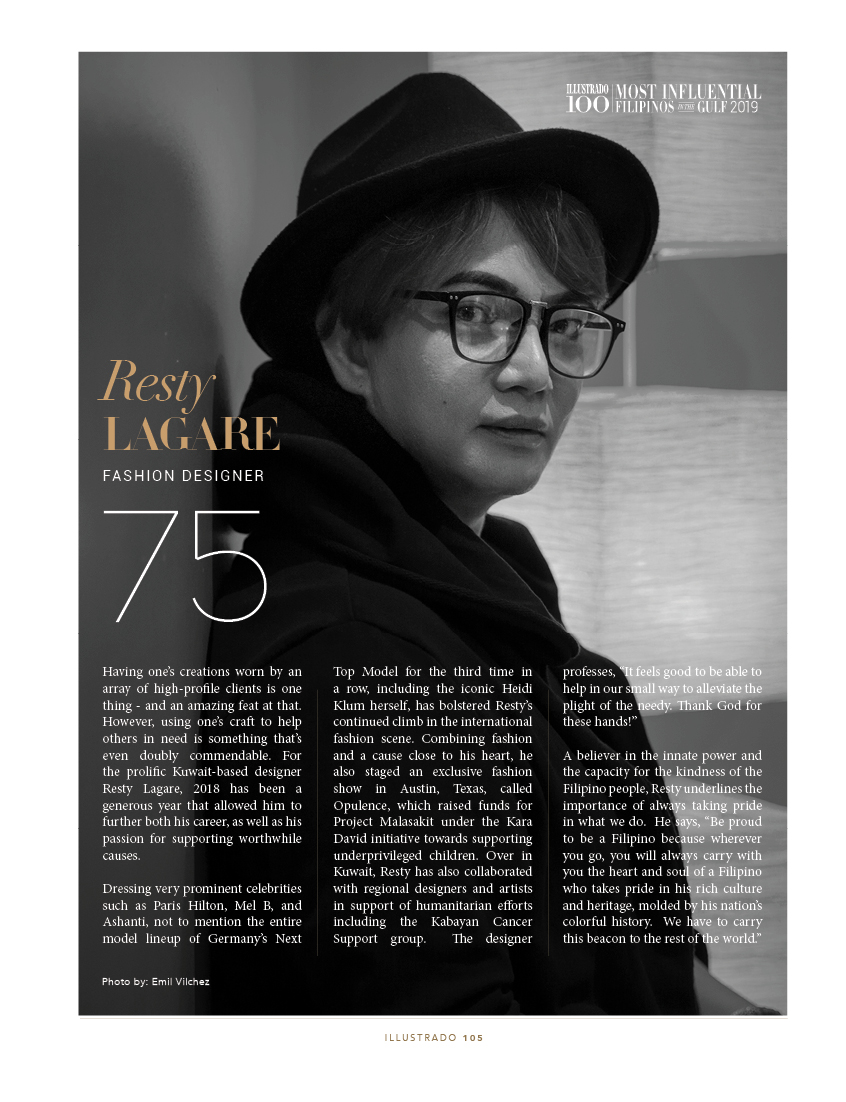 Dressing very prominent celebrities such as Paris Hilton, Mel B, and Ashanti, not to mention the entire model lineup of Germany's Next Top Model for the third time in a row, including the iconic Heidi Klum herself, has bolstered Resty's continued climb in the international fashion scene. Combining fashion and a cause close to his heart, he also staged an exclusive fashion show in Austin, Texas, called Opulence, which raised funds for Project Malasakit under the Kara David initiative towards supporting underprivileged children. Over in Kuwait, Resty has also collaborated with regional designers and artists in support of humanitarian efforts including the Kabayan Cancer Support group.  The designer professes, "It feels good to be able to help in our small way to alleviate the plight of the needy. Thank God for these hands!"
A believer in the innate power and the capacity for the kindness of the Filipino people, Resty underlines the importance of always taking pride in what we do.  He says, "Be proud to be a Filipino because wherever you go, you will always carry with you the heart and soul of a Filipino who takes pride in his rich culture and heritage, molded by his nation's colorful history.  We have to carry this beacon to the rest of the world."
……………………….
Special thanks to our sponsors: Emirates Airline, Stars n Bars La Mer, Liali, Instax – Grandstores UAE, Dusit Thani Dubai, Gver – Your Friendly Marketplace for Sharing, Meeting Dancewear , MPQ, CMG, Filbrit, and our partners Rozen Antonio Photography,  Alex Callueng Photography, Jef Anog Photography, and Ethereal Photography.