Robert Bagatsing
Social Entrepreneur
Robert Bagatsing has always possessed the fervent hope of sparking profound positive change in society as an entrepreneur and philanthropist. His life, together with collaborator and wife Emelyn, is a testament that commercial success and social impact can go effectively and comfortably, hand-in-hand.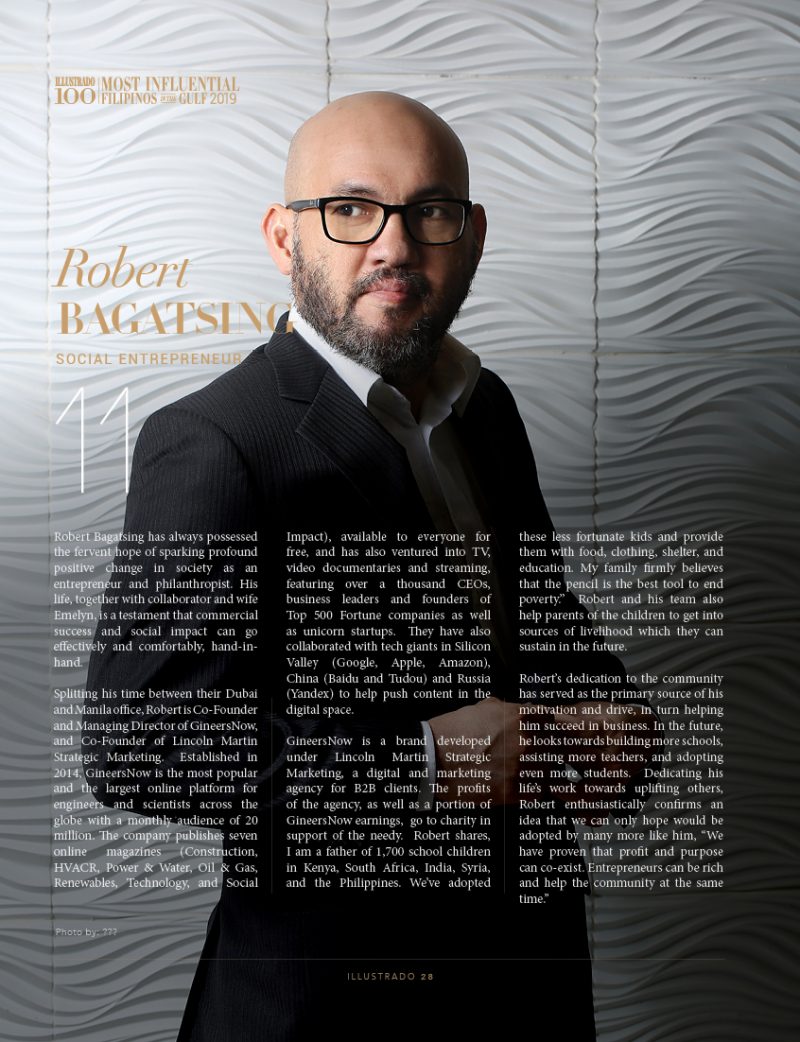 Splitting his time between their Dubai and Manila office, Robert is Co-Founder and Managing Director of GineersNow, and Co-Founder of Lincoln Martin Strategic Marketing.  Established in 2014, GineersNow is the most popular and the largest online platform for engineers and scientists across the globe with a monthly audience of 20 million. The company publishes seven online magazines (Construction, HVACR, Power & Water, Oil & Gas, Renewables, Technology, and Social Impact), available to everyone for free, and has also ventured into TV, video documentaries and streaming, featuring over a thousand CEOs, business leaders and founders of Top 500 Fortune companies as well as unicorn startups.  They have also collaborated with tech giants in Silicon Valley (Google, Apple, Amazon), China (Baidu and Tudou) and Russia (Yandex) to help push content in the digital space.
GineersNow is a brand developed under Lincoln Martin Strategic Marketing, a digital and marketing agency for B2B clients. The profits of the agency, as well as a portion of GineersNow earnings,  go to charity in support of the needy.  Robert shares, I am a father of 1,700 school children in Kenya, South Africa, India, Syria, and the Philippines. We've adopted these less fortunate kids and provide them with food, clothing, shelter, and education. My family firmly believes that the pencil is the best tool to end poverty."  Robert and his team also help parents of the children to get into sources of livelihood which they can sustain in the future.
Robert's dedication to the community has served as the primary source of his motivation and drive, in turn helping him succeed in business. In the future, he looks towards building more schools, assisting more teachers, and adopting even more students.
Dedicating his life's work towards uplifting others, Robert enthusiastically confirms an idea that we can only hope would be adopted by many more like him, "We have proven that profit and purpose can co-exist. Entrepreneurs can be rich and help the community at the same time."
……………………….
Special thanks to our sponsors: Emirates Airline, Stars n Bars La Mer, Liali, Instax – Grandstores UAE, Dusit Thani Dubai, Gver – Your Friendly Marketplace for Sharing, Meeting Dancewear , MPQ, CMG, Filbrit, and our partners Rozen Antonio Photography,  Alex Callueng Photography, Jef Anog Photography, and Ethereal Photography.