Tastemaker – Rolando Lotho
Entrepreneur, Creative Director & Yoga Ambassador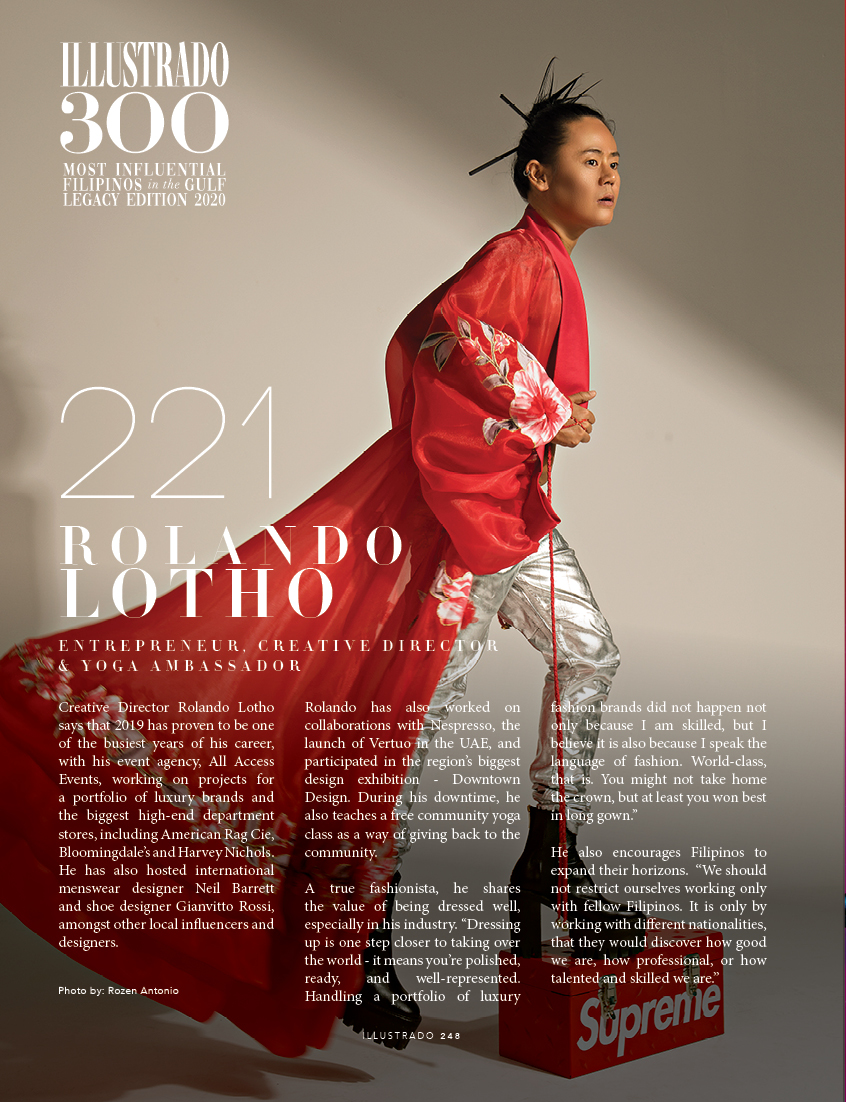 Creative Director Rolando Lotho says that 2019 has proven to be one of the busiest years of his career, with his event agency, All Access Events, working on projects for a portfolio of luxury brands and the biggest high-end department stores, including American Rag Cie, Bloomingdale's and Harvey Nichols. He has also hosted international menswear designer Neil Barrett and shoe designer Gianvitto Rossi, amongst other local influencers and designers.
Rolando has also worked on collaborations with Nespresso, the launch of Vertuo in the UAE, and participated in the region's biggest design exhibition – Downtown Design. During his downtime, he also teaches a free community yoga class as a way of giving back to the community.
A true fashionista, he shares the value of being dressed well, especially in his industry. "Dressing up is one step closer to taking over the world – it means you're polished, ready, and well-represented. Handling a portfolio of luxury fashion brands did not happen not only because I am skilled, but I believe it is also because I speak the language of fashion. World-class, that is. You might not take home the crown, but at least you won best in long gown."
He also encourages Filipinos to expand their horizons.  "We should not restrict ourselves working only with fellow Filipinos. It is only by working with different nationalities, that they would discover how good we are, how professional, or how talented and skilled we are."
Illustrado 300 Most Influential Filipinos in the Gulf is Supported by: Kaya Skin Clinic,  Emirates Airline, and Unilever.
Special Thanks to Michael Cinco, Ezra Couture , Giordano, Darcey Flowers, IKON Solutions, Victors Freight, MPQ Tourism, Asia Gulf Companies –La Carne & Filfood, WOL Water
Get a copy of Illustrado 300 Most Influential Filipinos in the Gulf Legacy Edition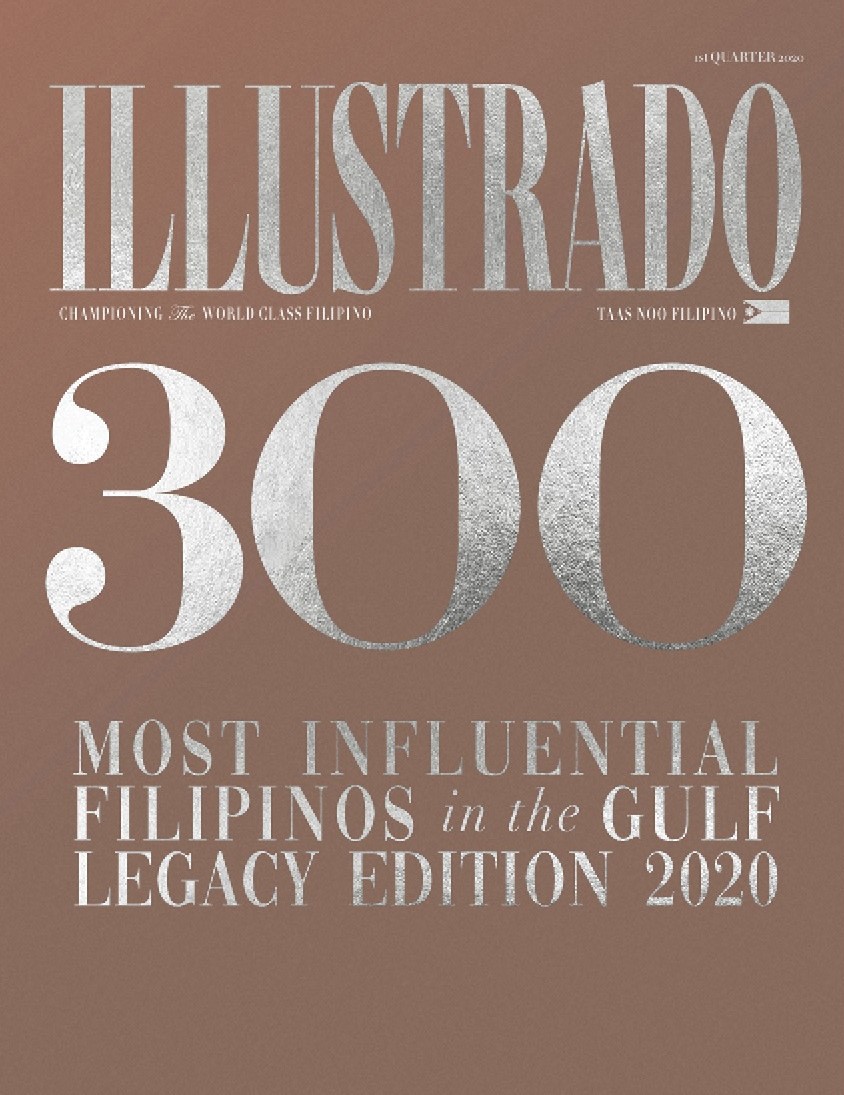 Rolando Lotho
Creative Director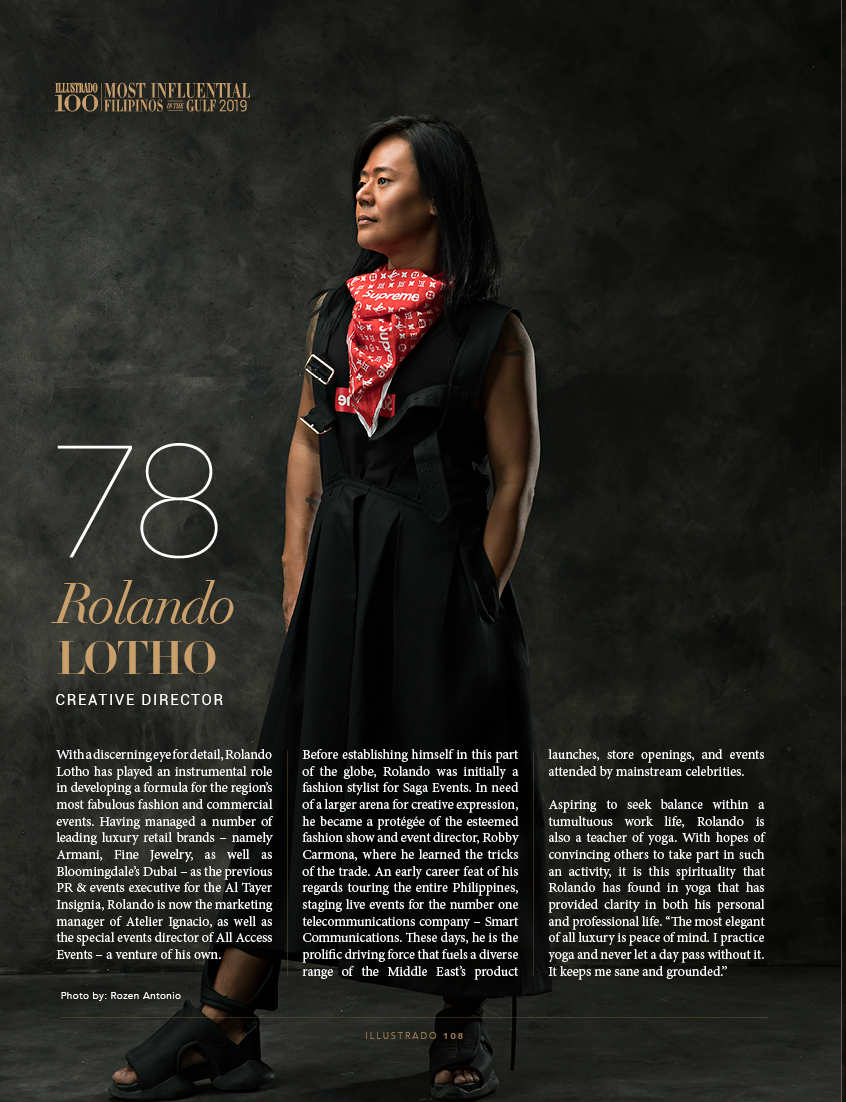 With a discerning eye for detail, Rolando Lotho has played an instrumental role in developing a formula for the region's most fabulous fashion and commercial events. Having managed a number of leading luxury retail brands – namely Armani, Fine Jewelry, as well as Bloomingdale's Dubai – as the previous PR & events executive for the Al Tayer Insignia, Rolando is now the marketing manager of Atelier Ignacio, as well as the special events director of All Access Events – a venture of his own.
Before establishing himself in this part of the globe, Rolando was initially a fashion stylist for Saga Events. In need of a larger arena for creative expression, he became a protégée of the esteemed fashion show and event director, Robby Carmona, where he learned the tricks of the trade. An early career feat of his regards touring the entire Philippines, staging live events for the number one telecommunications company – Smart Communications. These days, he is the prolific driving force that fuels a diverse range of the Middle East's product launches, store openings, and events attended by mainstream celebrities.
Aspiring to seek balance within a tumultuous work life, Rolando is also a teacher of yoga. With hopes of convincing others to take part in such an activity, it is this spirituality that Rolando has found in yoga that has provided clarity in both his personal and professional life. "The most elegant of all luxury is peace of mind. I practice yoga and never let a day pass without it. It keeps me sane and grounded."
……………………….
Special thanks to our sponsors: Emirates Airline, Stars n Bars La Mer, Liali, Instax – Grandstores UAE, Dusit Thani Dubai, Gver – Your Friendly Marketplace for Sharing, Meeting Dancewear , MPQ, CMG, Filbrit, and our partners Rozen Antonio Photography,  Alex Callueng Photography, Jef Anog Photography, and Ethereal Photography.