Ronald Awa
Community Champion
Thousands of aspiring filmmakers and photographers in the UAE have Ron Awa to thank for championing platforms that allow them avenues for their creative expression.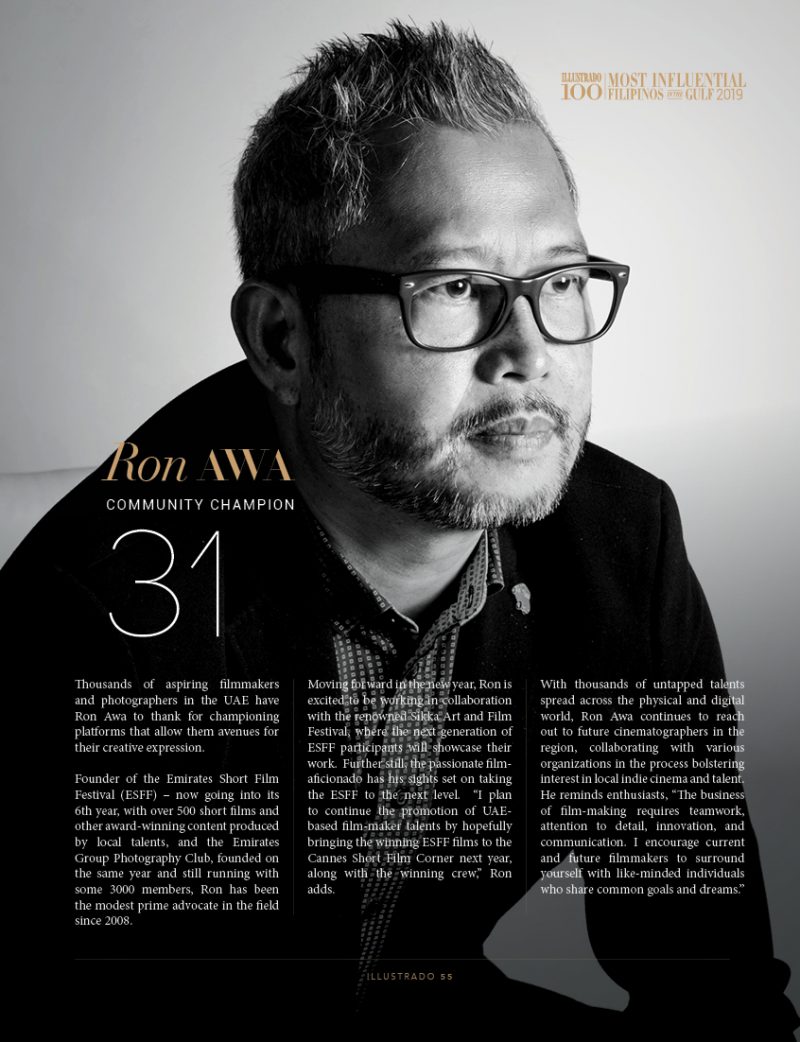 Founder of the Emirates Short Film Festival (ESFF) – now going into its 6th year, with over 500 short films and other award-winning content produced by local talents, and the Emirates Group Photography Club, founded on the same year and still running with some 3000 members, Ron has been the modest prime advocate in the field since 2008.
Moving forward in the new year, Ron is excited to be working in collaboration with the renowned Sikka Art and Film Festival, where the next generation of ESFF participants will showcase their work.  Further still, the passionate film-aficionado has his sights set on taking the ESFF to the next level.  "I plan to continue the promotion of UAE-based film-maker talents by hopefully bringing the winning ESFF films to the Cannes Short Film Corner next year, along with the winning crew," Ron adds.
With thousands of untapped talents spread across the physical and digital world, Ron Awa continues to reach out to future cinematographers in the region, collaborating with various organizations in the process bolstering interest in local indie cinema and talent.  He reminds enthusiasts, "The business of film-making requires teamwork, attention to detail, innovation, and communication. I encourage current and future filmmakers to surround yourself with like-minded individuals who share common goals and dreams."
……………………….
Special thanks to our sponsors: Emirates Airline, Stars n Bars La Mer, Liali, Instax – Grandstores UAE, Dusit Thani Dubai, Gver – Your Friendly Marketplace for Sharing, Meeting Dancewear , MPQ, CMG, Filbrit, and our partners Rozen Antonio Photography,  Alex Callueng Photography, Jef Anog Photography, and Ethereal Photography.