Ryan Pacioles
Fashion Designer
Just a hop and a skip away from his brand Atelier Zuhra's debut at Fashion Forward Dubai (FFWD) in October 2017, designer Ryan Pacioles has wasted no time accomplishing win-after-win in the last year, not only making his presence felt in Dubai and the region, but also working his way into the international market.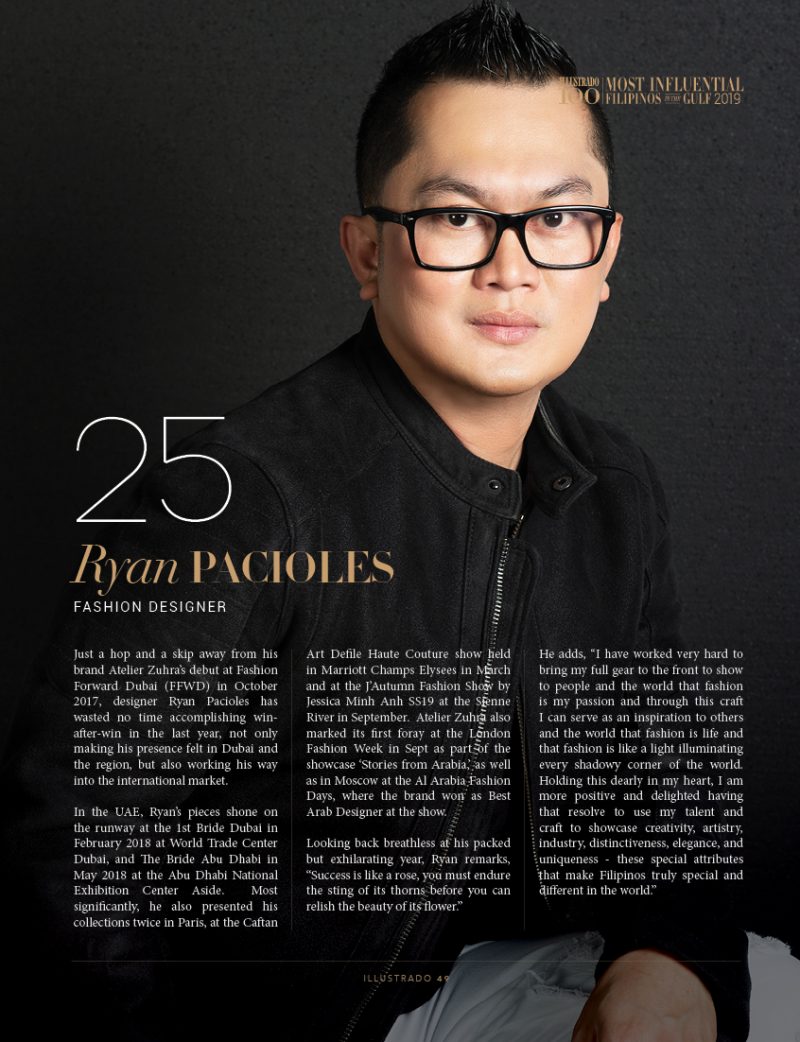 In the UAE, Ryan's pieces shone on the runway at the 1st Bride Dubai in February 2018 at World Trade Center Dubai, and The Bride Abu Dhabi in May 2018 at the Abu Dhabi National Exhibition Center Aside.  Most significantly, he also presented his collections twice in Paris, at the Caftan Art Defile Haute Couture show held in Marriott Champs Elysees in March and at the J'Autumn Fashion Show by Jessica Minh Anh SS19 at the Sienne River in September.  Atelier Zuhra also marked its first foray at the London Fashion Week in Sept as part of the showcase 'Stories from Arabia,' as well as in Moscow at the Al Arabia Fashion Days, where the brand won as Best Arab Designer at the show.
Looking back breathless at his packed but exhilarating year, Ryan remarks, "Success is like a rose, you must endure the sting of its thorns before you can relish the beauty of its flower."
He adds, "I have worked very hard to bring my full gear to the front to show to people and the world that fashion is my passion and through this craft I can serve as an inspiration to others and the world that fashion is life and that fashion is like a light illuminating every shadowy corner of the world. Holding this dearly in my heart, I am more positive and delighted having that resolve to use my talent and craft to showcase creativity, artistry, industry, distinctiveness, elegance, and uniqueness – these special attributes that make Filipinos truly special and different in the world."
……………………….
Special thanks to our sponsors: Emirates Airline, Stars n Bars La Mer, Liali, Instax – Grandstores UAE, Dusit Thani Dubai, Gver – Your Friendly Marketplace for Sharing, Meeting Dancewear , MPQ, CMG, Filbrit, and our partners Rozen Antonio Photography,  Alex Callueng Photography, Jef Anog Photography, and Ethereal Photography.