Shareefa Al Bloushi
Pilot
Airline Pilot Shareefa Al Bloushi exemplifies how with ambition and a hunger for excellence, virtually anything can be achieved. An Emirati-Filipino born to Abu Dhabi native, Mohamed and Iman Saflor who hails from Cavite, Shareefa was raised in the UAE capital and was initially a banker.  Despite enjoying her profession at the time, she still felt she yearned for something more. So, she joined Etihad Airways as a cadet in 2009. After years of fruitful hard work, she now flies a Boeing 777, her dream aircraft, as part of a small but growing class of extraordinary female pilots in the Emirates – a testament to the continued ascent of women in the region towards continued empowerment.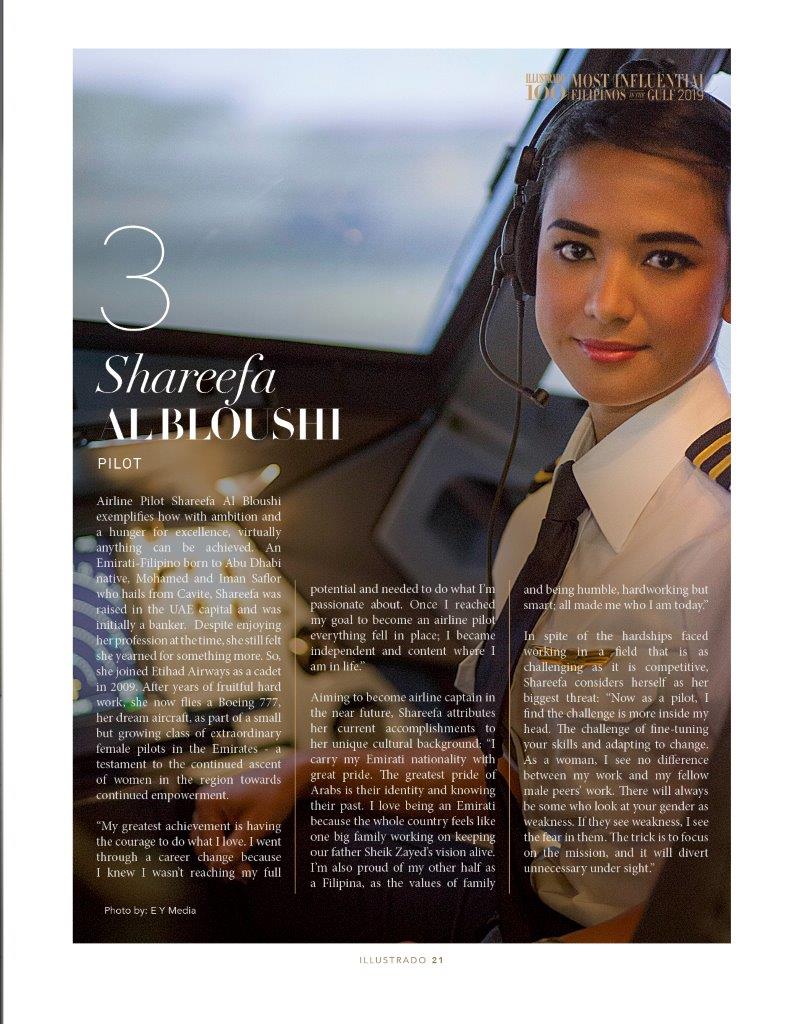 Aiming to become airline captain in the near future, Shareefa attributes her current accomplishments to her unique cultural background: "I carry my Emirati nationality with great pride. The greatest pride of Arabs is their identity and knowing their past. I love being an Emirati because the whole country feels like one big family working on keeping our father Sheik Zayed's vision alive.  I'm also proud of my other half as a Filipina, as the values of family and being humble, hardworking but smart; all made me who I am today."
In spite of the hardships faced working in a field that is as challenging as it is competitive, Shareefa considers herself as her biggest threat: "Now as a pilot, I find the challenge is more inside my head. The challenge of fine-tuning your skills and adapting to change. As a woman, I see no difference between my work and my fellow male peers' work. There will always be some who look at your gender as weakness. If they see weakness, I see the fear in them. The trick is to focus on the mission, and it will divert unnecessary under sight."
"My greatest achievement is having the courage to do what I love. I went through a career change because I knew I wasn't reaching my full potential and needed to do what I'm passionate about. Once I reached my goal to become an airline pilot everything fell in place; I became independent and content where I am in life."
……………………….
Special thanks to our sponsors: Emirates Airline, Stars n Bars La Mer, Liali, Instax – Grandstores UAE, Dusit Thani Dubai, Gver – Your Friendly Marketplace for Sharing, Meeting Dancewear , MPQ, CMG, Filbrit, and our partners Rozen Antonio Photography,  Alex Callueng Photography, Jef Anog Photography, and Ethereal Photography.