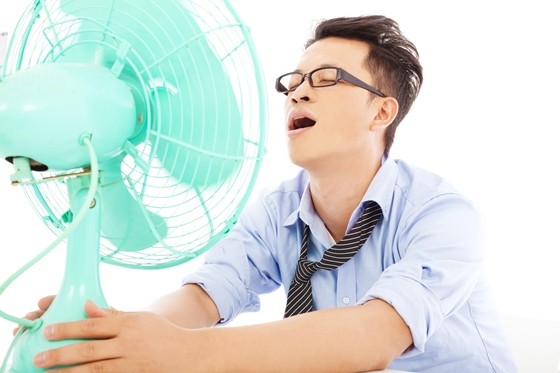 Because 'tis the season you dread (Ouch, the heat!) and look forward to (Oh, the beach!) at the same time, you know it's already 'summer in the Philippines' when (in no particular order)…
The Kapamilya, Kapatid, and Kapuso networks release their Summer Station IDs. That's when summer in 'Pinas officially starts, kababayans.

You catch Summer Fever. It's when the temperature reaches 40 degrees Celsius—yes, the weather is much warmer than your normal body temperature! Not cool.

Everyone gets hot-headed and annoying, including you. Please refer to #2 for further explanation.

Your dialog every hour especially if you're outdoors is "Angineeet,<insert curse here>!"
All you want for breakfast, lunch, merienda, and dinner is halo-halo, mais/saba con yelo, ice cream/drop/candy/buko/tubig, or samalamig. Forget brain freeze.
You think of kumikitang-kabuhayan by selling all of the above because that's what everybody wants. You could be a millionaire, too.

You start to question how the hell the great Francis M. came up with "cold summer nights."

Malls become the masses' haven on Earth. Free A/C, anyone?

Movie houses become the masses' bedroom. Pay P200+, and you can sleep and snore away!

You suddenly miss the finale of every 'Palibhasa Lalake' episode when they'd throw buckets of water at the guests.

Public transportation gets more challenging (as if finding one isn't yet tough enough) as you brave the unspeakable stench and sweat of your co-passengers amid the everyday traffic chaos.

Everyone you know is on a diet. At least until after they've gone to the beach to brag their Baywatch-worthy bodies.

Longganisa or sausage fashion strikes again since most people believe that summer gives you the right to wear sexy even if you're not.
The shortest shorts in the history of womankind, which we shall call the 'pak na pak' shorts, are on display on the streets. Worn by our sisters, of course.

Your Facebook becomes a Bodybook. On your News Feed are shameless full-body shots of your contacts in bikinis and trunks. To unfollow or to unfriend, that is the question.

Mom furiously delivers a one-hour sermon to the entire household once she receives the electricity bills.

You fantasize living in an igloo.

You seriously consider applying for a Polar Bear Whisperer post, so you can move to the North Pole legitimately.

Beach Boys is what you listen to day and night. Because you want to go surfin' in La Union or go to a place called Kokomo.

Surprise, surprise! Couples stop being clingy because they're all sticky. Now, that's one good thing you can benefit from the heat.

Beauty parlors and barbershops prosper. It's the season of short to no hair, after all.

Sunblock and whitening lotions are nearly out of stock. Remember, Filipinos aspire to be the fairest of them all.

You need a good umbrella to fight off the sun and the slimmest possibility of getting darks-skinned (again).

A long-lasting deodorant is on your must-have list, along with your summer #OOTD.

You can't go out without a stylish pair of sunglasses for your selfies with #japorms.

Taking a bath three times a day is a requirement. Anything less than that is a crime against humanity.

You lose count of out-of-office replies you get because many are on vacation leave. Even workaholics need to take a break, too.

People are busy researching about their summer destinations—preferably when the boss isn't around.

Every employee is at their best to get a quick approval of their week-long vacation leaves. Of course, it helps when pasalubong is guaranteed.

You get invited by family and friends to have your one out of two major reunions of the year (Christmas being the other one) on the beach or in Tagaytay.

All of you volunteer to bring the undying adobo to your outing because it never ever gets spoiled.

You feel locked up in the office or classroom because summer means being free and having fun under the sun or in late-night parties.

Boracay and Baguio win hands down as the places to be, where you'll find most of your kin and chums.

All resorts, even hot springs, are full. But why you'd want to swim in boiling water during summer remains a mystery.

You wonder yet again what "jasmine in my mind" means every time you feel the summer breeze.
You must go easy on sisig, lechon, chicharon, and everything else that can shoot up your high blood pressure.
The neighbor has chickenpox, cousin has measles, yaya has sore eyes, and you're scared of being heat-stroked or sunburnt.

All you want to do is to lie down and sleep, no matter how hot it is.Jose Rizal was right about the climate's impact on us all along.

You can't help but dream of summer loving with a girl crazy for you or a boy as cute as can be. You need a sizzling non-fiction story to share with your Wattpad pals!

You count the days until the rainy season comes, but then you realize that summer is still your favorite time of year.