Tastemaker – Tom Alvarado
Artist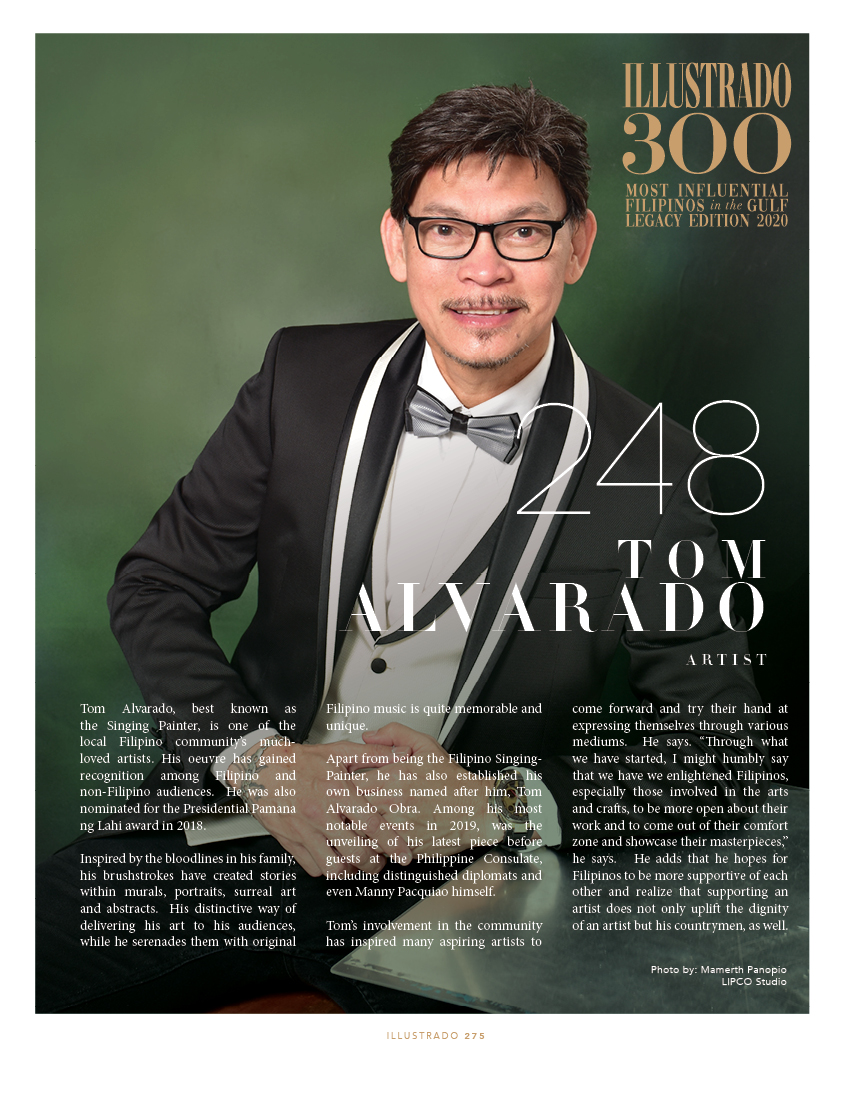 Tom Alvarado, best known as the Singing Painter, is one of the local Filipino community's much-loved artists. His oeuvre has gained recognition among Filipino and non-Filipino audiences.  He was also nominated for the Presidential Pamana ng Lahi award in 2018.
Inspired by the bloodlines in his family, his brushstrokes have created stories within murals, portraits, surreal art and abstracts.  His distinctive way of delivering his art to his audiences, while he serenades them with original Filipino music is quite memorable and unique.
Apart from being the Filipino Singing-Painter, he has also established his own business named after him, Tom Alvarado Obra. Among his most notable events in 2019, was the unveiling of his latest piece before guests at the Philippine Consulate, including distinguished diplomats and even Manny Pacquiao himself.
Tom's involvement in the community has inspired many aspiring artists to come forward and try their hand at expressing themselves through various mediums.  He says. "Through what we have started, I might humbly say that we have we enlightened Filipinos, especially those involved in the arts and crafts, to be more open about their work and to come out of their comfort zone and showcase their masterpieces," he says.   He adds that he hopes for Filipinos to be more supportive of each other and realize that supporting an artist does not only uplift the dignity of an artist but his countrymen, as well.
Illustrado 300 Most Influential Filipinos in the Gulf is Supported by: Kaya Skin Clinic,  Emirates Airline, and Unilever.
Special Thanks to Michael Cinco, Ezra Couture , Giordano, Darcey Flowers, IKON Solutions, Victors Freight, MPQ Tourism, Asia Gulf Companies –La Carne & Filfood, WOL Water
Get a copy of Illustrado 300 Most Influential Filipinos in the Gulf Legacy Edition