Tastemaker: Twisted Martinez 
Hip-hop Artist & Community Champion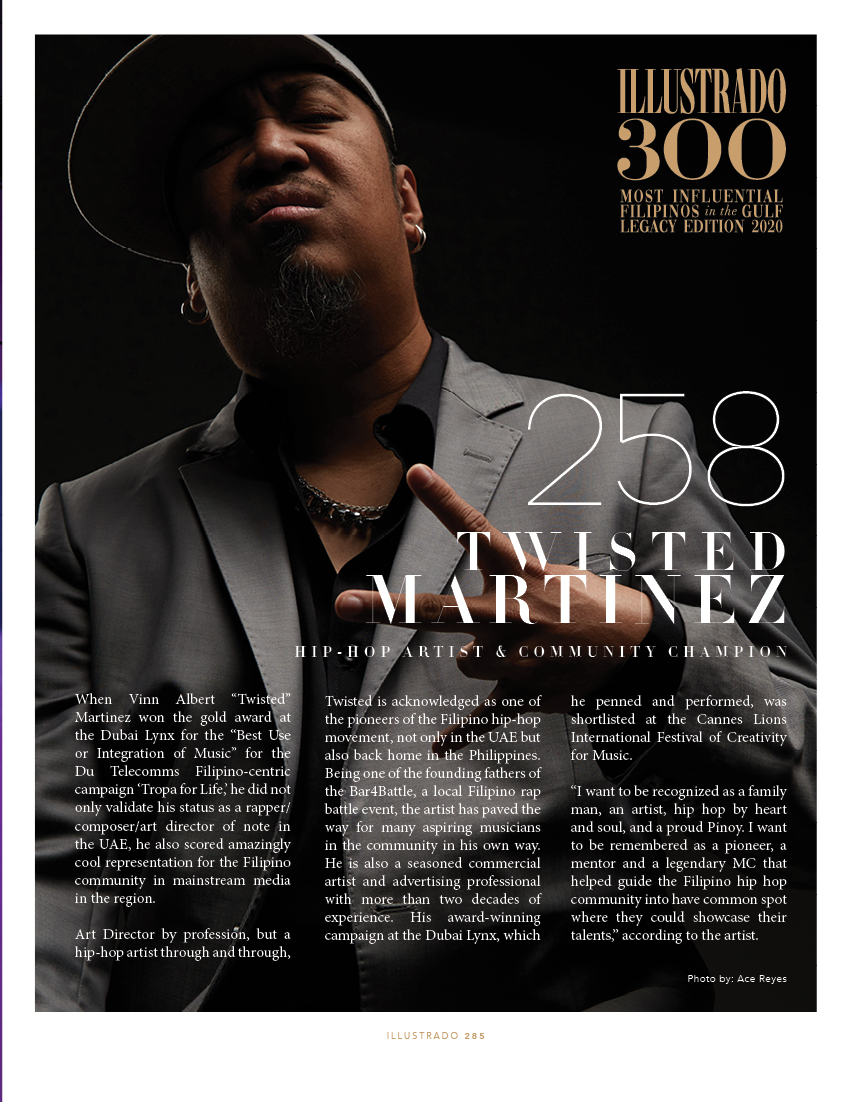 When Vinn Albert "Twisted" Martinez won the gold award at the Dubai Lynx for the "Best Use or Integration of Music" for the Du Telecomms Filipino-centric campaign 'Tropa for Life,' he did not only validate his status as a rapper/composer/art director of note in the UAE, he also scored amazingly cool representation for the Filipino community in mainstream media in the region.
Art Director by profession, but a hip-hop artist through and through, Twisted is acknowledged as one of the pioneers of the Filipino hip-hop movement, not only in the UAE but also back home in the Philippines.  Being one of the founding fathers of the Bar4Battle, a local Filipino rap battle event, the artist has paved the way for many aspiring musicians in the community in his own way. He is also a seasoned commercial artist and advertising professional with more than two decades of experience. His award-winning campaign at the Dubai Lynx, which he penned and performed, was shortlisted at the Cannes Lions International Festival of Creativity for Music.
"I want to be recognized as a family man, an artist, hip hop by heart and soul, and a proud Pinoy. I want to be remembered as a pioneer, a mentor and a legendary MC that helped guide the Filipino hip hop community into have common spot where they could showcase their talents," according to the artist.
Illustrado 300 Most Influential Filipinos in the Gulf is Supported by: Kaya Skin Clinic,  Emirates Airline, and Unilever.
Special Thanks to Michael Cinco, Ezra Couture , Giordano, Darcey Flowers, IKON Solutions, Victors Freight, MPQ Tourism, Asia Gulf Companies –La Carne & Filfood, WOL Water
Get a copy of Illustrado 300 Most Influential Filipinos in the Gulf Legacy Edition