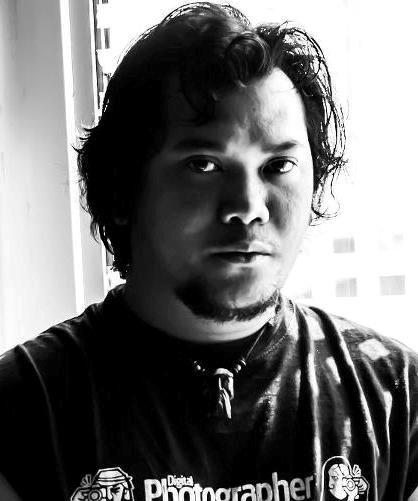 DARWIN "JAPAT" GUEVARRA
From winning the Sheikha Manal New Signatures Young Artists Awards in 2007, bagging the silver prize at the Red Bull Art of Can Competition, to his first solo exhibition and his fruitful association with the renowned Tashkeel gallery, Darwin "Japat" Guevarra is arguably one of the first local Filipino artists to have paved the way for other aspiring creative kababayans in the emirates.
Tell us about your specialization: How would you call your style? Preferred medium/subject?
My theme depends on my story. My creations are like a novel; with characters, symbols, and sentences. I use art forms that show mixed and multi-media works. I use images, paint and raw or existing materials delivered as painting.
What is your current fixation or inspiration for your recent artworks?
My current work is based on the place where I'm living and is inspired by my old works, too. I am continuously inspired by people around me, as well.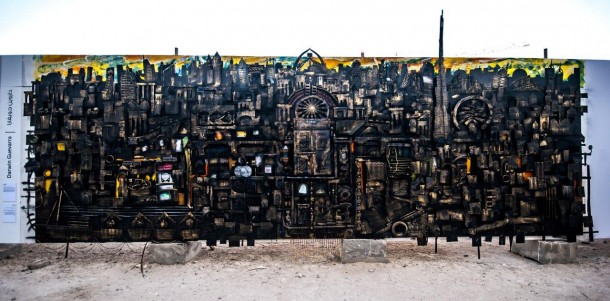 Tell us about your past exhibitions and projects.
During the "Outdoor Art Project" organized by Dubai Culture and Arts Authority, my mixed and multi-media work entited, "City of the Dreamers" was exhibited.
Here's a list of my past exhibitions and projects: Outdoor Art Project (May 2012 Bay Avenue – Dubai Culture & Arts Authority), Fakie (Jan 2012 – Art Dexhibition by Fn at Tashkeel Gallery), As the Saying Goes  (2011 – Tashkeel), Made in Tashkeel (2010), Bastakiya Art Fair 2010, MIND – Made in Dubai (2010, DUCTAC), Fakie Dexhibition 2010 (The Shelter Gallery), MEGA 2010 (DIFC), GSIS Art Competition (2010 GSIS Art Museum Philippines), Time of  Humanity (2009, Solo Show at Tashkeel), My Name is Robot 2009  (Jamjar), Art Oasis II 2009 (Wafi Mall), Sheikah Manal – New Signature Young Artist Award 2007 (Dubai Ladies Club).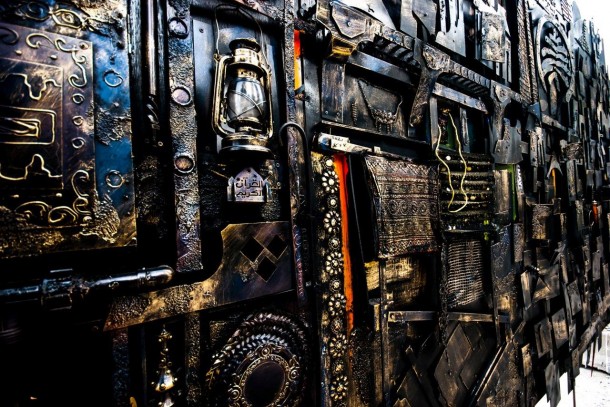 Future projects/exhibitions/collaborations
I'm currently planning for my second solo show.   I'm creating more artworks and also as an active member, I also conduct workshops at Tashkeel Gallery.
What is you art philosophy if anything?
I've long wanted to have a philosophy behind what I do. I just know that my duty as an artist is to continue what I've started. Part of being an artist is to document things – yung mga nakikita ko, buhay ko at panahon habang ako'y buhay pa [those that I see, my life and times].
Why are you an artist?
I'm an artist because this is what I choose, and this is what I can do. This is a gift I have received, and this is my lifestyle from now and to the very end.
If you were not an artist today, what would you be?
If I were not an artist today, I would be the leader of a band or an actor!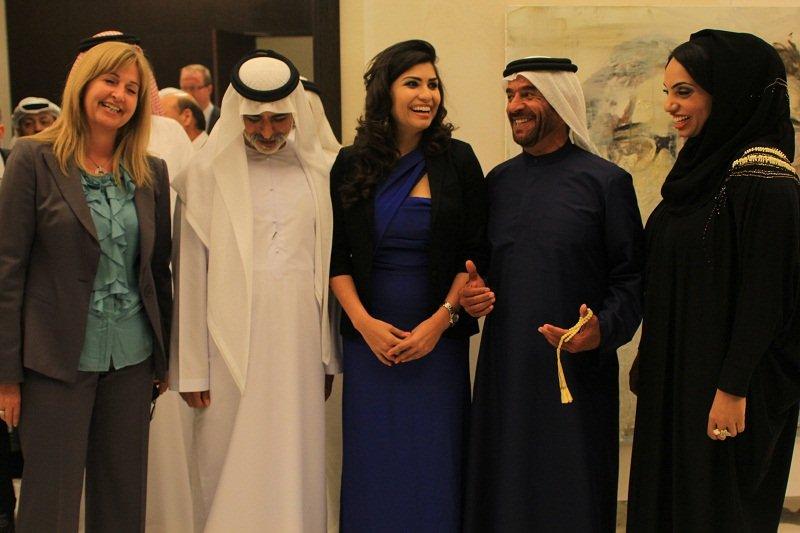 TINI MEYER
Tini Meyer, has exhibited and received accolades for her works on canvas and public art not only in the UAE, but in Canada, Spain, the UK and even China.  This citizen of the world who is of German, Filipino and Spanish heritage, was originally based in Vancouver and Madrid, but now splits her time between Abu Dhabi and Manila.  In recent years, Tini has become deeply inspired to rediscover her Filipino roots and has since been involved in promoting Philippine arts and culture. 
 How did you get started in art?
Since high school, I loved painting during nights when I couldn't sleep.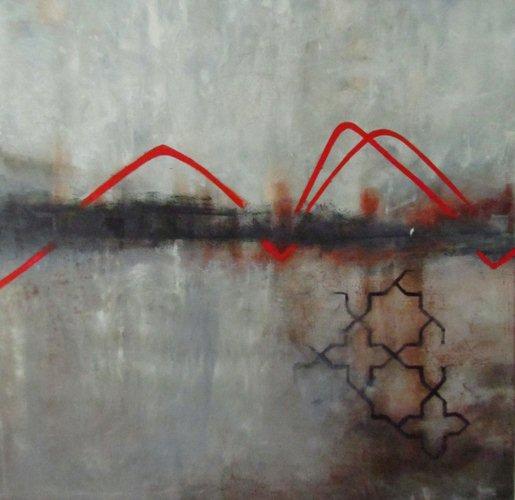 How would you call your style?
I specialize in contemporary abstracts. I do paintings, sculptures and installations. My preferred medium and subject is acrylic, working with textures.
What or who is your current inspiration for your recent artworks?
Her Excellency Ambassador Grace has been a huge inspiration in exploring my Filipino background. Her passion for our culture is contagious! I am very grateful for her support in promoting our heritage. I'm working on a new collection experimenting with indigenous materials from the Philippines.  I'm very excited to see the outcome.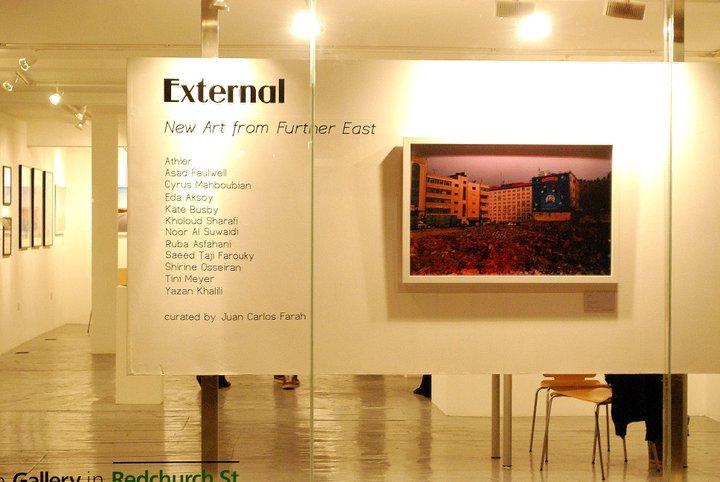 Tell us about your exhibitions, projects, collaborations—in the past, the present and the future.
I've had shows in London through Newertown Art, a platform created by Juan Carlos Farah. My favorite exhibit was my first show in Shoreditch, entitled "External", with artist friends such as Cyrus Mahboubian and Ruba Asfahani. This project was a collaboration with Jam Azucar on projects to promote Filipino art and culture. I curated a UAE art show earlier this year at Jumeirah at Etihad Towers, under the patronage of His Highness Sheikh Suroor bin Mohammed Al Nahyan.
Why are you an artist?
I simply couldn't imagine doing anything else. I love what I do.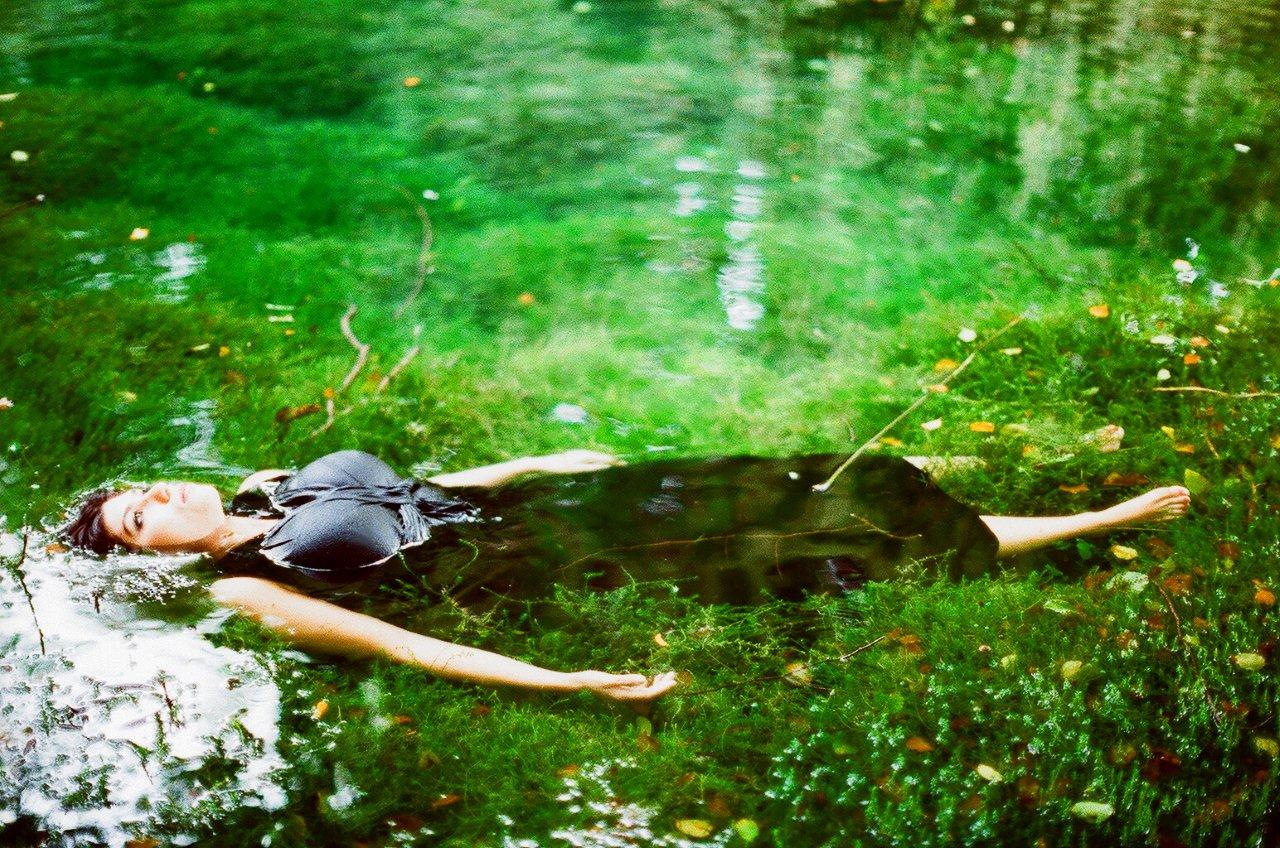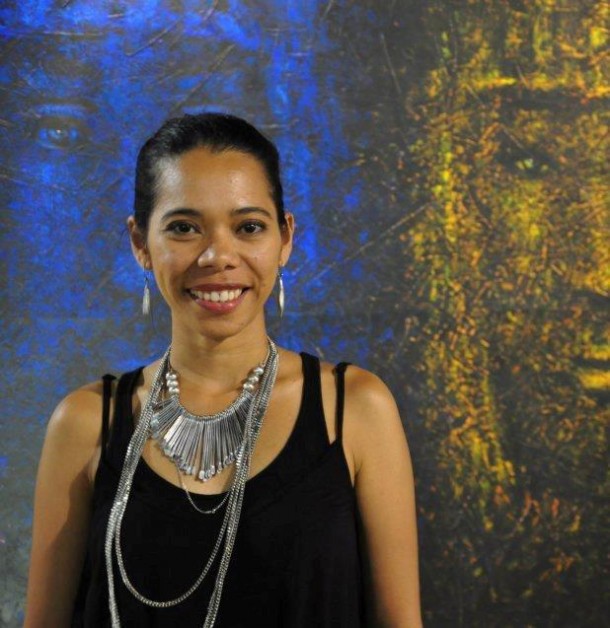 FLORDELIZA PESIGAN
Photos courtesy of Roxanne Cruz Ramos
A well-known persona in the Dubai art scene who moves seamlessly between painting, sculpture and dance, Flordeliza Pesigan got bitten by the art bug early on having had the privilege to spend her childhood days at the National Museum in the Philippines where her parents worked.  She turned full time artists three years ago, leaving her corporate existence behind, to follow her bliss.
How would you characterize your style?
My works span lifelike portraits in acrylic and brush; abstract paintings using acrylic and palette knife; sculptures in clay or anything else I can use; live art and dance performances.
I currently do them all and sometimes mix them. My subjects have always been anecdotes about my life and what I'm passionate about the time that the artworks are made. As my passions change and/or expand, my works also keep evolving.
What the current inspiration for your recent work?
My works currently have elements of dance and spirituality. It also touches on environmental issues.

Tell us a bit about your past exhibitions and projects.
Last June, I was part of Project Mega, the Middle East's largest designer toy exhibition. I was among the 125 artists featured.  That same month, I was part of the live art and Filipino dance presentation during the Philippine Independence Day, Dignitaries Night, just to name a few.
What is you art philosophy?
An artist's work is an extension of himself, the need to express and make his art is more important than the desire for it to be liked by others.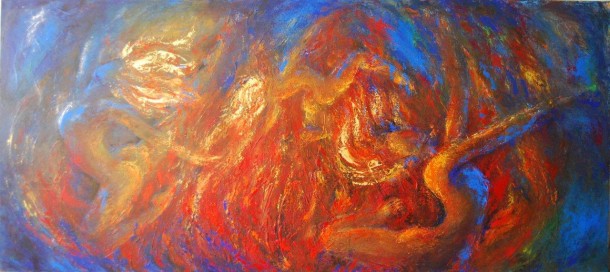 Why are you an artist?
It's just how I'm designed to be. I breathe art.
If you were not an artist today, what would you be?
Honestly, I don't know…
EDUARDO YAP
If there's one thing that definitively stands out from Eduardo Yap's often surrealist art, it is his images of distorted human faces gnawing at random and yet meaningful objects.  According to the artist, his trademark paintings depict angst, suppressed feelings, and sometimes, peoples' addiction to material things.  One such painting won him the 3rd prize at the Red Bull Art of Can competition in the UAE 2006, the latter just one of the many exhibitions Eduardo has been involved in since he started painting in high school.  Formerly based in Dubai, the artist has moved back home recently, but not before leaving his indelible mark in the local art scene.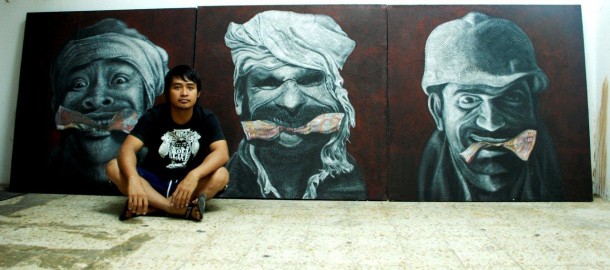 Tell us about your specialization: How would you call your style? Preferred medium/subject?
I specialize in depicting issues and people in my art. I use a dry brush style and acrylic paints.
What about the current inspiration for your recent artworks, can you tell us a bit more about that?
One of my paintings entitled, "Face the Reality" was inspired by watching my colleagues around my work area. Observing this real situation inspired me to do this kind of art work.
Another painting entitled, "Voting Ballot" was inspired by the issues related to the Philippine government. I felt the urge to do this painting during the election season.
I was inspired to paint "Stranger", after seeing a poor old woman in the city, trying to cope with a new environment.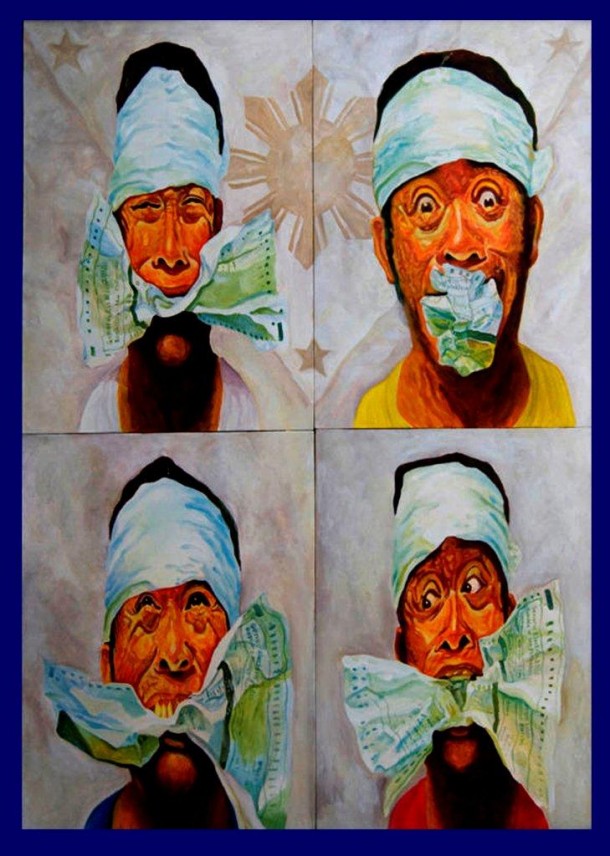 Tell us about your past exhibitions.
I've had a number of exhibitions here in the UAE, the last one being in 2010. That one was entitled, "Portrait of Generation" at the Tashkeel Studio. I had three exhibits in 2009: Art Oasis A Green Vision, "Eye of Horus" at the Wafi Mall, Silent Conversation in Tashkeel Studio and "My Name is Robot" at the Jamjar Gallery.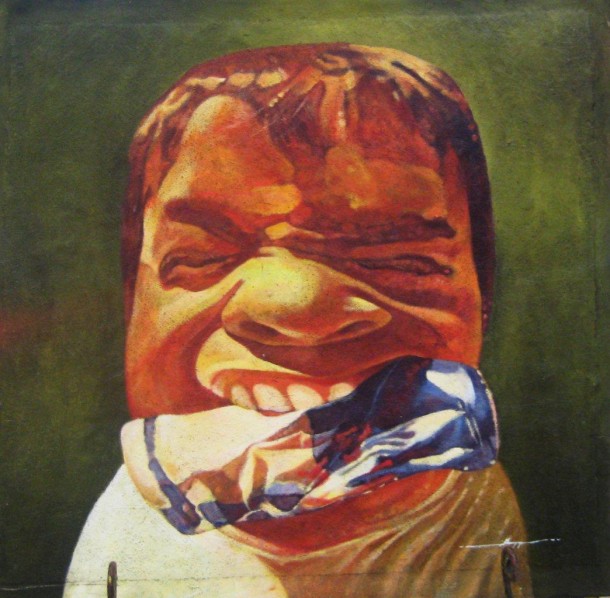 What is your art philosophy, if anything?
Art is a reflection of what a person is thinking. It is a small glimpse of what they hold inside. Every stroke has its own meaning.
Why are you an artist?
I didn't choose to be this way. I guess art chose me.
If you were not an artist today, what would you be?
If I weren't an artist today, I would be an engineer.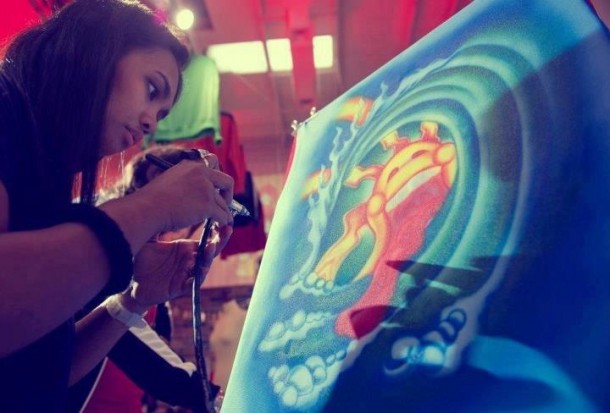 ELLA ORENCILLO
Illustrator, airbrush artist, muralist and decorative painter Ella Orencillo has certainly become "one of the boys" in the male dominated urban art scene in Dubai.  Often gracing the hippest art events in the city, her cheeky and mostly pop-surrealist works speak of dreams, feminism, love and chaos and everything else in between.
Specialization: How would you best characterize your art style?
I started as an airbrush artist in 1999 in Air Art Asia, but I have been joining school competitions since my elementary days.
I can say my strong point is airbrushing, although I don't do it as much as I used to. But, it's like riding a bicycle, you never forget how to do it. I don't really know how to "label" or what to call my style. I'd like to say it is semi-realism or pop surrealism. Acrylic is my medium of the moment, and I have been learning how to do watercolor, which I quite like since the result is faster. A portrait of a woman is my staple subject.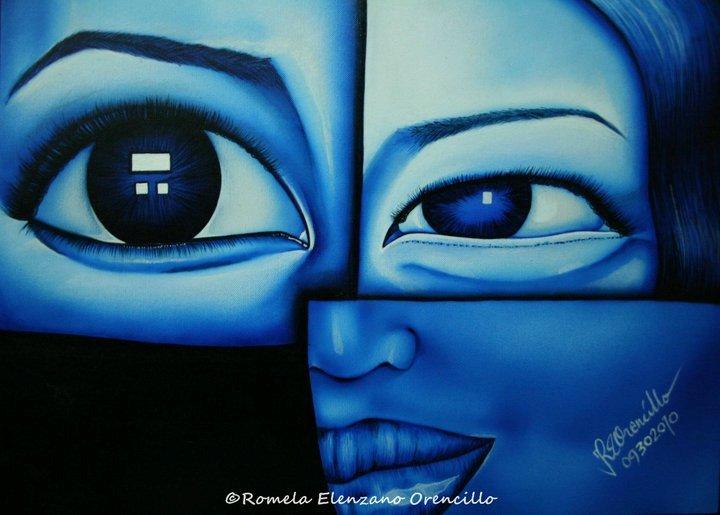 What is your current fixation and how does it serve as an inspiration to your recent artworks?
Not just current, but most probably, the fixation of my artworks is women. This is probably because women are capable of a lot of different emotions, and I like how a woman's face can be so dead pan yet her eyes say a lot. I will forever be inspired by the people around me.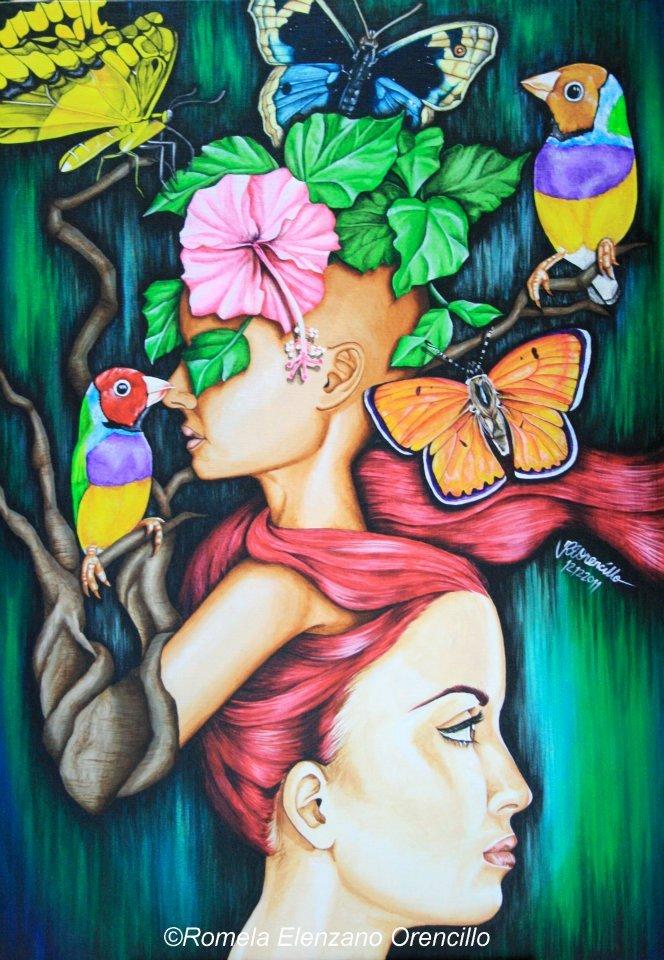 Past Exhibitions/Projects/Collaborations
Some of my past projects include Project:MEGA, Proyecto Baetulona (Barcelona, Spain), Worlds Together, 3 Keez of Illustration, SoleDxb's Sneaker Summit, Ninh Nguyen Fashion Show (NY, USA), Spraygraphics: Fill in the Groove (Arizona, USA), Virgin Megastore's 10th Anniversary, Sheikah Manal's Young Artist Award 2011 (shortlisted), New Era Introducing 2011 (finalist), FAKIE2, Genius, and Chocol'art, Olympic Mural for the British Embassy in Abu Dhabi for The Domino.
I just concluded Project: MEGA at The Dubai Mall last June 28, 2012.
What is you art philosophy, if anything?
Follow what makes your heart smile. Paint what your heart desires. Always be inspired and be an inspiration.
Why are you an artist?
I still have a hard time considering myself as an artist. I still have a long way to go. I just see myself as someone who tries to paint into a picture the images that my mind has weaved.
If you were not an artist today, what would you be?
I would love to say, I'd be an awesome guitar player, but more like, I'd probably be still teaching Koreans. I was an English teacher once, and that is one thing I would not hesitate to do again – that, or be a nomad.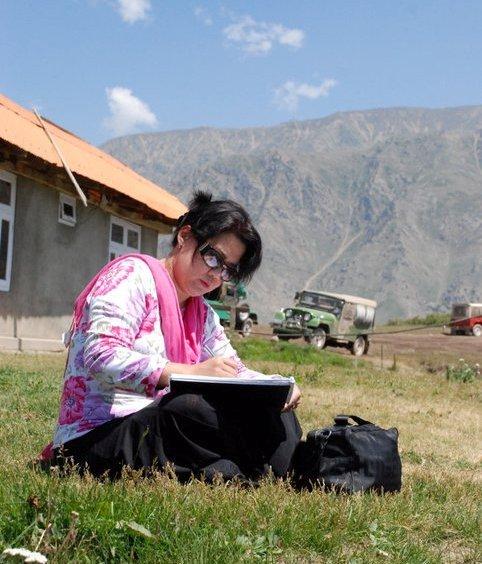 SUSAN VILLANUEVA
When not teaching art to her students at the Sharjah Higher Colleges of Technology, or driving them to win in local and international competitions, Illustrado Woman of Substance Honoree Susan Villanueva turns to painting – her true first love.
How did you get started in art?
I've had 43 years in art. I started my career in the Philippines working on murals.
I started at a young age.  I always sketched in the classroom.  I would sketch my teachers and any part of the room that would inspire me. I would always say that lines were my way to remember lessons taught for the day.
I guess from the day I was born, I wanted to be an artist.  I used every opportunity to express my ideas, feeling and thoughts. I used to make art and then hide them because my parents wanted me to be a doctor.  I was born into a family of doctors so [a career in] art was difficult for them to comprehend.  They wanted me to hold a scalpel, rather that colors and brushes.
I wanted to paint, but I didn't have brushes so I used my fingers to paint the subjects.  It would take days to dry oil paint.  I waited patiently and used to hide them in drawers – my clothes would smell of oil paint.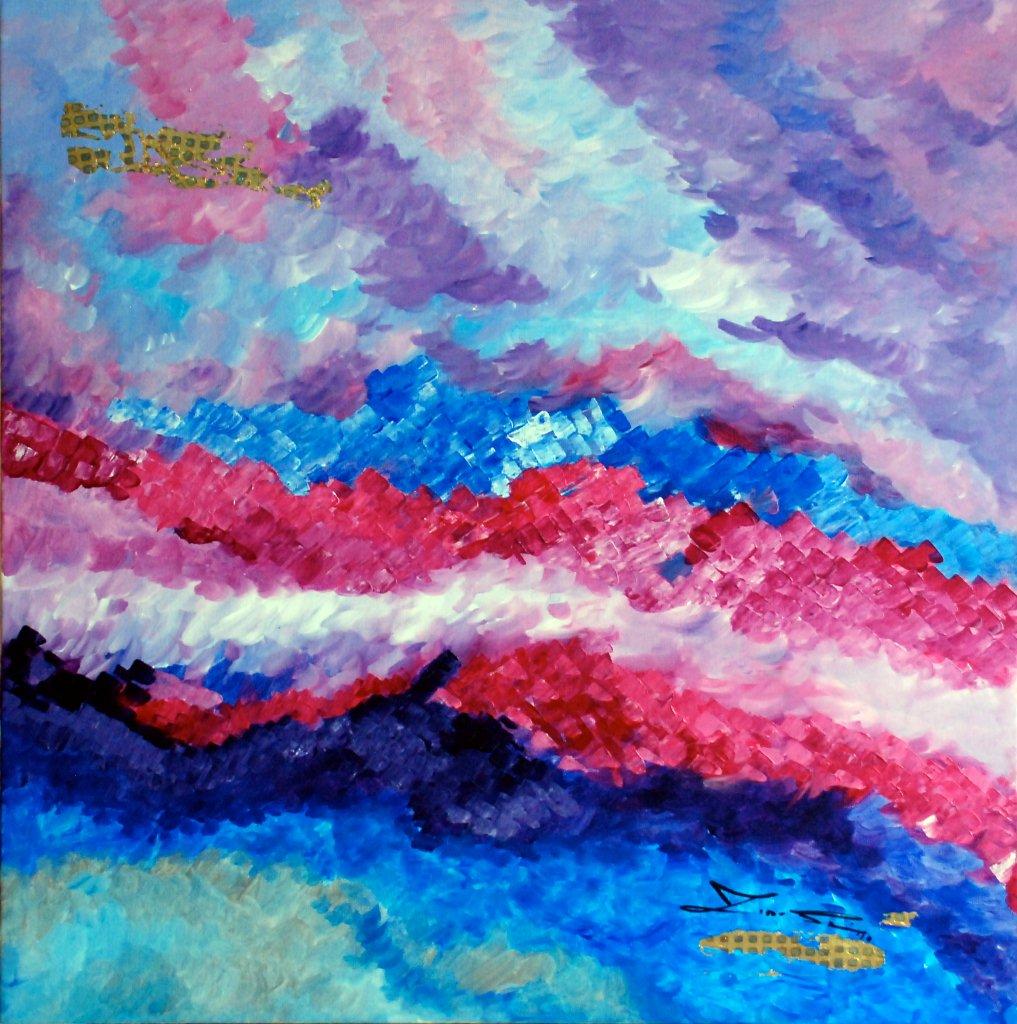 What do you consider your specialization?
I started as a surrealist. I admire the work of Salvador Dali.  I am thrilled by the texture of Monet, and I am fascinated with the distortion of Picasso's work. I am inspired by the madness of Van Gogh.
I work with no specifics, no rules — just expressions.
As I grew older, my work changed to become more of a more impressionism style.  I love strokes, movement of brushes and painting with no conditions. I love the large format.  I don't like limitations.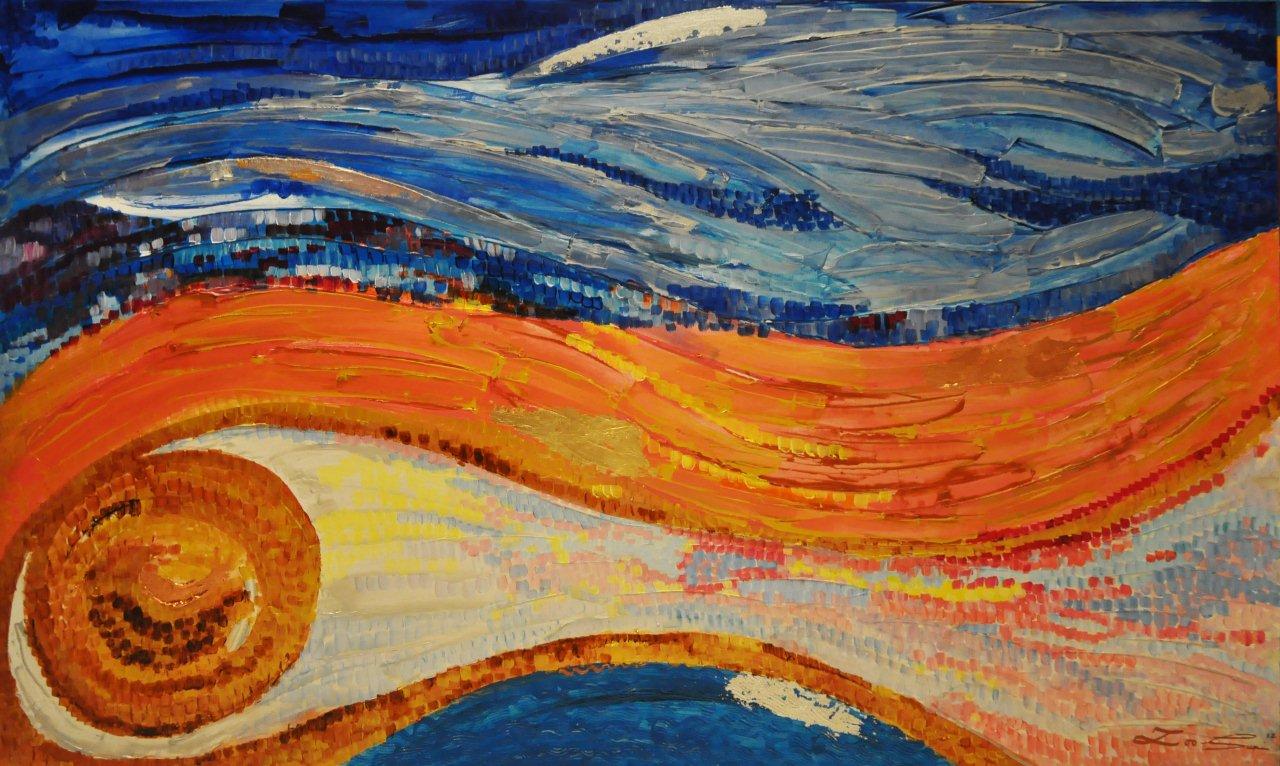 How would you call your style?
Impressionism beyond expression.
Tell us about your past exhibitions, projects and collaborations
I mounted my first exhibition called Tag-Tuyo (dry season) in 1981. In 1985, I had a group show at the PICC. In 2009, I had selected paintings exhibited in the Emirates Palace, Abu Dhabi, during the Arts and Media Awards.
What about your future projects/exhibitions/collaborations?
I am currently working up with an exhibition called "Movements".
What is you art philosophy, if anything?
The world is my canvas. I get inspiration from what I see, feel and what I learn each day. Art is universal, it has no boundaries and limitations.
Why are you an artist?
Later, I learned that my grandfather from my mother's side was a painter.
Perhaps God made me this way to allow me to express who I am, what I am, and what I can be with colors, lines, textures and thoughts.
If you were not an artist today, what would you be?
I would still be an artist.  Maybe I will be more vocal with colors and aggressive with my work.