Victoria Mikkelsen
Entrepreneur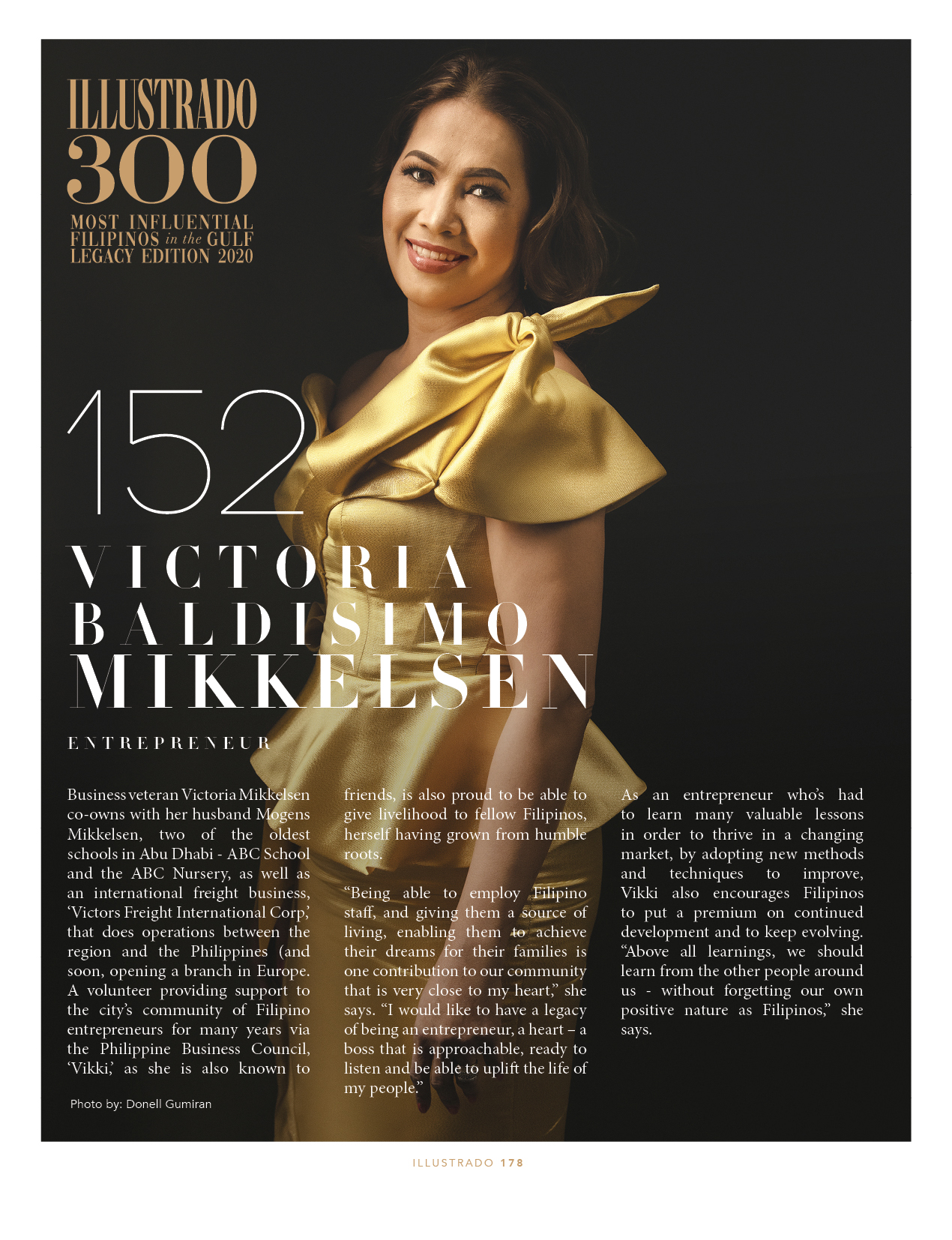 Business veteran Victoria Mikkelsen co-owns with her husband Mogens Mikkelsen, two of the oldest schools in Abu Dhabi – ABC School and the ABC Nursery, as well as an international freight business, 'Victors Freight International Corp,' that does operations between the region and the Philippines (and soon, opening a branch in Europe. A volunteer providing support to the city's community of Filipino entrepreneurs for many years via the Philippine Business Council, 'Vikki,' as she is also known to friends, is also proud to be able to give livelihood to fellow Filipinos, herself having grown from humble roots.
"Being able to employ Filipino staff, and giving them a source of living, enabling them to achieve their dreams for their families is one contribution to our community that is very close to my heart," she says. "I would like to have a legacy of being an entrepreneur, a heart – a boss that is approachable, ready to listen and be able to uplift the life of my people."
As an entrepreneur who's had to learn many valuable lessons in order to thrive in a changing market, by adopting new methods and techniques to improve, Vikki also encourages Filipinos to put a premium on continued development and to keep evolving.  "Above all learnings, we should learn from the other people around us – without forgetting our own positive nature as Filipinos," she says.
Illustrado 300 Most Influential Filipinos in the Gulf is Supported by: Kaya Skin Clinic,  Emirates Airline, and Unilever.
Special Thanks to Michael Cinco, Ezra Couture , Giordano, Darcey Flowers, IKON Solutions, Victors Freight, MPQ Tourism, Asia Gulf Companies –La Carne & Filfood, WOL Water
Get a copy of Illustrado 300 Most Influential Filipinos in the Gulf Legacy Edition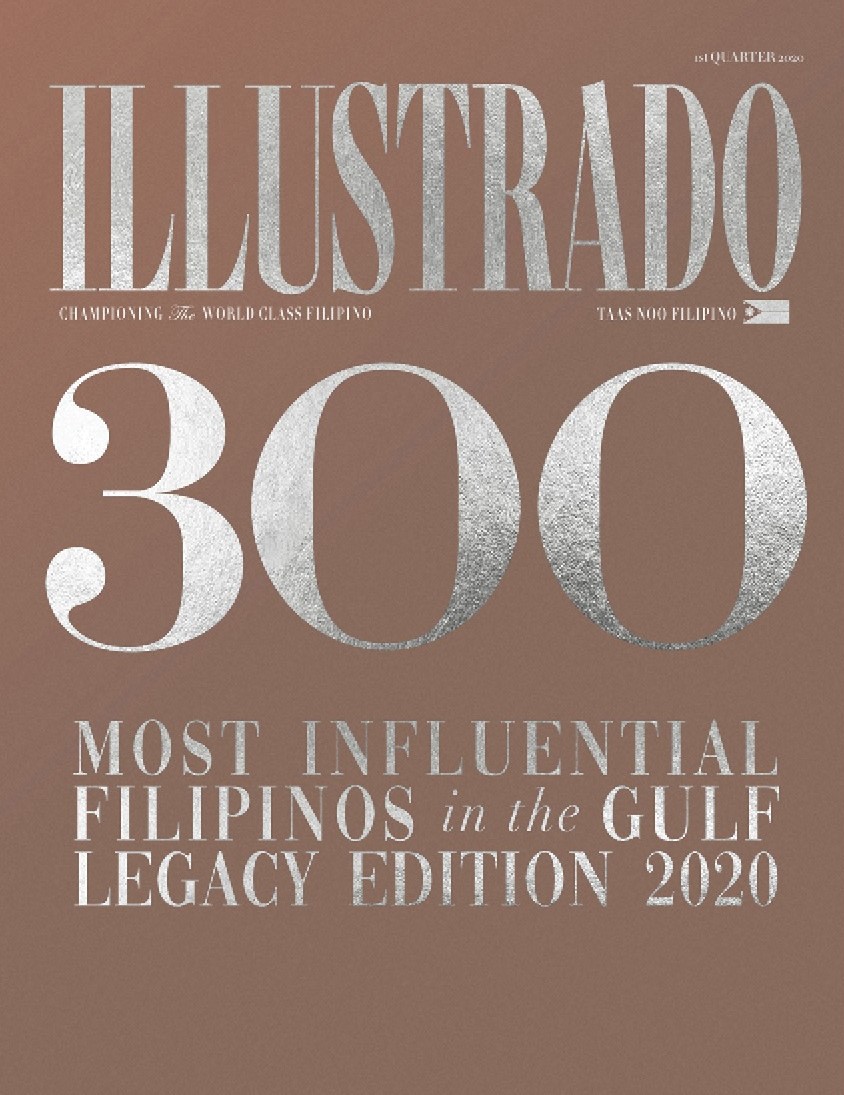 Victoria Mikkelsen
Entrepreneur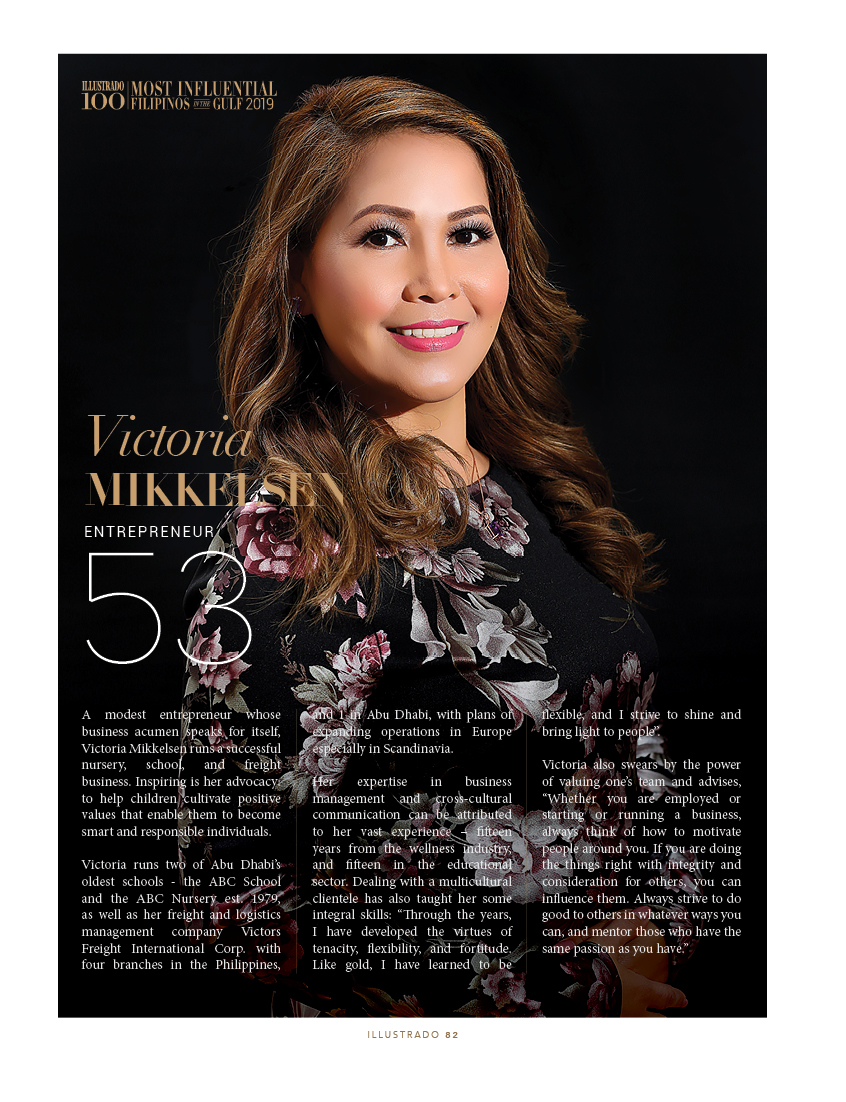 A modest entrepreneur whose business acumen speaks for itself, Victoria Mikkelsen runs a successful nursery, school, and freight business. Inspiring is her advocacy: to help children cultivate positive values that enable them to become smart and responsible individuals.
Victoria runs two of Abu Dhabi's oldest schools – the ABC School and the ABC Nursery est. 1979, as well as her freight and logistics management company Victors Freight International Corp. with four branches in the Philippines, and 1 in Abu Dhabi, with plans of expanding operations in Europe especially in Scandinavia.
Her expertise in business management and cross-cultural communication can be attributed to her vast experience – fifteen years from the wellness industry, and fifteen in the educational sector. Dealing with a multicultural clientele has also taught her some integral skills: "Through the years, I have developed the virtues of tenacity, flexibility, and fortitude. Like gold, I have learned to be flexible, and I strive to shine and bring light to people".
Victoria also swears by the power of valuing one's team and advises, "Whether you are employed or starting or running a business, always think of how to motivate people around you. If you are doing the things right with integrity and consideration for others, you can influence them. Always strive to do good to others in whatever ways you can, and mentor those who have the same passion as you have."
……………………….
Special thanks to our sponsors: Emirates Airline, Stars n Bars La Mer, Liali, Instax – Grandstores UAE, Dusit Thani Dubai, Gver – Your Friendly Marketplace for Sharing, Meeting Dancewear , MPQ, CMG, Filbrit, and our partners Rozen Antonio Photography,  Alex Callueng Photography, Jef Anog Photography, and Ethereal Photography.