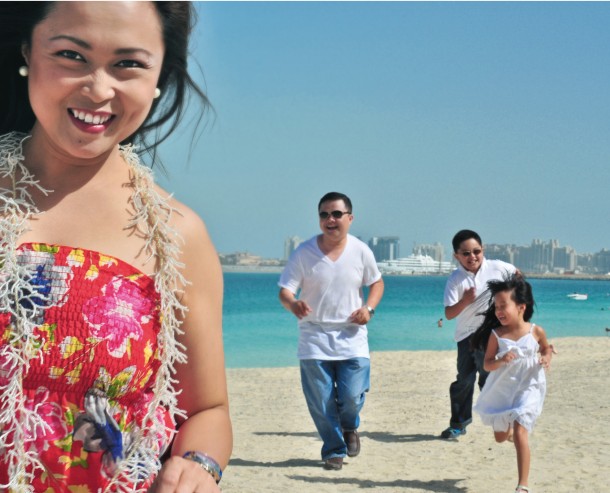 Story by: Toni Loyola
Photography: Eros Goze; Hair and Make-Up: Ginno Alducente
Lou Parocco has an interesting view of what makes one rich. It is what she calls, an "abundance mentality." To Lou, when you recognize all that you have been given, sharing a part of it with others comes naturally.
Lou's climb up the Emirati corporate ladder started with the sales staff job she took at the Dubai Duty Free. It was not a desperate move, "I was just being practical," rationalized Lou, who held a Human Resource management position in Bacolod before moving to The Gulf.
Her instincts paid off. After a brief 6-month stint on the shop floor, Lou was able to put her Human Resource experience back into practice when she got promoted to the HR department.
Now, she works as Global HR Manager for LMKR, a technology provider of software and services  for the oil and gas industry. Lou handles the corporate affairs of LMKR employees spread all over the world.
More than just a Filipino role model, Lou is the Filipino "professional" model. Respected by her colleagues, she was once described by a company head offering her a job: "a [calm] ship on the outside but can be a [fierce] shark inside."
Lou has proven that one can rise above the ranks through hard work, dedication and giving beyond expectations. But while her career is based on a company's success metric of developing the talent of their people, Lou's own personal success metric is to reach out to others and help them harness their own potential and live out their dreams.
Not known to many, the professional and firm lady in the company is also a charitable and sensitive woman.
Since 2009, Lou and her husband Cesar, have spearheaded different charities and outreach programs that benefit fellow Filipinos both in the UAE and at home.
Their desire to help can actually be traced back to two life-changing instances. For Lou, it was witnessing her mother scraping off every single dot of lipstick on an already empty tube with a matchstick. To Lou, it symbolized how her mother had to scrimp on many of her own comforts to provide for their family. Seeing this, Lou swore she would use her first paycheck to buy her mother the finest lipstick. Unfortunately, her mother died before she could do so.
In 2008 Cesar had an emergency angioplasty after it was discovered that he had a blockage in his major and minor arteries.
These two instances combined was a turning point for Lou and Cesar. The couple, who both celebrate their birthdays in the month of May, decided to do charity work instead of having lavish birthday parties.
Their first project was "Shoot and Shelter," a series of photography workshops, which intended to raise enough funds to provide a house for one family through the Gawad Kalinga Foundation. The project, which was supported by different photography clubs in the UAE, as well as volunteer models and make-up artists, was so successful that it was able to provide houses to two families, instead of just one.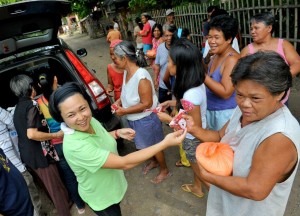 In May 2010, the couple embarked on another charity concept, "Color for Her" to realize Lou's dream of providing an emotional boost to Filipinas unable to afford themselves the smallest measure of vanity: lipstick.  Together with friends, Lou and Cesar were able to collect more than a thousand tubes of lipstick.  And from the moment they stepped foot on Philippine soil, were they spend their annual vacations, they started distributing lipsticks to cleaners, street vendors and metro aids.  They also visited markets and schools, handing out lipsticks to vendors, and public school teachers.
In May 2011, the Parrocos celebrated their birthday month with a dance.  In cooperation with the Filipino Dance Club of Dubai, they organized "Hearty Party" a series of two-hour dance parties featuring Zumba and aerobics, aimed at promoting health awareness in the community.  Proceeds from the AED30 entrance fee were donated to the Anawim Foundation in the Philippines, particularly those suffering from cardiovascular diseases.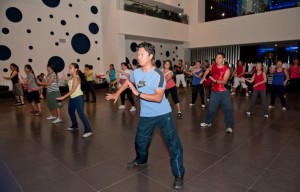 This year, Lou and Cesar are planning to stage "Hear Me", a mini-concert for local budding artists who want to be heard, but don't always get a break.  Proceeds of the concert will be for the benefit of deaf patients in the Philippines.
Ulitmately, Cesar and Lou dream of putting up a scholarship program in the Philippines someday. They hope that their endeavors would encourage other Filipinos to look for opportunities to help those in need.
Lou stressed, "We do not need to be rich to help. An abundance mentality and a grateful heart is something my husband and I both share and we are both committed to seek every opportunity to pay forward all the blessings bestowed upon us by helpings others in need."
See what Lou has to say about charity and sharing one's blessings –