The search is now on for Faces 2020
Are you the next FACE of Illustrado? Or are you the PHOTOGRAPHER who could capture Illustrado's next batch of the most charming Filipinos in the Gulf for 2020?
MECHANICS
Illustrado celebrates Filipino beauty!
We are inviting photographers and Filipino models, both male, and females, on a collaborative project devoted to celebrating the Pinoy's natural charm.
Send us your superbly shot BLACK & WHITE portraits in high-resolution through the entry form below. Selfie pics will not be accepted.  Max file size is 2MB – Max 3 entries + 1 photographer's profile photo.
Qualifier images will be posted on our Facebook page and website for voting.  The top 100 images including 1) Illustrado's Choice and, 2) People's Choice (the one with the most votes), will be published in Illustrado Magazine's Quarterly Special Edition, as well as on our website and digital magazine.  Photographers will also be featured in the magazine with their profile photos and portfolio links.
Apart from the chance of getting your work or your picture published, winners – both models and photographers, and for both People's Choice and Illustrado's Choice – will win prizes to be announced soon.
WHO CAN JOIN?
All models should be Filipino or should have Filipino heritage. We welcome entries from the UAE and other Gulf countries.  However, since the prize sponsors are based in the Emirates, winning entries outside the country will not be able to receive prizes – unless an authorized UAE-contact is appointed to claim the prize.  If you accept this condition, do join.
Photographers and models outside of the Gulf (abroad) who may wish to join the project, may do so.  However, their entries will not be part of the competition.  If qualified, they can still be part of the magazine as featured from outside the region.
This batch of Illustrado Faces is open to both males and females.  Former participants are welcome to join.  Each photographer can submit a maximum of 3 entries for consideration.  Models should be 18 years and above.  Models are advised to work with only 1 photographer as we can only feature a single photo per model per competition.
PHOTO REQUIREMENTS
NOTE: SUBMIT ONLY A MAX OF 3 ENTRIES – 2MB MAX PER FILE, JPG FORMAT.  Our system will not accept larger files or any other format.
Photos should be HEADSHOTS (portrait/vertical orientation), NOT full-body or half-body shots.
Photos should depict natural Filipino charm – i.e. no heavy or stylized make-up or artificial-looking contact lenses.  Models should not wear any hats or any headgear or accessories that will cover the face.  Post-processing should be kept to a minimum. We will not be accepting heavily Photoshopped images.
In respect of the local cultural sensitivities, models should not be dressed in overly revealing clothes or have a provocative projection.
Photos sent to us will only be used for the purposes of this project.
Photos should not be watermarked with any name/logo. However, photos will be duly attributed to the relevant photographer within the posts.  Photos uploaded by Illustrado will carry the Illustrado logo, as well as sponsors.
VOTING, TERMS & CONDITIONS
Voting for Illustrado's Choice will be done via Illustrado Magazine on Facebook and www.illustradolife.com.  Combined results from both platforms will be considered for the final winner.
Illustrado reserves the right to exclude inappropriate entries or those that do not make the cut. Illustrado reserves the right to disqualify entries where Autoliking, "sock puppets" or any other spurious methods of gathering votes have been utilized.  Illustrado's choice of winners is final.  By submitting your entry, you confirm to abide by these rules and regulations.  No complaints will be entertained.
For inquiries, e-mail us at admin@illustrado.co
SCHEDULE
Submission deadline: 12th March 2020
Voting on Illustrado on Facebook and on www.illustradolife.com: 1st to 22nd March 2020
Top 100 entries will be published in Illustrado's Quarter 2 – 2020 Special Faces Edition and announced in Illustrado GO> LIVE on the 25th March 2019
Check out the previous Illustrado Magazine Faces 2019 Issue!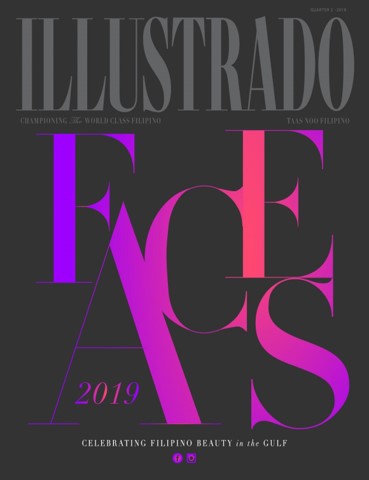 See 2019 contestants and what our community had to say about the entries here!
FILL THE FORM BELOW COMPLETELY TO SUBMIT YOUR ENTRY
Please note that we will not be responsible and will not follow-up for missing details (e.g. photographer's photo) on your application.  Kindly ensure that you provide complete details.