Dr. Angelo Niño Santos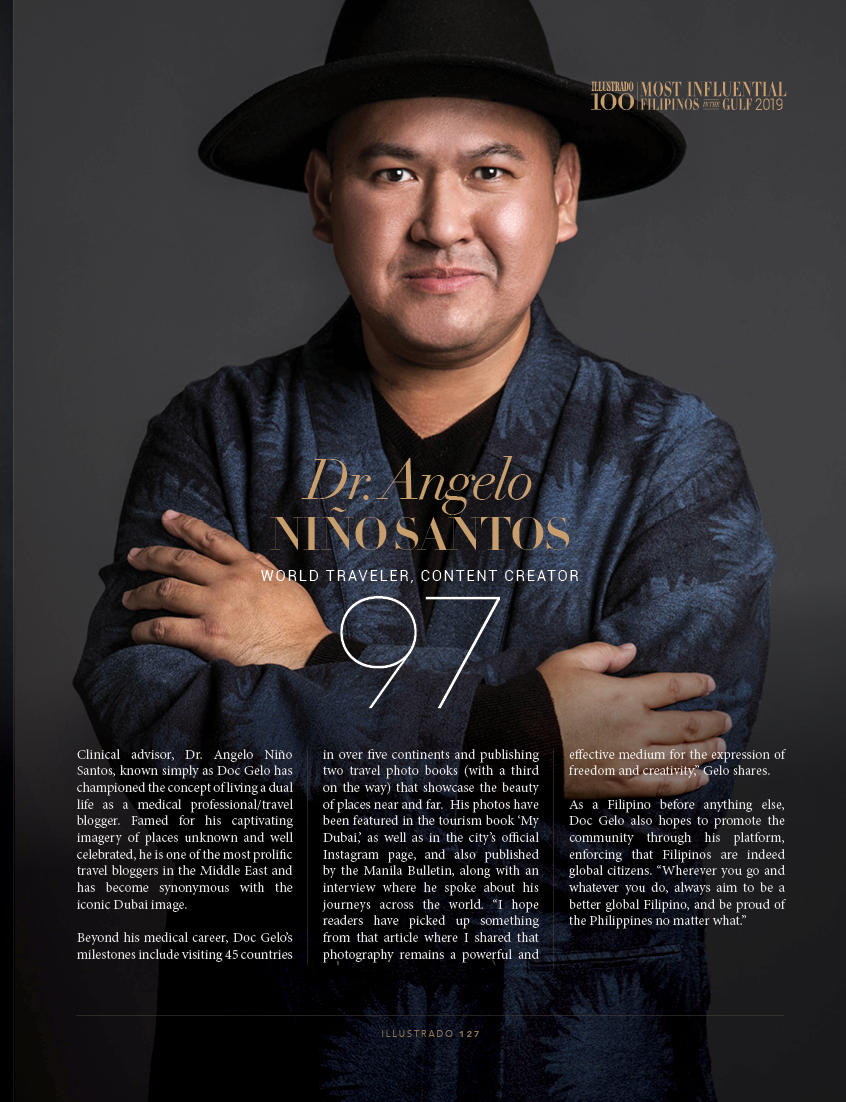 Clinical advisor, Dr. Angelo Niño Santos, known simply as Doc Gelo has championed the concept of living a dual life as a medical professional/travel blogger. Famed for his captivating imagery of places unknown and well celebrated, he is one of the most prolific travel bloggers in the Middle East and has become synonymous with the iconic Dubai image.
Beyond his medical career, Doc Gelo's milestones include visiting 45 countries in over five continents and publishing two travel photo books (with a third on the way) that showcase the beauty of places near and far.  His photos have been featured in the tourism book 'My Dubai,' as well as in the city's official Instagram page, and also published by the Manila Bulletin, along with an interview where he spoke about his journeys across the world. "I hope readers have picked up something from that article where I shared that photography remains a powerful and effective medium for the expression of freedom and creativity," Gelo shares.
As a Filipino before anything else, Doc Gelo also hopes to promote the community through his platform, enforcing that Filipinos are indeed global citizens. "Wherever you go and whatever you do, always aim to be a better global Filipino, and be proud of the Philippines no matter what."
……………………….
Special thanks to our sponsors: Emirates Airline, Stars n Bars La Mer, Liali, Instax – Grandstores UAE, Dusit Thani Dubai, Gver – Your Friendly Marketplace for Sharing, Meeting Dancewear , MPQ, CMG, Filbrit, and our partners Rozen Antonio Photography,  Alex Callueng Photography, Jef Anog Photography, and Ethereal Photography.