Photography by Donald Rosales, Hair and Make-Up by Ivy
Deciding to finally go into a regular exercise regime is one thing.  But finding the right program for yourself is quite another.
In a lot of instances, boredom and lack of interest and commitment are the main stumbling blocks that prevent one from being consistent with exercise. Hence, identifying the activity that matches not only your physical needs and capability as well as limitations, but also your personality – your likes and dislikes, is quite crucial in sustaining a fitness program that will help you achieve your goals.
We've caught up with several UAE-based Filipinos from different walks of life, who swear by the hobbies that they love and enjoy, which keep their bodies moving and in top shape.  They show us that getting fit is possible in so many different ways and that's it's really not a chore, but fun.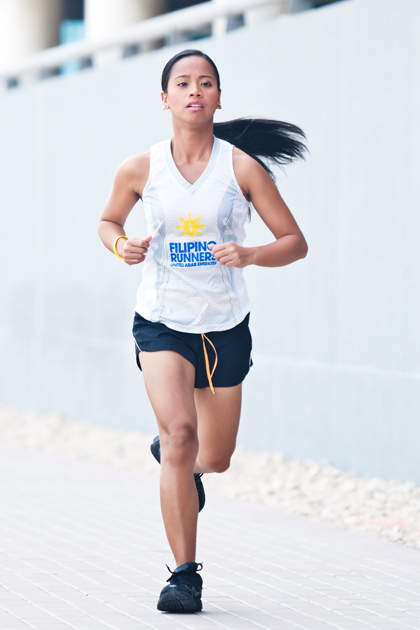 Diana Amor Bautista
Running
Twenty nine year old Amor, who works as an Economic Analyst for a Japanese organization in Dubai, participated in a 10km run – her first ever race, in 2009.  Originally motivated to run so that she can engage in an enjoyable activity that would also help her shed pounds gained in recent years due to stress, Amor got hooked from the start and joined running events across the emirates, ranging from 10km, 21km and 42km distances.
Her regular fitness regimen
"On cooler months, I run a total of around 40-50km, running four to five times per week.  During the summer, I still run but only for shorter distances.  Timing is also crucial during summer so it's either I run very early in the morning or very late in the evening.  On some days with very high humidity, even a 2km run can be depressing."
"Running can sometimes be boring so in between, I also do cycling and dragon boat paddling for cross-training and endurance."
Her take on running
"Running is simple and does not require any equipment, and you can do it anywhere and anytime you want.  You just need a good pair of running shoes and you're good to go."
"It has transformed my overall well-being: it made me fit and helped me build a certain level of confidence. I felt empowered knowing that my legs and body are capable and strong.  The only drawback perhaps, is that I became less sociable especially with friends who are not into running.  I had to beg off from Thursday/Friday night-outs because I needed to go to bed early and get up early for long runs during weekends."
Her fitness advice
"Choose an activity or hobby not because it's popular or it gives you a certain level of class or because your friends do it.  Choose something that would make you feel good inside and out, and something that you can commit yourself to in the long term.  In any activity, consistency is key, for you to be able to get sustainable results."
"Once you get into it, eventually other aspects would follow: you'd tend to be more aware and careful about what to eat because you do not want your training to go to waste, and you will develop a sense of discipline and determination as your body gets stronger and the mind becomes more focused."
Delver Nino Mangaoile
Martial Arts
Delver Mangaoile has fond memories of watching martial arts movies with his brothers when they were young. Movies such as "The Kick Boxer" by Jean Claude Van Damme with all those spinning back kicks, and the good guy saving innocent people with cool but deadly moves inspired them and got them interested in martial arts. Now 25 years old and a Professional Martial Arts Instructor in Dubai, he started going to taekwondo class at their local public school back home at the age of 14.  He then shifted to kickboxing, Wushu Sanshou, and Muay Thai in college.
Two years ago, he also got hooked into mix martial arts.
Delver says he enjoys the sport immensely and that winning tournaments in the Philippines and abroad also made him more driven and attached to the sport.
His fitness regimen
"I train three times a week on a regular basis and my program consists of punching bag exercise, focus mitts with a partner and some strength training. When I can't go to the gym, I usually go for a jog for around 20 to 30 minutes, and then after that, I do some push-ups, curl-ups and always end it with proper stretching."
"I remember not training for a month and I felt sluggish. So mainly, having an active lifestyle keeps me always in balance and on track, aside from making me physically healthy."
His take on martial arts
"I like the sport because of the discipline it gives, the respect for others specially your seniors or "sensei," the endurance you acquire from the difficult training, the courage, the sportsmanship (hugging your opponent after beating each other up), and of course the 'high' it gives you when you are handed a black belt after years of hard training."
"This sport also helped me a lot in my college days to support my studies, as I was a Wushu Sanshou varsity player at the University of Baguio. Looking back? The only disadvantage I could think of was that there were some days I couldn't party with my friends because of an upcoming fight. The pain, hardships and sacrifices were all worth it, though."
His fitness advice
"Choosing the right fitness activity for yourself really depends on what you really want. What do you want to gain or achieve – especially when it comes to your fitness? Once you've made the decision, stand for it and do it!"
Dance
UAE Filipino community dance proponent Gina Salazar swears by regular dancing, matched with working out, to keep her youthful physique.  The 43 years old, HR/Administration Manager who is one of the founders and advisers of the Filipino Dancesport Club (FDSC) in Dubai – was always active even in her younger years.  "I was into ballet and roller skating and was very blessed to have a sports-minded father who was then president of the National Federation of Roller Skaters in the Philippines," she recounts.
Gina got hooked to ballroom dancing in Dubai in 2011, and ended up becoming president of the Filipino dance club for two years. She says she's come to love the activity, not only because it's a fun way to exercise, but also a great way to socialize.
Her regular fitness regimen
"I go to the gym three times a week, and then every Friday, I go to our ballroom session classes from 3 to 7pm with my FDSC family at the Rocky's Café, Regent Palace Hotel, Dubai."
Her take on dancing
"Good dancing is a lifetime investment in fun, poise, confidence, improved personality and meeting new friends.  It is also a superb physical conditioner, providing fun without strenuous effort.  The physical activity of dancing is good also for the heart and pulmonary health, blood pressure, diabetes, arthritis, losing weight, positive attitude and improved disposition and more, because keeping your body and joints active, especially as we all age, is beneficial.  Learning to dance will open up a wonderful world of togetherness and a thriving year-round social calendar. It's a great way to make new friends by allowing people to connect with each other and to the music.  It is a wonderful way to meet people in a relaxed atmosphere and a great way to spend the evening with friends – a great social outlet indeed!"
Her fitness advice
"In today's fast-paced world, we sometimes forget to take a moment for ourselves. Take time to dance! So if you are single and lonely or depressed – dance for health.  Try ballroom dancing. It offers exercise, one of the antidotes to depression with or without therapy, with or without medication.  No wonder so many people of all ages are turning to dancing."
"Everyone is welcome at the FDSC, regardless of age (from 16 yrs and up).  No university affiliation is required; all you need is the desire to have fun. We offer classes for all levels of dances.  From beginner classes for those with no experience, or two left feet, to our advanced lesson series.  Take note also that no partner is required as you will meet a lot of friends when you visit us at the Regent Palace Hotel."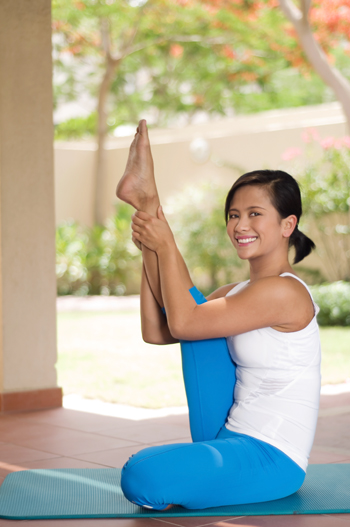 Frances Anne M. Diaz
Group Exercise
Petite and über toned, Frances Anne Diaz has been into dance, gymnastics and cheerdancing all her life so it's no surprise that she ended up as a Personal Trainer.  Currently working for Fitness First Dubai, Frances says she just started her regular fitness regimen in 2009, when she decided to shift from Personal Trainer to a Group Exercise Instructor.
Her regular fitness regimen
"Since my job is all about fitness and I have a very high fitness level, my fitness regimen is a bit extreme compared to most individuals. I do BodyAttack six times in a week, BodyJam twice a week, BodyBalance eight times a week, and Yoga six times a week."
Her take on group exercise
"I've chosen to teach BodyJam (dancing), BodyAttack (high
intensity aerobics), BodyBalance (mix of tai chi, yoga and pilates), and Yoga, because it's what I love to do.  Coming from a cheerdancing and gymnastics background, I chose programs which were somehow similar. I also want to share my talents, and encourage other people to reach their personal best. While I'm still young and can do it, I will continue doing so."
"For myself, I am happy to have a toned body, an active and stress-free lifestyle, and have peace of mind. I can say this is the healthiest I have been. Although sometimes, I have to be careful not to overdo it as it can cause me minor injuries and very bad muscle soreness."
Her fitness advice
"First, know your goal. If you need to lose fat, engage
in weight training and cardio workout. If you need to de-stress, choose yoga or BodyBalance. If you want to just have fun and feel like you are in a party, while at the same time increase your fitness level, engage in BodyJam or other dance classes. Just commit to it and you will see the wonderful changes in your body and mind.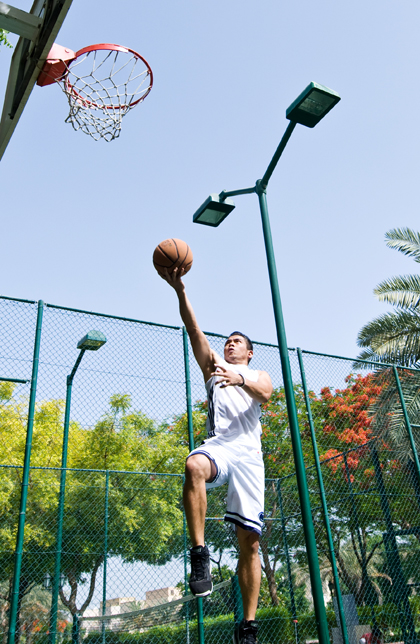 Roberto Polidario
Basketball
Roberto Polidario can beat most guys half his age, not only when it comes to his strong and buffed physique, but also in the game of basketball.  The 49 year old Sports Trainer and Therapist relies mainly on the sport to keep himself fit, while his job keeps him on-the-go.  He started playing basketball at the age of three, long before he can even throw the ball properly to the hoops, inspired when he saw the YCO and Mariwasa team which visited his province for exhibitions games back then. He's been in love with the game and has been playing since, and even got to organize teams and join basketball leagues in intercompany tournaments.
His fitness regimen
"Since I started my job as Sports Trainer and Therapist, I am always either in the gym training clients or outside going to clients for private therapy sessions. So it's hard to plan a regular fitness program.  However I make sure that I incorporate my exercise in my work.  For example, when I do personal training, I would always do abs exercises with the client.  Also, I make sure that I do at least one muscle group exercise a day.  Aside from that, I play basketball at least twice a week and I also go swimming once in awhile."
His take on basketball
"I really enjoy basketball – I have amazing energy for the game and don't get tired at all.  I also like the fact that it is accessible to all, easy to play, and doesn't require a lot of gadgets.  In fact, in the barrio, we even used to play in our slippers sometimes. Of course, it is also a lot of fun especially when you play as a team."
"Basketball is a good cardio exercise and for me it gives a lot of benefits – physical, psychological and emotional. For instance, I have quite a high cholesterol level. But with this regular exercise I feel at least that I'm compensating and doing something good for my body. Plus, I feel younger when I can still play with young guys half my age and it gives me motivation to stay fit and maintain my speed and strength so I can continue playing the sport.  It's also nice to wear basketball jersey and the shoes when you can still play in the league."
His fitness advice
"Everybody must exercise regardless of age or gender, as long as you can still do it. In choosing the right fitness activity or hobby one should always consider their physical condition – i.e. posture, body weight, any previous or existing injuries that can be triggered by physical exertion. For instance I've seen a lot of overweight guys jumping into basketball to lose weight and they ended up with a sprained ankle, or worst knee injuries. They need to reduce weight first by diet, brisk walking then progress to slow jog and then running. For those who just want to start their exercise or join any group, yoga or dance would be good. Start slow to avoid muscle tension and injuries. You also need to enjoy what you are doing so you don't get bored and stop."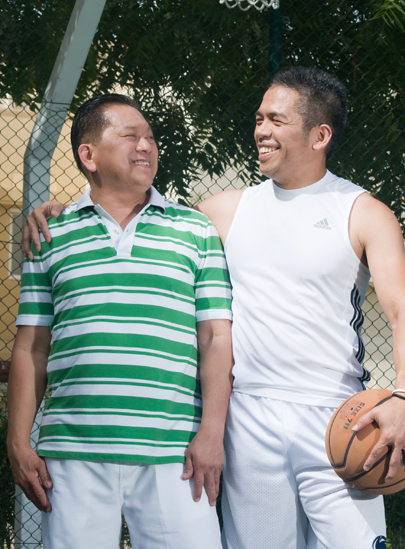 Lito Chu
Regular Gym Training
Folks, particularly his contemporaries who haven't seen him for a long time, usually get amazed with Lito Chu.  The youthful retiree, a former Instrumentation Designer at the Dubai Petroleum, leads an active senior lifestyle that sees him four to five days in the gym weekly.  The oldest Filipino in the Fitness First UAE network, Lito started going to the gym and getting personal training four years ago.  At 67 years old, he's stronger and has greater endurance than most regular adults who don't include exercise as part of their priorities.  Save for a knee injury which he got from playing tennis so many years back, which he has to be careful about, Lito enthusiastically engages in cardio, strength training and also dabbled in boxing – activities which he says, not only greatly improved his physical condition, but also gave him a lot to feel good about.
His fitness regimen
"I go to the gym four to five times every week.  My training consists of at least 15 minutes of cardio exercise with either biking or rowing, or even both, and then weight training for all my muscle groups, as well as abs. I also used to do some boxing before and whenever I can, I try to do swimming."
His take on regular gym training
"Since I started going to the gym in 2006, my blood pressure has been regulated, unlike before when it used to go up from time to time, especially when the weather is hot.  I also used to wake up with a pain in my hips, but with the abs and back exercises I regularly do, the pain has gone."
"Exercise has improved my overall health, especially my cardio resistance – I don't feel breathless when I do physical exertion.  It has given me a lot of energy and a strong body, and I don't fall sick often. Most of all, it has made me feel young and has given me a hobby that I can enjoy and pass the time with.  If I don't go to the gym, somehow I don't feel good – my day is not complete."
His fitness advice
"It's never too late to start exercising whatever your age is. Exercise makes you feel younger than your real age.  Even your skin will get toned; your muscles feel alive, instead of shrinking. Without exercise the ageing process is faster."
"When you are training regularly, you also feel more conscious and become careful about abusing yourself – in terms of staying up too late, smoking, or overeating or eating the wrong foods. You become more disciplined."