Foreigners share their first impression of beautiful Philippines
By Kristine Abante
If the Philippines were a candidate at a beauty pageant, she would easily win Ms. Congeniality. Warm, witty and welcoming, it's not surprising that most people who have met her for the first time would take on easily to her charms.
Perhaps she is not as glamorous as France, or prim and proper like Britain, maybe not as straightforward as America, and not as quirky and complicated like Japan. She is definitely far from the well-behaved and put-together Singapore, in fact Manila could just be her messy hair. Forget stilettos, she will most likely walk barefoot or in summer sandals.
Maybe she's a little bit like Thailand or Indonesia, but one could argue that her beaches are way prettier, her laughter more infectious. But like all women, you need to be careful around her too. Consider yourself warned.
To the uninformed, she might seem rather typical, and if you are not paying attention she might skip your radar, but for the brave and the adventurous soul she can be everything you ever wanted and more.
In this issue, we ask our foreign friends from around the world about their first impressions of the Philippines.
Javier Beltran



Spain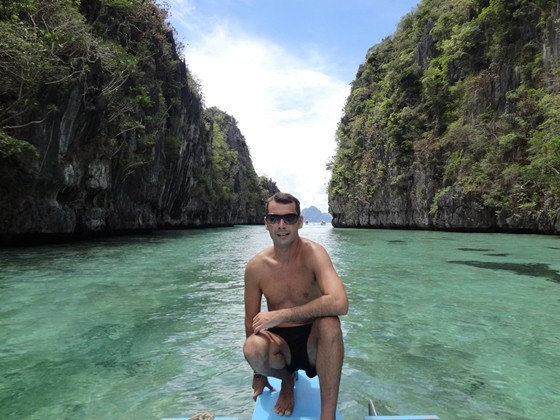 Why did you decide to go to the Philippines?
I was travelling around South East Asia back in March 2012, but I was looking forward to go out of the well-beaten path. I heard a lot of good things about the Philippines and I had a feeling that I will find some special adventure in your country, and I did!
When did you go? Which places did you visit?
I came in March 2012 and stayed for 3 months. I got to explore Banaue, Manila, Boracay, Cebu Mindoro, Negros and Palawan. My favorites are El Nido in Palawan, and the magnificent Banaue Rice terraces. The Pinoys' sense of humor and hospitality also totally won me over.
What was your most memorable experience?
I will never forget trekking around Banaue, reaching the village during the day and getting a warm welcome from all the kids while their parents worked in the rice fields.
I also got sick during trip. I got Pneumonia while I was in Boracay so I had to be transported by a helicopter to a main hospital in Manila. This bad experience turns to be another unforgettable episode, as I received help and attention from everyone. The country did not have the best health care facilities, but the people definitely did their best to take care of me.
I'm still in touch with friends I've made over there. I like talking to them, they're kind-hearted, happy people and it brightens my mood whenever I chat with them.
I've traveled quite a lot in Asia and for me a country is defined by its nature and its people so by that standards, I can say Philippines is paradise on earth!
Arnold Evertse



Netherlands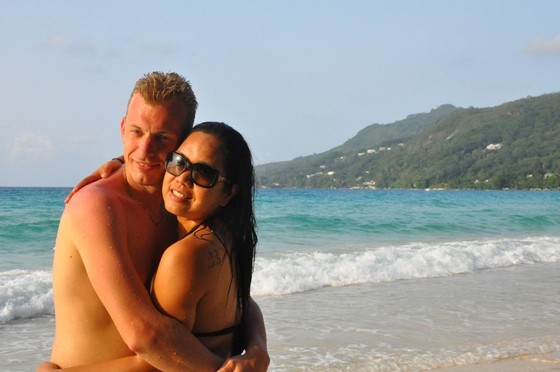 When did you visit the Philippines? Which places did you go?
I came to the Philippines in June 2014 with my then fiancé and now wife, Lourds. We went to San Pablo City, Laguna to meet her family and then she showed me around.
We went to Villa Escudero in Quezon, Tagaytay, Palawan, Greenbelt Makati and Resorts World Manila. I enjoyed being in a tropical country that is way different from Holland, I especially loved all the nice beaches.
What were your favorite things ?Your least favorite?
My favorite things would be Buko Pie and Banana cue but don't count on me eating Balut! The only thing I hated was the terrible traffic, but I enjoyed spending time with happy and friendly people. I'm looking forward to our next trip there, now with my family.
Hannah Barrow



Netherlands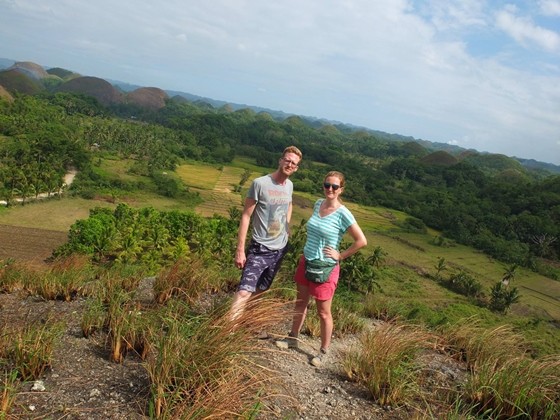 What did you love about the Philippines?
"What did I love about the Philippines? A lot! For instance – the Calamansi!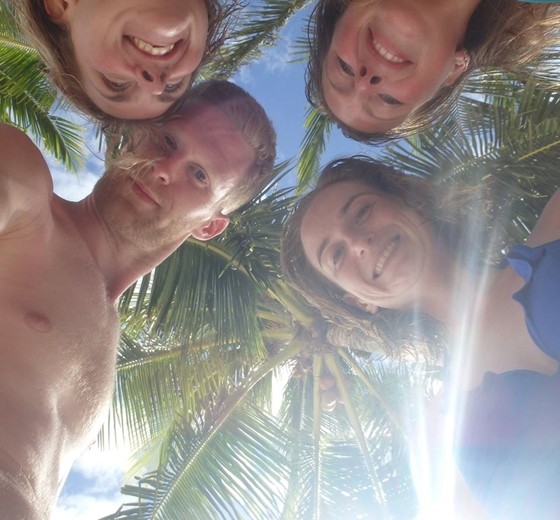 My curiosity about the Philippines was triggered when I heard other travelers talking about it. In the Netherlands it is not a very well known destination just yet. The main thing that excited me was that apparently the people were all genuinely nice and happy, that turned out to be very true. Of course it helped that everybody spoke English.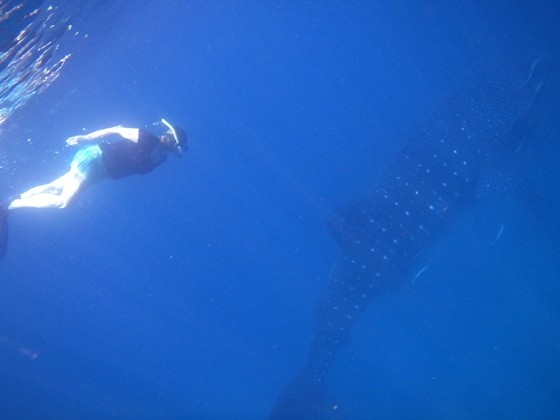 Besides the people, I LOVED the nature, especially underwater and I don't even dive. Snorkeling is one of my favorite things to do and there was so much to see! I saw the magnificent Whale sharks, but also a great underwater view of fish, coral, starfish, snakes etc.
What were your most memorable experiences?
Once I went for a little stroll in Padre Burgos, Southern Leyte and I met so many people. They just walked along with me, chatted about their family, made me ride their bicycle, gave me candy, it was amazing, considering that it was just a 30 minute walk! 
People are always willing to help you out, without expecting anything back but a chat and a smile.

I'll never forget the sheer beauty of its islands, white sand, the blue clear sea, palm trees. It was paradise to me. I loved Malcapuya Island in Coron, Palawan. It was so relaxing and so beautiful. I wish I could live there.
Did you have any bad experience?
Perhaps the only thing that I found challenging was finding a nice simple authentic Filipino restaurant. There are so many fast food joints! Overall I had such a good experience in the Philippines. It's a wonderful country and I would love to go back to see more of it!
Giorgios Starvinos



Greece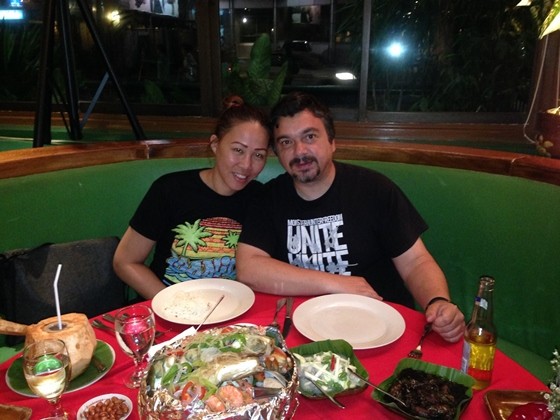 What was your first impression of the Philippines?
"Oh the Philippines…well before arriving, I was imagining that it would be something like Thailand which is my only other Southeastern Asian experience. I could not be more wrong and I don't mean this in a negative way.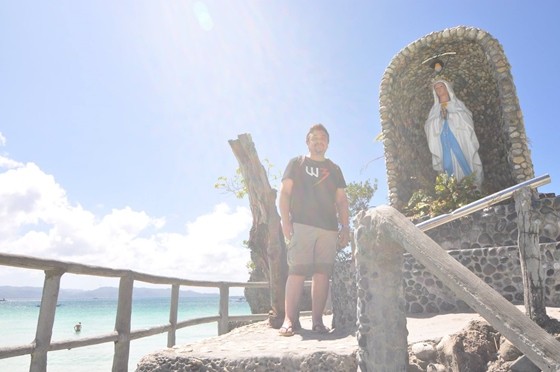 My first visit was last July; I went there with my girlfriend. We stayed a couple of days in Manila and then off to Iloilo, Capiz and back to Iloilo and Guimaras Island. The weather in July didn't really help; it was raining all the time, but we still had a terrific time. I was lucky enough to visit and spend time with real Filipino families and I was very impressed by their hospitality and generosity. They shared everything with me even though they did not have much.
What was your most memorable experience?
For me the first most unforgettable experience was the sheer madness that is Manila and seeing millions of people packed like sardines, totally chaotic traffic and super pollution, but to be honest after spending a few days I wasn't bothered anymore. The city did have some great places and actually had a lot of character. Also, despite my initial fears I never felt any danger even in Ermita.
What did you love about the Philippines?
I met lovely people, and I want to stress that the children are so well mannered and respectful. I was really touched by this as it's totally different from what applies in Western countries.
Also the parents and especially the women are to be admired. With little help from anybody they manage to raise their kids to be kind and respectful. No matter how difficult the families make ends meet and all children go to school.
Which places did you enjoy the most?
Boracay was beautiful but I found it to be little touristy for my tastes. I loved Carabao Island that is my idea of an unspoilt paradise; I could live there on very little and enjoy the simple life.
I have many more places to visit in the Philippines, I feel blessed to have "discovered" this country. I love the smiles and friendliness, even the laziness of the Filipinos, it all adds up to a lot of character.
By the way, I loved the cuisine, except I could not bring myself to try the balut! Jasmine my girlfriend had a lot of laughs about this.
What was your least favorite thing?
I would say I am a bit bothered by the lack of ecological conscience; people don't really pay attention to their garbage. I suppose being a developing country with a lot of poverty, the environment is not high on people's priority list, but I feel like they should be more aware especially with such beautiful natural surroundings.
Would you recommend the Philippines to your friends?
I would definitely recommend the country to all my friends. There's something for everybody in the country. Lovely Philippines is a place that makes me feel at home and relaxed among good people. My next goal is to try to learn Tagalog!
Paul Donovan



USA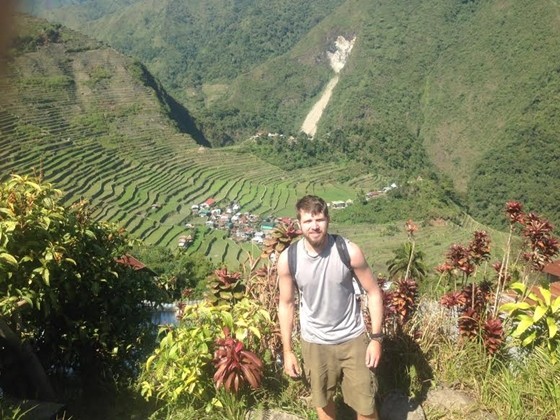 What made you come to the Philippines?
I dated a girl from the Philippines for some time. I knew that it had excellent beaches and amazing food, but it turned out to be more than that. I had been traveling for about 5 months prior to my visit and it was on my bucket list. The flights were very cheap from Kuala Lumpur to Manila.
When did you visit? Which places did you go?
I visited the Philippines in February, and stayed for almost a month. Manila was my center hub. I mainly relied on night buses, which were quite comfortable from what I was expecting. Travel was very cheap. First, I went north to Banaue. Visited the 2000 year-old rice terraces, then to Donsol where I saw a cock-fight and swam with whale sharks.
Then from Manila I flew to Puerto Princesa. I explored the very long river through a cave on a day trip and then I took a bus north to El Nido which was like a living postcard.
Everything was so beautiful from the beaches to the wildlife. I then took a ferry to Coron where I went scuba diving in several WW2 Japanese ship-wrecks, after that I flew back to Manila.
What was your most memorable experience?
I would say El Nido was the most magical place I visited there. It was absolutely breathe-taking the second I arrived and only got better each day. My favorite thing about the Philippines was how friendly everyone was. They were very happy to talk with me and take some photos, and their English was very good.
What was your least favorite?
My least favorite thing would be some of the sanitary issues they have especially in the more remote areas. Cleanliness and clean water weren't exactly the best.
What did you learn from visiting the Philippines?
What I learned is that I need much more than a month to experience everything the Philippines has to offer. I also didn't realize how much of an influence the USA and Latin countries have played in the development of the country. There is even an American flag on one of the bills they use.
Would you consider coming back?
I will definitely come back! I really want to go back to Coron to do more scuba-diving with the sunken ships. It was absolutely incredible. I'd like to explore more of the remote areas. I felt the less populated the area, the more incredible the people were.
Juliana Tu



USA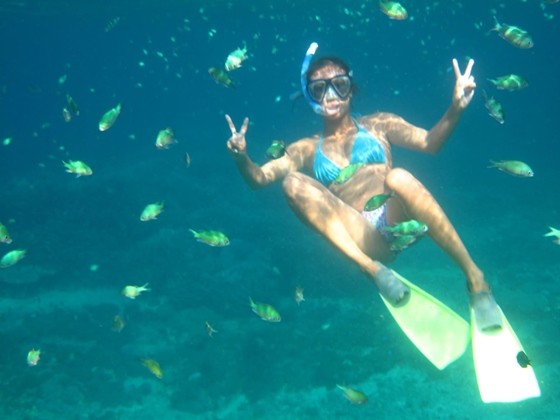 What did you love about the Philippines?
I came to the Philippines for Scuba Diving. I loved all the beautiful beaches and the diving sites were amazing.
When did you visit the Philippines? Which places did you go?
I came for a month last October and visited a couple of places – Manila, Banaue, Batad, Sagada, Malapascua, Moalboal, Dumaguete, Bacolod, El Nido andBoracay.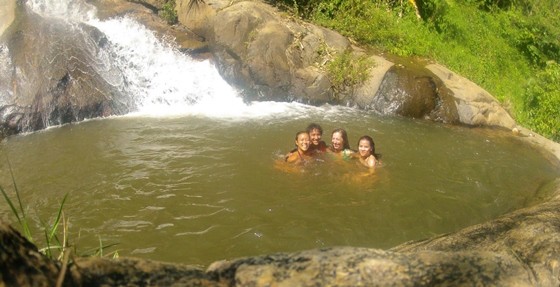 What was your favorite thing about the country?
I can't get over how beautiful it was and how it had American influence but still Southeast Asian charm. After traveling for so long it felt really good to go someplace that I could somewhat relate to back home. Also I really liked how it wasn't necessarily geared towards tourism. When I was traveling between places I was always with locals and not just with a bunch of other tourists like in other countries.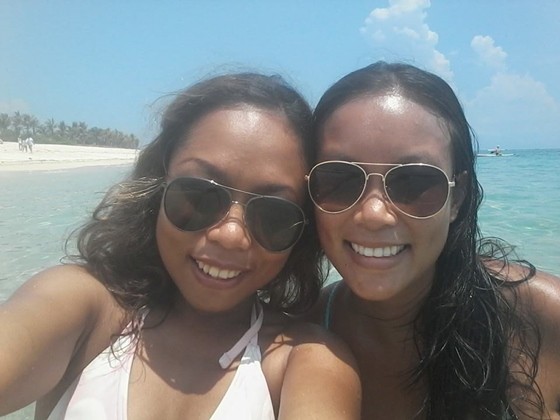 What was your least favorite?
My least favorite thing would be the bad traffic, and the long time that it takes to get to places, especially getting to and from the airport. Also, I got cheated on a few times, but overall the Filipino people were extremely nice.
What did you learn from visiting the Philippines?
Being a nurse in the States, I work with a lot of Filipinos so I always knew they spoke English well but I never knew why so after visiting their country I got to see firsthand the culture and the way they live and how much influence there is from other cultures.
Would you consider coming back?
I would LOVE to go back. I want to go to Bohol, Coron, Apo Island, and Legaspi
Describe the Philippines in 3 words.
Breathtaking. Fun. Diverse (as in every island is different and has its own charm and the different landscapes)
…
Sharing your hometown with Foreigners…
Christine Consas



Bacolod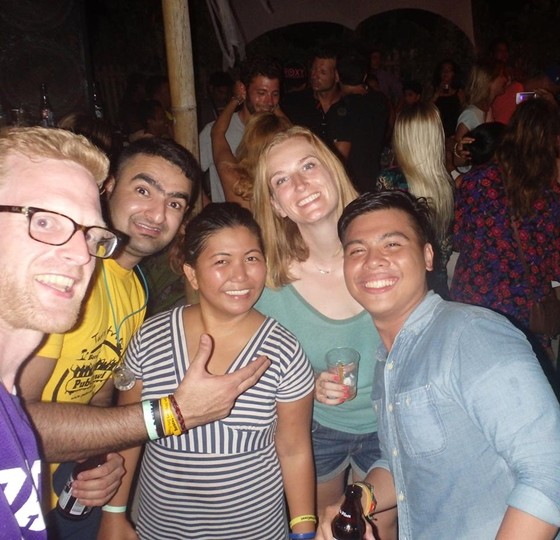 I was in Boracay when I met few travelers and we became instant friends, they wanted to see some festivals. It was October and I was planning to go back home to Bacolod for Masskara Festival. As someone who grew up going to the said festival I became very excited at the thought of showing my newfound friends in my hometown. We took a van from Caticlan to Iloilo. We stayed one night in Iloilo then a ferry to Bacolod.
As the festival highlights are already on, the traffic was already crazy. Everyone was hungry and so the first place I brought them was the famous Manokan country and I am very proud that they liked Chicken Inasal. Afterall, that is what we were famous for! Then we settle to our rented apartment and the first night was of course the famous street party of Masskara.
As the guide, I brought them to places that are not very expensive. I let them experience where the locals go. I showed them how to party on a masskara!
Ron Dicdiquin



Bohol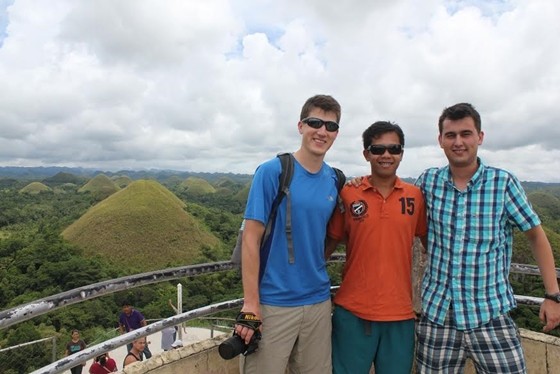 Last September 2014, my friends from Czech Republic Andy and Lukas, and I decided to travel to Philippines. Our main destination was in Bohol because I am from Bohol and I want them to show the hospitality of Boholanos and to explore natural beauty of my province.
I got them to try the amazing seafood by the beach and of course local beer. We walked along the beach with our beers, just lying the fine white sand until midnight. The next days we went for Scuba diving in Panglao Island and Anda – the two main diving areas of Bohol.
I always love to host travelers and backpackers and to show them around whether in Dubai or in Philippines. Being a backpacker myself, I always love to experience new things, new culture, different people and new places. I travelled to different places around the world USA, Canada, Australia, all over Europe and some parts in Asia but traveling around in your home country and showing it to your friends is really different, and one of my favorite things to do.
I always invite my friends to come with me during my vacation and explore the beautiful places in Philippines together. I travel because of the interesting people I meet along the way and the moments I share with them, the new places and different culture. The memories I get
from my travels are priceless.
Lourds Adalia-Evertse



San Pablo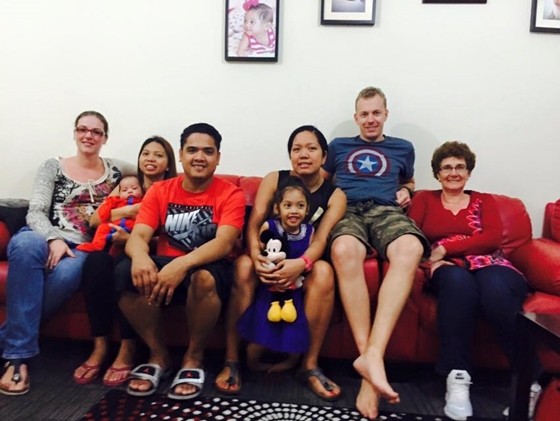 I invited my dutch fiancé Arnold to the Philippines before we got married. I wanted him to meet my family and also I wanted him to see my hometown. I was proud of my heritage and I particularly wanted to show him around the places where I grew up.
He enjoyed meeting my family and my friends, we had a blast in San Pablo obviously, we are both avid travelers so I also took him to all the good tourist places such as Tagaytay and Palawan. We enjoyed going through the underground river, it was my first time too, and El Nido was beautiful. We just had a baby, and we're looking forward to spending Christmas back home this year. I'm sure Arnold will be in for another treat!
Kristine Abante



Manila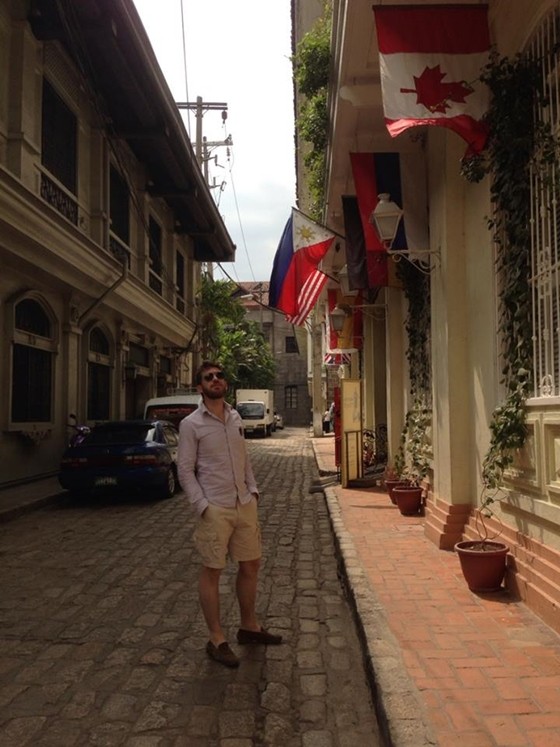 I met my french friend Ced when he was travelling in Dubai where I am currently based. I was interested in Paris and he was interested in the Philippines, so we both planned on visiting each other's hometowns.
Luckily, I had planned to go on a short vacation home around the same time that he visited the Philippines. I met him in Manila and set a day to explore the city.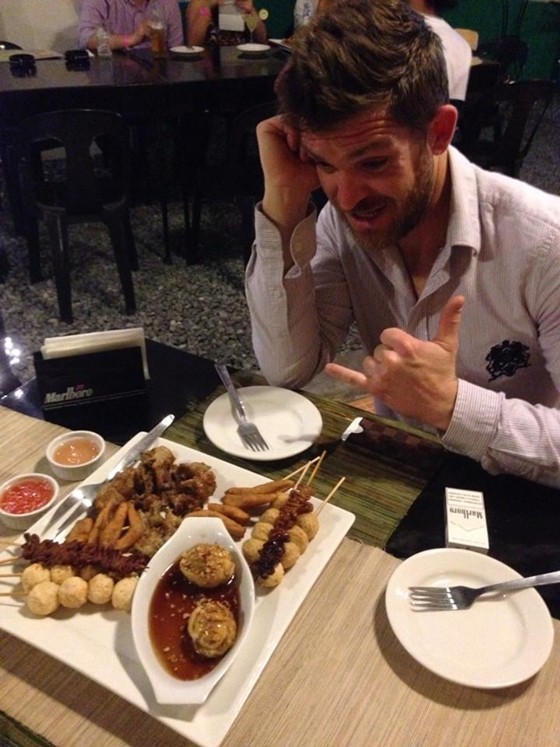 I would say I am a semi-tourist as I worked away from home so I took the opportunity to reconnect with my hometown. I showed him around Intramuros, and we both learned a little bit about the history of the Philippines. We went to Binondo, the first ever China Town in the world and I introduced him to the famous Eng Bee Tin hopia. We ate some sisig and drank local beverages in an outdoor bazaar in Makati. Another friend who worked in a 5-star hotel along Manila Bay was kind enough to let us in to watch the incredible sunset in their private area so he also got a taste of swanky Manila.
The most unforgettable experience for me was catching our favorite French band Phoenix live in Manila, of all places! Ced was happy to be there as he never got a chance to see them back in Paris. Talk about great timing!
I am always happy to show people around where I grew up. I think it's a blessing, and for all its"drudgery and broken dreams", I will always be proud to call Manila home.
Related Articles:
Foreigners who love the Philippines