Leo V Barrameda
Philanthropist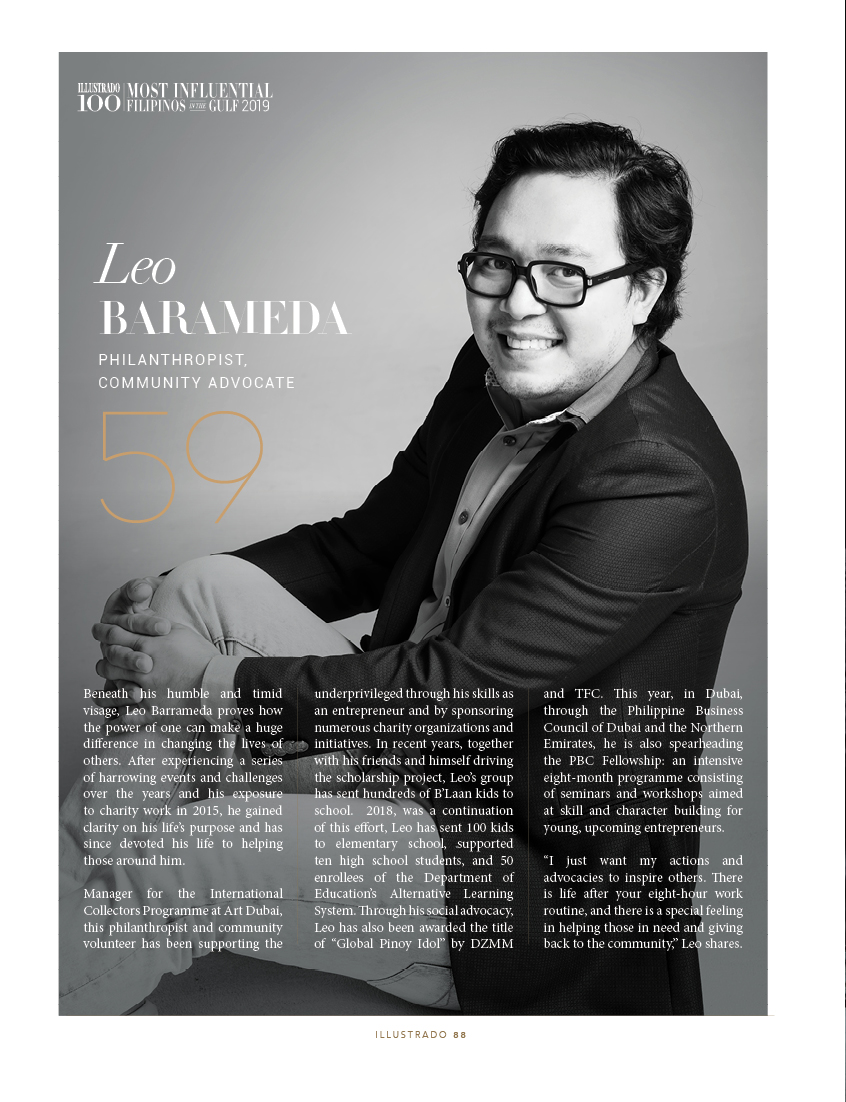 Beneath his humble and timid visage, Leo Barrameda proves how the power of one can make a huge difference in changing the lives of others. After experiencing a series of harrowing events and challenges over the years and his exposure to charity work in 2015, he gained clarity on his life's purpose and has since devoted his life to helping those around him.
Manager for the International Collectors Programme at Art Dubai, this philanthropist and community volunteer has been supporting the underprivileged through his skills as an entrepreneur and by sponsoring numerous charity organizations and initiatives. In recent years, together with his friends and himself driving the scholarship project, Leo's group has sent hundreds of B'Laan kids to school.  2018, was a continuation of this effort, Leo has sent 100 kids to elementary school, supported ten high school students, and 50 enrollees of the Department of Education's Alternative Learning System. Through his social advocacy, Leo has also been awarded the title of "Global Pinoy Idol" by DZMM and TFC. This year, in Dubai, through the Philippine Business Council of Dubai and the Northern Emirates, he is also spearheading the PBC Fellowship: an intensive eight-month programme consisting of seminars and workshops aimed at skill and character building for young, upcoming entrepreneurs.
"I just want my actions and advocacies to inspire others. There is life after your eight-hour work routine, and there is a special feeling in helping those in need and giving back to the community," Leo shares.
……………………….
Special thanks to our sponsors: Emirates Airline, Stars n Bars La Mer, Liali, Instax – Grandstores UAE, Dusit Thani Dubai, Gver – Your Friendly Marketplace for Sharing, Meeting Dancewear , MPQ, CMG, Filbrit, and our partners Rozen Antonio Photography,  Alex Callueng Photography, Jef Anog Photography, and Ethereal Photography.