SNOW-READY: 6 THINGS PINOYS NEED TO LEARN TO SURVIVE THE COLD
From the tropical islands of the Philippines to the Frigid Zone countries of the Arctic Circle – mabrrrhay!
One of the most dreaded things about migrating to another country is the prospect of having to adapt to extreme cold weather.  And nowhere is that more pronounced than in the case of the tank top and flip-flop wearing, Boracay state-of-mind loving Filipinos. Still, neither below zero temperatures nor frostbite will scare the determined Pinoy expat.  Alas, our compatriots have not only chosen to migrate, but our communities in fact thrive from Canada, to the Nordics, even all the way to Russia.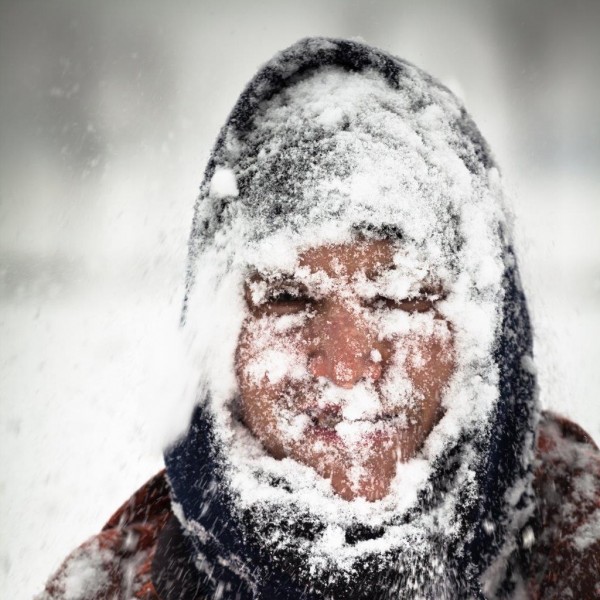 But what do our kababayans have to contend with in the extreme weather and what advice can they give to survive the cold harsh winter?
Former Dubai resident Chef Mico Galliguez who moved to notoriously cold Toronto in 2011 confirms what Pinoys like us who live in much warmer climes already suspect, "Mahirap talaga pag winter.  Kahit -40C na, no suspension of classes pa rin.  Cold food is less appealing – seryoso.  And you need to wear so many layers of clothing and then take them all off.  By the way, hindi ubra ang tsinelas during winter season [laughs]." Chef Mico shares that he experienced the worst winter – the North American ice storm of December 2013, which produced freezing rain and snow and caused massive damage to electric power transmission.  He recalls, "Just imagine, the whole city looked like a skating rink. Some neighborhoods had no electricity for almost three weeks, and we were affected, too! For two days wala kaming kuryente.  Walang stove, walang heater.  We had to sleep wearing our parka jackets.  The funny thing was, in our neighborhood, our building was the only one without electricity."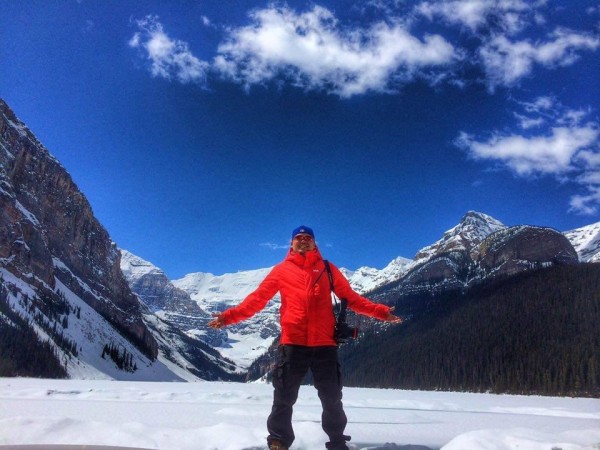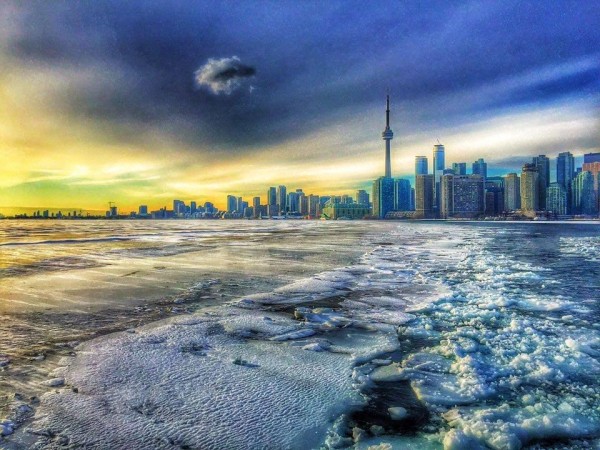 For Agnes Pedrosa Marelid who lived with her family in Stockholm for eight years before moving to Abu Dhabi, her winter 'aha moment' – seemed less brutal but equally amusing.  She discloses, "On my first day at work, I decided to impress my new colleagues by looking corporate and chic, deciding against my usual 'lumberjack look' (thick jacket and clunky boots). I walked out of the house with a long, beige Burberry spring jacket and stiletto heels. Fashion here we go, I said to myself.  At the train station, I saw everyone was wearing thick black jackets and I was in my spring jacket looking out of place. When I walked out of the station, I had to wait for the bus. The cold was starting to bite then, but I thought, I should just look like I can handle this. The sharp cold darts pierced my toes, until I couldn't feel them any longer. And guess what? The bus never came! So, I had to walk about 2 km to reach work – with my stiletto heels and numb toes. I felt like someone draped a very cold wet towel over me. It was beyond horrible to suffer so much physical pain. And it hurt even more with my embarrassment from everyone staring at me. I learned my lesson the hard way. You can be fashionable but by all means be weather-smart!"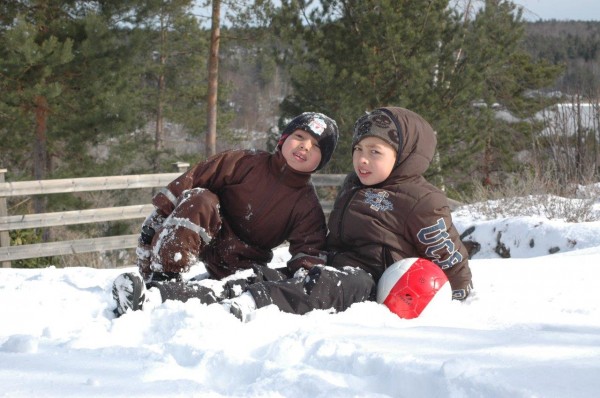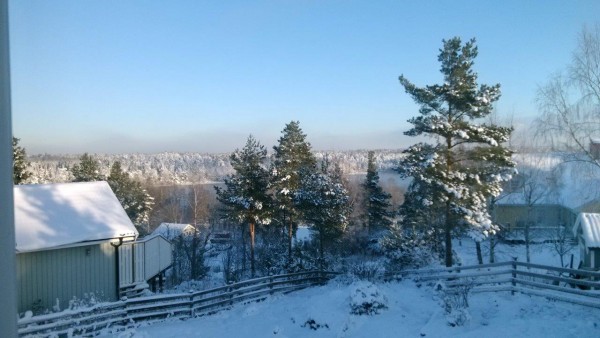 A resident of North Sealand, 30 minutes away from Copenhagen Odeth Aguilar-HØy also learned a couple of interesting lessons during her first encounter with winter.  She recounts, "I arrived here 15 years ago at the end of winter.  It was grey and wet. I wondered why people did not cut down all the dead trees along the highway. Later I learned that they will all come to life again when the weather gets warm."  She also shares, "At one time, I was about to go to work, it was freezing during the night. Unfortunately, I was not aware that the roads are literally icy and slippery. My bicycle went out of control and crashed! Twice! Now I know, riding a bicycle in winter here is like bicycling on a newly prepared ice rink – with hills!"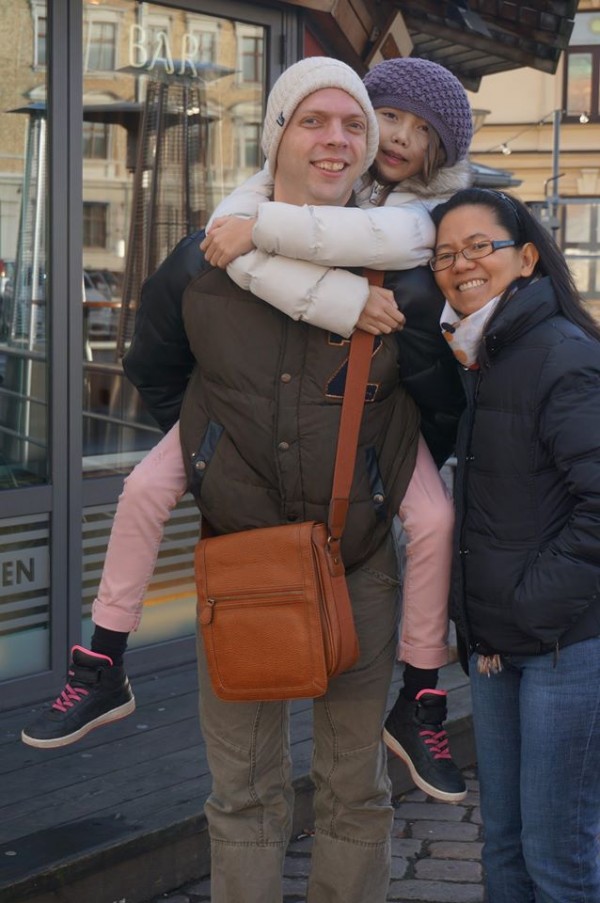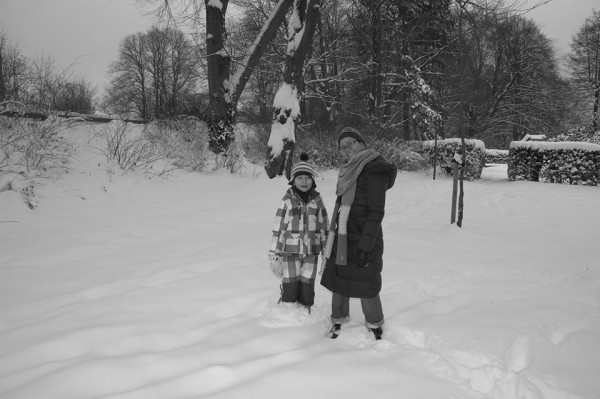 DRESS FOR THE COLD
Our respondents are unanimous when it comes to their most important winter survival advice.  Layers, layers, layers. During winter months, the space between layers of clothing traps and insulates the heat.   Hence it is essential to wear warmers, sweater and outer jacket.
According to Agnes, "In Sweden, there is an old adage that says 'There is no such thing as bad weather, only wrong clothes." And it is a wise quote because there is nothing much that you can do with the weather, just be prepared.   She adds, "Be practical, invest in the right clothing to survive the bitter cold and harsh weather. Keep warm: wear scarves, gloves, hats and snowproof boots to protect you from getting cold and be smart – wear inner thermal underwear as part of layering."
Having lived in a country which gets barely 6 hours of sunlight in December, Agnes also emphasizes the importance of wearing clothes that keep one visible outdoors.  "A reflective material can save you from being run over.  Since black is a common shade in winter clothing, buy winter jackets or pants with reflective stripes, or wear clothes with bright colors that can be seen in the dark."
BAWAL MAGKASAKIT – KEEP HEALTHY
Stay healthy and prevent yourself from getting sick.  Odeth shares, "Avoid drafts, keep yourself dry to stay warm. Remember that winter season is also flu season.  So it's always wise to take preventive measures just like getting flu shots."  She adds, "Enjoy hot beverages on a whole new level. Even better, cook nilaga and sinigang.  It will help warm your core."
ACCLIMATIZE & AVOID WINTER DEPRESSION
With the forbidding weather conditions and fewer daylight hours, there is a tendency for people to feel down.  Odeth shares, "In winter, we have fewer daylight hours so it's mostly dark when you leave for work in the morning, and dark again when you get home. It's very hard to get up in the morning, when the sun rises late. There is also a sudden increase in heating bills. Then you have to shovel snow and it's hard to bicycle. In fact, at times it's hard to use any other form of transport. So, the tendency is to get homesick."
Combat winter depression or Seasonal Affective Disorder (SAD) while at the same time getting acclimatized by keeping active.  According to Chef Mico, "Go outside frequently. Go skiing, skating or snowboarding. Just keep yourself active. Being outside often helps you to adjust to the weather conditions.  Makakatulong din yun to avoid winter depression.  Go on shopping kahit window shopping lang, it's a good way to exercise and keep yourself on the go."
Toronto-based Chef Mico Galligues
CHANGE OLD HABITS & ALWAYS BE AWARE
According to Agnes, "Nobody loves the cold, freezing temperature, not even the Swedes. But if you are living near the Arctic Circle, there is no other way but to adapt. One of the best things that a Pinoy can do to survive is to change old habits. Gone are the days that you have to just call a taxi to bring your from point A to point B. Walking and getting warm is the key to this adaptation. You walk to the bus station, you walk to your train station and you make it a habit to enjoy the winter landscape by walking or running in the neighborhood. Walk as much as you can.  The more you expose yourself to the outdoors, the better you adjust. Winter then becomes a part of life just as seasons come and go."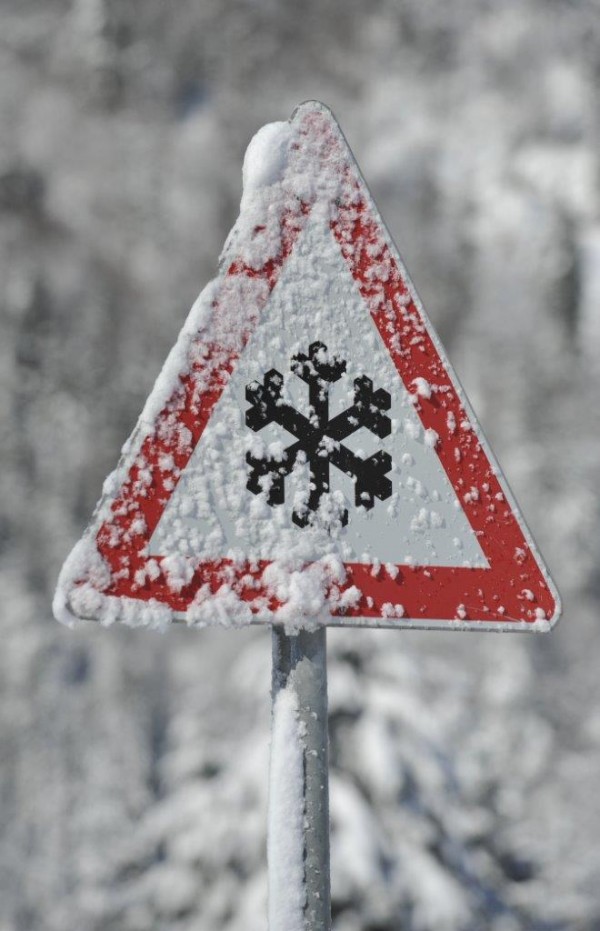 Chef Mico adds, "Huwag mahiyang magtanong, at lalung wag payabang sa brand ng winter clothes mo dahil baka hindi kayanin ng brand ang -40 dito [laughs].   Awareness, awareness, awareness, plus common sense. Awareness about the weather – every day, check the weather forecast – the current temperature, how cold it will get, will it get colder when I go home, etc. Will it snow?  Will there be freezing rain or it will be windy? Don't forget to mind the wind chill, too."
BUT KEEP THE HAPPY PINOY SPIRIT ALIVE
Our respondents agree that adaptation is key in surviving the cold.  But Chef Mico also adds another important survival skill, "Even better, everyone knows that Pinoys love to party! Spend time with your friends and families. Mag videoke, kumain like every day there's a fiesta.  Celebrate even if there's nothing to celebrate.  That's how you survive the winter."
ENJOY WINTER POSITIVES
Winter is not all bad.  In fact, there's a reason why a lot of people refer to it as a magical season.  Agnes paints the picture for us.  "The best thing about the cold weather is the calm and sedate ambience it brings to the landscape. The changing of the colors of the leaves during autumn brings about a somber mood. The immaculate white winter landscape brings about serenity, like a total submission to nature. Curling up on the sofa or sitting beside the fireplace over hot choco or a warm cup of tea or frothy cappuccino are just one of the things to appreciate with the cold weather outside."
Odeth agrees, "It's the best excuse to light-up the fireplace. Playing in the snow, building snowmen and Christmas lighting against the snow – it's all magical. It's also an excuse to shop, for new clothes for the new season.  Most of all, it signals that Christmas is coming."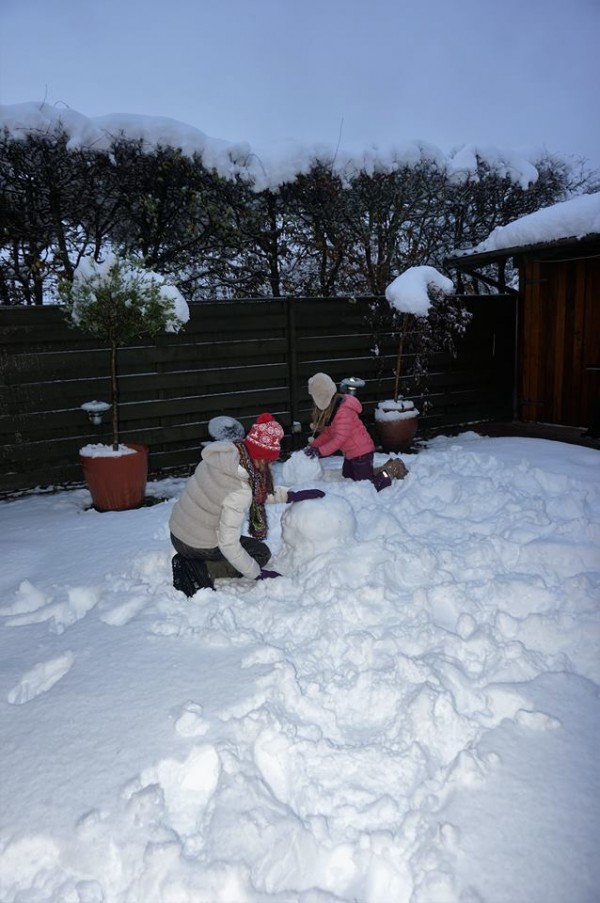 Chef Mico adds, "It's very quiet in the neighborhood, there's less crime, walang langaw tsaka bubuyog. It's a good time to bake some pastries. At syempre, hindi mainit – it may improve your romantic life, [ahem]!"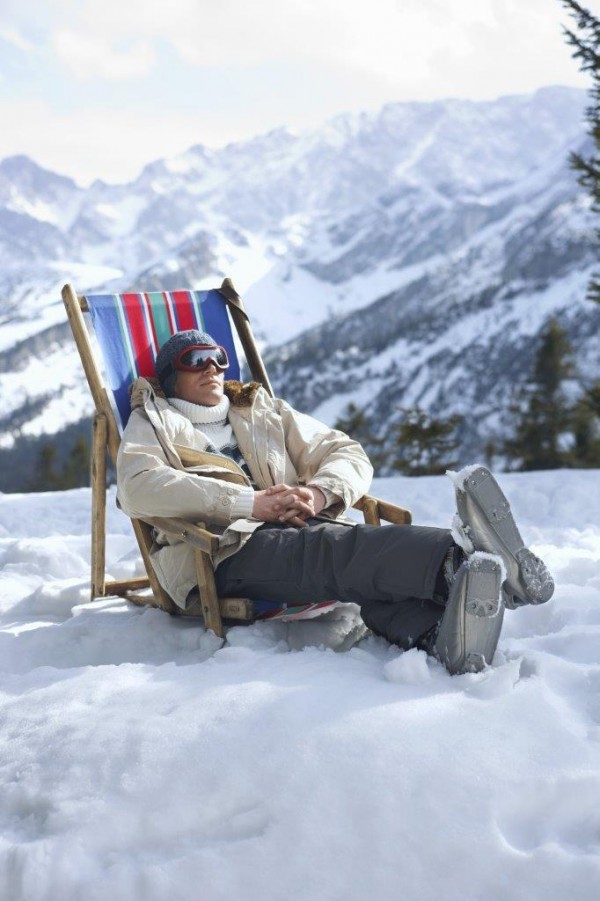 Thinking of moving to a cold place?  See how our kababayans are living in Canada
Share your winter survival tips with us at the comments section below!