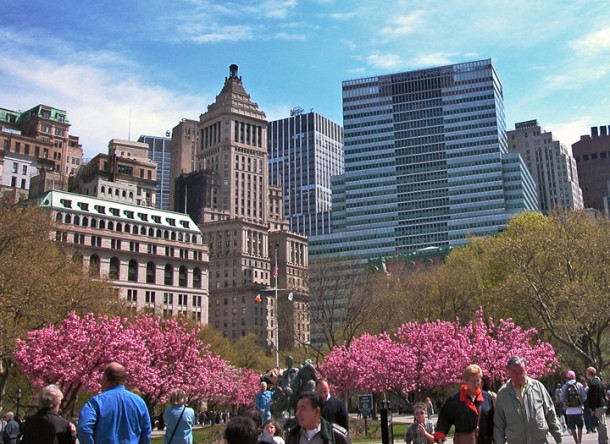 Text and Photos by Al Manlangit
Gotham. The Big Apple. The City of Towers. The World's Financial Capital. The City That Never Sleeps. These and more describe only one city – New York. It sounds like all hype but once you land at JFK Airport and your taxi gets stuck in a forest of skyscrapers in the middle of Manhattan, you realize that it's all for real.
Finding a decently-priced hotel downtown is an expensive proposition so we ended up at the Holiday Inn in Queens where a small room, breakfast excluded, two blocks away from the subway station which was seven stops from Times Square cost us US$160, plus tax. Steep but at least we could see the upper portion of the Empire State building from our window!
Though New York is divided into five boroughs, we concentrated on Manhattan only where the major sites were. Since this was my second visit, I acted as tour guide and the first stop were the museums. So many to choose from but because we couldn't cram all in one visit, we concentrated on just a handful. Devoted to science, the American Museum of Natural History near Central Park has as its big draw – the Hall of Dinosaurs which displayed real fossils (not casts). Attached to it, the Hayden Planetarium was a gem and I had to drag my two boys away for they wanted to stay there the whole day!
Next was the Solomon Guggenheim Museum, Frank Lloyd Wright's inverted-ziggurat masterpiece whose spiraling ramp made it an instant hit when it was built in 1959. It houses abstract collections of Chagall and Kandinsky among others but I was more interested in the building itself. We then made a quick stop in MoMA (Museum of Modern Art) to view Van Gogh's "Starry Night" plus several Rodins and Picassos before proceeding to the Metropolitan Museum of Art on 5th Avenue. It is a huge place and rightly so with so many works on display from a staggering collection of Egyptian, Greek and Roman art down to its awesome European and American paintings. If I had one whole day free to spend in this city, this would be the place. But we had to move to  the Intrepid Sea, Air and Space Museum by the Hudson River. Exploring this former aircraft carrier converted into a museum was pretty exhilarating specially going through the planes on the flight deck and hangars below. It was all the more interesting to know that this ship saw action and played an important role in the Japanese Navy's defeat in the Battle of Leyte Gulf in WWII.
Sprawling Central Park is the playground for New Yorkers. Here you can play football, jog, bike, skate or just lie on the grass staring at the skyscrapers in the distance. This 800-acre green island in the middle of the concrete jungle has expansive fields labeled as Sheep's Lawn, Great Lawn and Shakespeare Garden complete with landscaped footpaths and ponds filled with swans. There is even a big lake in the northern part where you can go boating in summer or ice skating in winter. We started our walk from one corner on 72nd Street called "Imagine" which featured a mosaic in memory of John Lennon commemorating his life and music. The Dakota mansion where he lived and was gunned down was just a stone's throw away. We walked down a couple of blocks enjoying the scenery and the sound of birds chirping, and watched people playing touch football, walking their dogs, flying kites or picnicking. Then we sat on one of the numerous rocky outcroppings to rest and eat our hotdogs bought from a nearby stall. It was one of those rare and beautiful afternoons before dusk when one could peacefully contemplate the world go by.
From the southern corner of Central Park where 5th Avenue meets 59th Street, serious high-end shopping begins. Starting with FAO Schwarz, there's Bergdorf, Van Cleef & Arpels, LV, Prada, Fendi, Tiffany, Gucci, Ferragamo, Harry Winston, Cartier, Versace, Kenneth Cole, Saks Fifth Ave. and the NBA Store. Mind you, these aren't small branches but anchor stores that have everything you could dream of from their catalogue. While the wife enjoyed her window shopping, I got intrigued by the interiors and design concepts they had to offer so that by the time we reached St. Patrick's Cathedral, we had to take a break and rest our overloaded sensory organs as well as our weary feet. So after a brief spell inside the church's cool and quiet surroundings, we stopped at a nearby deli.