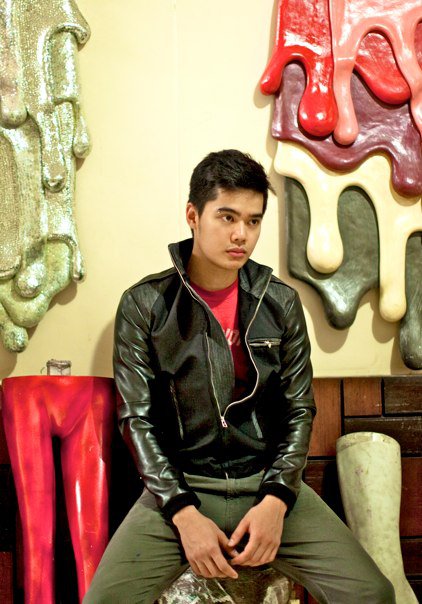 Despite his quick rise to commercial fame on the heels of his muscle dress' debut in Lady Gaga's "Marry the Night" album cover ensemble, the young avant-garde Filipino designer Leeroy New is, well, not new to spotlight.
Art enthusiasts from around the world have already experience his sci-fi/mythology inclined artworks that have been exhibited at the Singapore Biennale in 2008, Fukuoka Asian Art Triennale in 2009 and Philippine Fashion Week in 2010.
Leeroy's pieces are unique, his talent is genius, and his creativity is original. Clearly an artistic icon in the making, this UP Fine Arts graduate and Ateneo Arts Awardee is the fresh talent to watch under the international arts radar. In an exclusive chat to Illustrado, Leeroy New shares his views on fashion, sculpting and, of course, Lady Gaga.
First of all, we are curious as to how and where it all began. Can you tell us how you got into the world of arts?
I guess it's safe to say I started early simply because my formal arts training began when I entered the Philippine High School for the Arts. Upon entering college I was already set on practicing art 'professionally' via exhibits, doing street art, accepting commissions and design projects, etc. Along the way people and organizations have recognized my work and that has only encouraged me to continually pursue and evolve my practice accordingly. I get influenced by so many things not isolated to the fine arts, paving the way to involve myself in film making, product design, theater design, performance works and fashion. Right now I'm working on a new set of sculptures for upcoming exhibits, a line of designer objects and a new collection of art-fashion inventions.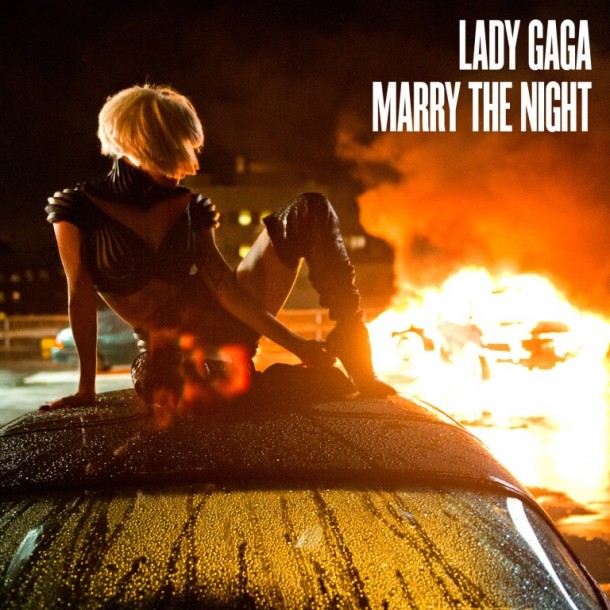 It is a huge thing to be hand-picked by the House of Gaga. How was your experience working on the Muscle Dress you specially created for her album cover?
During the latter part of 2010, I learned that a few of my works from Fashion Week 2010 have been requested for and sent (by a designer I've worked with) to Lady Gaga's styling team. It had already been sent when I learned about it and I was just cool with it since nothing's really happened yet, even though the idea was a bit exciting. The pieces were returned after a few weeks and were probably not used for anything. A little past mid of 2011 that same designer contacted me and told me that Lady Gaga's styling team had requested for one of the pieces previously borrowed, a sculpted silicone top, and they wanted me to do a skirt to go with it, which I also did after being sent her measurements. The two piece ensemble was sent and the final modified look can be seen in the music video.
That particular piece was done by employing sculpting and casting techniques. I initially sculpted the entire piece from clay which I made a mold of afterwards. From the mold I used a high-grade silicone to make the final product.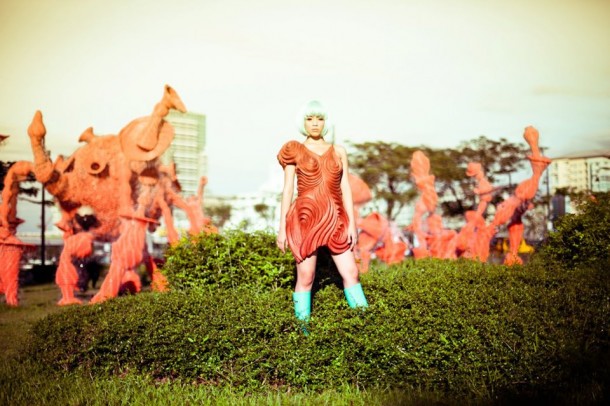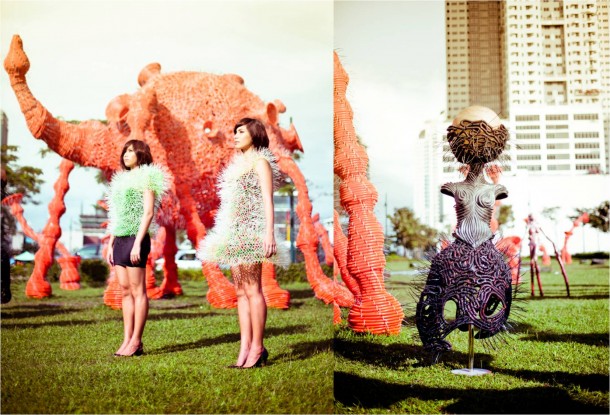 Seems like sculpting and fashion are quite distant disciplines, what made you decide to accept the project?
For me it's only logical that my artistic practice intersect with the concerns of fashion among other things like industrial design, architecture, etc. The idea and techniques of sculpture or art for that matter is utilitarian for me and can be applied to and overlapped with other industries and contexts. With fashion, I look at it simply as my artistic practice incorporating if not emulating the human element, the physical body. I employ sculptural techniques and my sensibilities for form in dealing with the design problems posed by fashion since I am not trained in its traditional methods. I am influenced by many things from sci-fi, animation, fantasy RPGs, contemporary industrial design, mythology, other artists' work as well as pioneering fashion designers who transcend traditional fashion language like Hussein Chalayan, Eiko Ishioka, Alexander Mcqueen and Iris Van Herpen.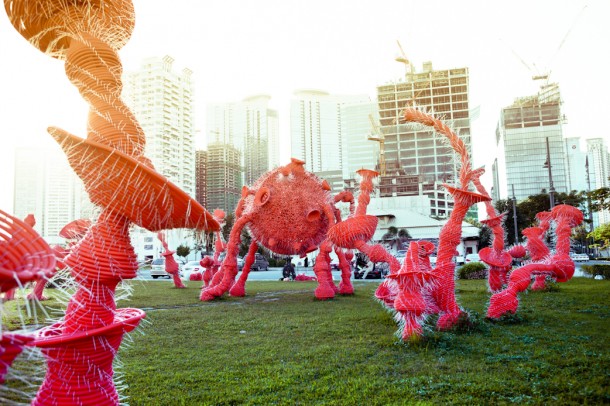 You recently had Psychopomp's Reef installation at Bonifacio Global City (BGC). Can you briefly tell us the story behind this project, and are we going to see more of your works in the near future?
Psychopomp's Reef is part of my Balete installation series (Balete or strangler figs because the original forms resembled those sinewy looking trees) using flexible conduits and cable ties to create otherworldly and alien forms. The very first version of this installation was formed during a residency in Australia where I had to come up with an exhibit on a budget so I had to scour the local recycling centers and encountered piles of discarded flexible hoses. I played with the materials 'weaving' them with cable ties and what resulted were, for me, balete-looking forms. I have even extended this work into fashion and have created costumes for a local performance group.
I have no other plans but to keep on continuing and evolving what I do. So, yes, you will see more of my works in the form of fashion, sculptures, designer objects and architectural design. You can check out updates on my website www.leeroynew.com and Facebook page.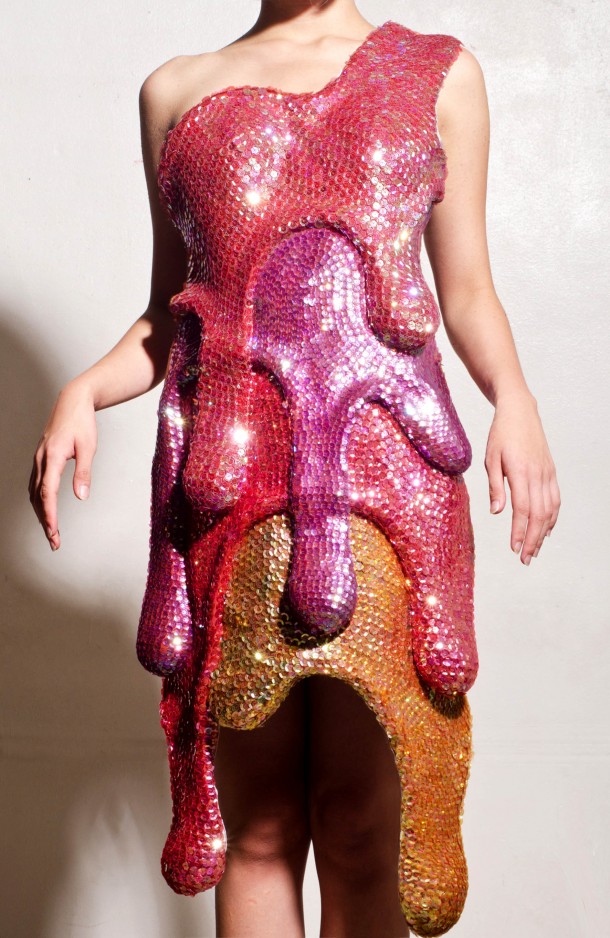 Lastly, artists are known to have ideals and advocacies. We would really want to know yours. What is your philosophy in life, and how do you manage to voice it out in your artworks?
I simply want to actively and effectively participate in the transformation of my immediate environment and sphere of influence via the various and multiple means of creative production I have chosen.