AYOKO NANG MAGPRAMIS, WALA NAMANG FOREVER
How To Be Okay With Being Single
by Nicholo Jallores
Pramis ako ng pramis na magkaka-lovelife na ko, hindi ko naman matupad-tupad! Eh wag na lang kaya akong magpramis?
You know how it is. The new year rolls in and the first item on your list of resolutions is to get a lovelife, hopefully in time for Valentines. You could resolve to get a pay raise, travel more, find a more lucrative job, or do some volunteer work but noooo – romance has to take precedent over any other earthly endeavor. Para bang bubuka ang lupa pag di ka nagka-jowa.
I've done this year in, year out, and if you're anything like me, you would have also reached a point where promising has become pointless. Life is unpredictable. You can plan for it all you want, but the truth is that your best hope is to make the most out of whatever curveballs it throws at you. Same goes with finding love. You can strategize it, make a SWOT analysis of it, break it down into actionable milestones in a quarterly marketing calendar and plan every tactic down to an atomic level, but at the end of the day, it will come to you when it comes to you.
So what do we do, now that we know that love is not something we can plan for? How about taking those promises, turning them on their heads, and making ourselves happy the end goal? Yung ipa-pramis ko sa iba, ipapramis ko na lang sa sarili ko. Malamang sa oo may mahita ako. Ako 'to eh.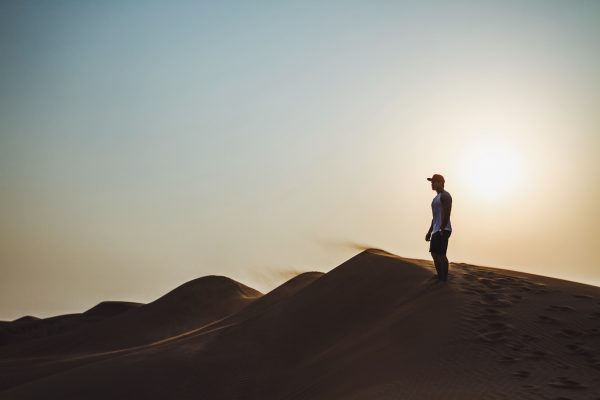 Photo by: @harold.evangelista
PRAMIS, MAGPAPAKA-HEALTHY NA KO!
Not because I want to be more attractive. Not because I want to be more "marketable." I will be fit because I want to feel better and live longer. The quickest way to disappoint yourself is to reform your life around someone else's approval. Di ka magtatagumpay jan bes! So whatever you do with your body, do it for you. Bonus na lang pag natripan ng iba.
PRAMIS, MAGTA-TRAVEL AKONG MAG-ISA!
Eh sino bang nagsabing kailangan pulu-pulutong kayong mag-travel, or that you need a partner to enjoy the world? Kalokohan. Travelling alone is one of the best gifts you can ever give yourself. You are never more badass when you travel solo. You become a survivalist, a naturalist, a Jedi knight practicing the mind trick, an earthbound astronaut. You can't become all of these when half of your brain functions are geared towards making the other person comfortable. Kaya wag ka nang magatubili. I-book mo na ang ticket na yan. Kaya mo yan! And if you need someone to take your photos, ask a local. Or better yet, bring a selfie stick and a bluetooth clicker.
PRAMIS, TITIKIM AKO NG MGA BAGONG PAGKAIN!
This is an exercise on breaking patterns. A lot of people just fall in love with the same person over and over again. Iba-iba lang ng anyo at katawan, but at the core, they're really just one archetype. This type of obsessive, self-conditioned behavior can be evident in the way you eat. Burger forever! Rice and ulam forever! Hala, andaming choices, my friend! Ayaw mo ba talagang mag-try naman ng iba?
PRAMIS, I WILL ENGAGE MORE WITH MY COMMUNITY!
Instead of trying to find that one person who will turn your life around, find your tribe. Find a group of like-minded individuals who inspire you and compel you to upgrade yourself to a whole new level of awesome. Don't waste your time trying to impress people who will not invest themselves in you. Instead, be your real, authentic self around people who can love you for you. Yung hindi ka na masyadong maga-adjust kasi swak na swak na kayo. Winner yun!
PRAMIS, I WILL LEARN SOMETHING NEW
The day you stop learning is the day you die. Ang severe, noh? But that's exactly how it is. There is always, ALWAYS something new to learn, and the best lessons in life come to those who are the most ready. So be ready. Learn a new hobby, job skill, another language, or a more progressive mindset. Learn how to cook another version of adobo, manage a social media page, make a website, or a new makeup trick. Andaming pwedeng gawin at aralin. You don't have to focus all of your emotional and mental energy on finding love. Love will find you. And by the time it does, you would be ready for it too.
PRAMIS, MAS MAMAHALIN KO ANG SARILI KO!
If there's one thing we can learn about in-flight emergency procedures, it's that you have to take care of yourself first before you take care of anybody else. There's no point in fiddling over your seatmate's oxygen mask when you yourself are about three seconds from passing out. Ganun din sa pagmamahal. Dapat ikaw muna. Dapat alagaan mo muna ang sarili mo. Ika nga ni pareng Rupaul, "If you can't love yourself, how in the world are you going to love somebody else?" Before you make any new promises, make a promise to yourself first – that you will love yourself the way you want to be loved by others. And if you find yourself faltering from this vow, remember this piece of advice from the lovely Ms. Carrie Bradshaw:
"The most exciting, challenging and significant relationship of all is the one you have with yourself. And if you can find someone to love the you that you love, well, that's just fabulous."
Save
Save
Save