Love and Pride for World Class Filipinos
By Ambassador Grace Relucio-Princesa
It's the month of love once again and for me, one of the greatest loves of all is love of country. One of our national heroes, Andres Bonifacio, said it best when he uttered the words – "Aling pag-ibig pa ang hihigit kaya, sa pagkadalisay at pagkadakila gaya ng pag-ibig sa tinubuang lupa? Aling pag-ibig pa? Wala na nga, wala." Simply translated it means, "Which love is more than capable of purity and nobility except love of country?" It is this love and pride of country that I always want to highlight to our fellow Filipinos. And in this issue, I am proud to share the good news of how one of our world class Filipino NGOs recently won global recognition.
Philippines "Liter of Light" wins Zayed Future Energy Prize
My Shelter Foundation's Liter of Light won the Zayed Future Energy Prize – Non Profit Organization Category, besting four other finalists, during the Awards Ceremony following the opening of the Abu Dhabi Sustainability Week (ADSW) on the 19th of January 2015 in the UAE capital.
Liter of Light's Executive Director llac Diaz received the award from Egyptian President Abdel Fattah El-Sisi, HH. Sheikh Mohammed bin Rashid Al Maktoum, UAE Vice President and Ruler of Dubai and HH. Gen. Sheikh Mohammed bin Zayed Al Nahyan, Crown Prince of Abu Dhabi and Deputy Supreme Commander of the UAE Armed Forces.
Liter of Light is an open source energy program that teaches people how to make and install homemade solar lanterns. The company began installing these solar bottles in the Philippines in 2011 and has since expanded to 15 countries. It has installed lanterns in over 350,000 homes and shops. The solar bottles have an enormous impact on those without electricity, saving an average of US$10 a month on electricity bills and 240 kgs of potential carbon emissions.
A zero-carbon-emitting alternative to the daytime use of electric or hydrocarbon-burning illumination, Liter of Light is now on its second phase of development whereby a micro solar PV cell, LED, and a battery can be attached to the bottle so it can be used to generate light at night. The LED system was used extensively in the Philippines in the aftermath of Typhoon Yolanda/Haiyan to provide residential and street lighting in areas of devastated cities.
The other finalists for the Non-Profit Organization Category were Solar Aid (UK), Practical Action (UK), World Resource Institute (USA), and Electriciens San Frontieres (France).
The winners were selected after a three-month long evaluation process which began with an assessment of 1,100 entrants to shortlist 31 finalists and eventually name five schools, three organizations, and one individual. The entrants were evaluated based on their impact, innovation, leadership and long-term vision in the fields of renewable energy and sustainability. The Zayed Future Energy Prize Jury includes heads of state, leading energy experts and world-renowned personalities committed to the global effort of accelerating the adoption of renewable energy and sustainability.
The Zayed Future Energy Prize represents the vision of the Late Founding Father and President of the United Arab Emirates, HH Sheikh Zayed bin Sultan al Nahyan, who championed environmental stewardship. This annual award celebrates achievements that reflect impact, innovation, long-term vision and leadership in renewable energy and sustainability. It is considered the biggest and most prestigious award-giving body in the area of energy. Liter of Light is the first Southeast Asian- based Non-Profit Organization to win this prestigious award.
On other news, I am also proud to share that Philippines' ARKO mobile application is among the 40 winners – chosen out of over 450 mobile applications worldwide – who received the 2014 World Summit Award (WSA) Mobile at an Award Ceremony held during the WSA – Mobile Global Congress on the 1st to the 3rd February 2015 at the St. Regis Hotel in Abu Dhabi, UAE.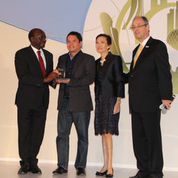 The winners were recognized by the WSA for best mobile content solutions showing innovativeness, creativity and impact. ARKO won under the m-Inclusion and Empowerment category, together with four other apps, namely, Ghana's SnooCode, Palestine's BrailleBoard, Brazil's LIVOX, and Portugal's ColorADD. Eight WSA-mobile Global Champions 2015 were also announced from each award category on February 3, the last day of the Congress.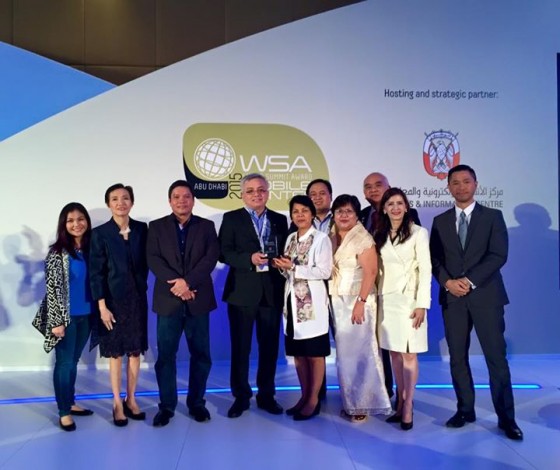 The ARKO mobile app was developed by the Department of Science and Technology's Project NOAH and Pointwest Technologies – a 100% Filipino-owned IT company in the Philippines –   to make people aware of flood hazards in their community. It provides users with flood hazard maps and identifies safe locations for evacuation. The app also provides an hourly rain forecast and typhoon track markers. It is available in Android and iOS for free.
As I have been saying all along, the Filipino is like abaca – strong, resilient and exceptional. This recent achievement also manifests that Filipinos are not just world-class laborers but that we also have innovators like Illac Diaz and the ARKO team.
Taas noo, Filipino!