A Non-Fashionista 's Take on Fashion
By Kristine Abante
For someone who grew up in the 90's grunge era, my fashion sense will probably never go beyond ripped jeans and a clean white shirt. Okay, maybe you can include wedge shoes, sneakers, a boho blouse, a black dress, Ray-Ban's and the staple plaid, but that's pretty much my standard range. Think Winona Ryder in Reality Bites and I won't even have to show you my closet.
In fact, I have not really paid much attention to what's in season had it not been for Carrie Bradshaw and a younger gay cousin who was only too happy to introduce me to Vogue magazine and people like Marc Jacobs, Alexander McQueen and Oscar dela Renta as his way of coming out.
Now that we've got the disclaimers out of the way, I want to be able to say that I as I grew older, despite my fashion range remaining stagnant, I have developed a certain appreciation for designers and people who work behind the curtains of the fashion industry.
Sure Gigi Hadid and perfect 10 models may have poked at my insecurities on more than one occasion, but pouring over fashion magazine spreads and looking at confident women (and men) donning crazy outfits, I have come to accept the fact that the fashion world in essence is this one giant fantasy world as colorful, as bizarre, and perhaps a thousand times more cutthroat and obscene than the one Alice found down the rabbit hole.
After getting dragged into a couple of fashion events by insider friends here in Dubai  it further dawned on me that this thing they call Fashion didn't have to make sense in the way that we, the uninitiated muggles of the MRT or the Dubai Metro, expect it to make sense.
A Non-Fashionista 's Take on Fashion
Much like art, the beauty of fashion and fashion statements lay in the expression, and in the subjectivity, measured in the amount of guts you have in you to show off a chunk of your personality to the outside world.
Unfortunately, I think growing up in the Philippines, where "pamimintas" is a national sport, and where one could easily draw raised eyebrows by wearing clothes that would not be deemed "appropriate" for the streets, the weather or your body type, did not exactly help cultivate our individual "fashion sense" but I would say things are slowly looking up.
Thanks to the new breed of outrageously talented Pinoy designers like Michael Cinco, Furne One, Rocky Gathercole, Monique Lhuiller who have in recent years put us on the international map as far as the industry is concerned.
Thanks to social media and millennial kids who  have brought a whole new game of style to the table with their  fashion blogs, their curated Instagram feeds and their avalanche of hashtags  #flatlays, #ootd, and #dapper.
Nowadays, it seems anyone can just have go at fashion. It doesn't matter if you're not a size 2 and don't have flawless skin – that's what filters are for. There is no need for runways, just own that bolero jacket and push na yan, rampa everywhere ate gurl! 
Looking around it does seem like more Pinoy's are finally becoming more fashion conscious, though certainly still a far cry from people you would see on the streets of Paris, Milan or Shibuya Crossing, one could a see little bit of awareness on trends, with more ordinary people wearing dresses and scarves, and lesser judgment thrown at those who wear boots and have pink hair.
With the world spiraling out of control and with so many important issues of the day, sometimes putting too much thought on a skirt would seem like a crime. Sure it's not going to reverse the effects of climate change or end world hunger, but it might help make your day go by a little better, perhaps if you're lucky, help land that dream job or get asked out by your crush on a date, then maybe in that sense fashion has its merits.
At the end of the day, I would still say fashion is just a game where we all get to play dress up and feel good about ourselves. The moment we take it too seriously is the moment we fall into that trap of a fashion victim.
So while not all of us have the same amount of courage as Bjork wearing a Swan dress on the red carpet, we should at least appreciate a well-coordinated outfit and work towards our own personal styles whatever that maybe, whether that involves a boring cardigan sweater or a five-inch Louboutin heels, that's all on you.  Now go ahead and take that elevator selfie.
…………………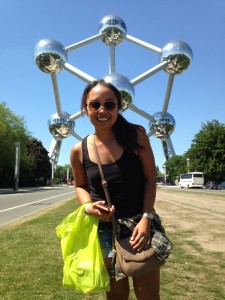 KRISTINE ABANTE
An entertainment industry expert who spends her downtime looking for the next great adventure wherever she could find it, Kristine uses her writing to relive her experiences twice and to encourage others to join the ride.
Recommended Articles
Fashion versus Fashyown! Fashion nga ba yan o fashion-fashionan?