Angelita Castro-Kelly: NASA's Fearless Filipina Diplomat
ILLUSTRADO PROFILE – Originally published – January 2011
By Aby Yap
Angelita Castro-Kelly took the road less traveled. And as poet Robert Frost put it perfectly, that has made all the difference.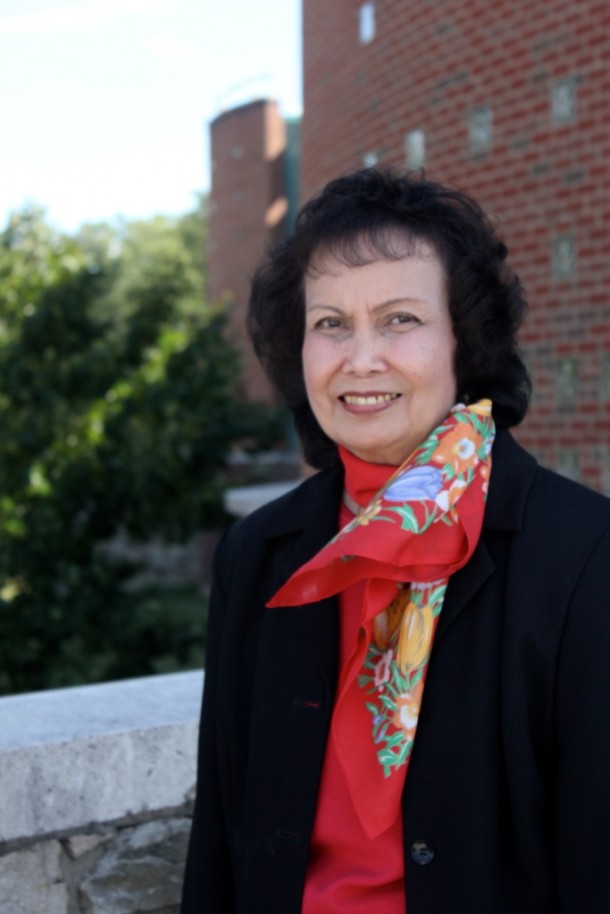 In fact, it led her to the National Aeronautics and Space Administration (NASA) more than 30 years ago, where she now holds two key positions, as Earth Observing System (EOS) Science Interface Manager and International Earth Science Constellation Mission Operations Manager (MOM). Angelita is the first woman and the first Filipino to have ever achieved such a feat at NASA.
She quickly points out, however: "One's success is usually attained due to a larger team of people that work cooperatively with each other in order to reach their common goal. So, any success that I've been fortunate to experience is the result of not only my hard work, but of the people that I work with."
In this multi-billion dollar program, they have three major EOS missions —Terra, Aqua and Aura — each satellite carrying several instruments that measure a specific phenomenon, she explains. Aura is dedicated to the atmosphere, Aqua to water, and Terra to land data. All three satellites fly in constellation with other earth observing satellites from France, Japan, and Argentina. Other countries, Canada, United Kingdom, Netherlands, Brazil, and Finland have instruments on the constellation satellites. These constellation satellites fly very closely with each other, within seconds to minutes at 705km to enable scientists to obtain concurrent data from the various instruments. Scientists then correlate the gathered data to study the Earth as an integrated system.
Angelita led the development of agreements and procedures with all the member satellite teams and countries to ensure that they all fly together safely in accordance with established guidelines. She chairs a working group meeting composed of engineers and scientists, which meets face-to-face twice a year. The teams coordinate their daily and special activities via telecons and electronically linked systems.
Prior to the launch of the satellites, Angelita, the first EOS MOM, developed the overall EOS Mission Operations Concept that became a basis for implementing all EOS missions. She worked with various flight engineers, ground system developers, scientists in the US and with international partners in Japan, United Kingdom, Canada, Netherlands, and Finland to understand their requirements and develop specifications for a control center that would be able to send commands to the satellite and a ground system that would be able to capture and process data from the instruments.
After the launch, her role evolved to that of Science Interface Manager, as she continues to act as a bridge between the scientists and the ground system and operations team.
Reaching for the Stars
Growing up in Sampaloc, Manila, Angelita had shown early on that she was far from typical.  With her keen interest in Math, she eventually found herself among the very few enrolling in BS Mathematics and Physics at the University of Santo Tomas (UST), where she also spent her elementary and secondary education.
"(It) seemed like a good thing to do," she rationalizes. "The two subjects provide a good foundation for many career possibilities, including Medicine." Back then, her paternal grandmother wanted her to be a doctor like her departed father, who also served as captain in the US Armed Forces in the Far East.
Angelita is the youngest among six children in a family of achievers. Her oldest brother is a doctor, one was a former ambassador and Minister of Foreign Affairs, another is a lawyer, and her two sisters were UST professors. Both their grandfathers became mayors of Bacarra, Ilocos Norte. But she never felt any real pressure to follow someone else's footsteps.
It was her mother, a pharmacist, who "stressed the importance of having a good education," she says, while her "siblings' accomplishments served as an inspiration." She even attributes her diplomatic skills to her late brother Ambassador Pacifico Castro.
Space — stars, planets and astronauts — was another youthful fascination for Angelita. She discloses, though, that her idea of NASA during that time was very limited to rocket ships, following the visit to Manila of Friendship 7, the rocket ship of John Glenn, the first American to orbit the Earth.
Conquering Space and Time
After she earned her degree, Summa cum Laude, Angelita moved to the US to pursue graduate studies in Physics at the University of Maryland. The transition proved to be quite challenging. "It's easy to get lost in a country such as the US," she recalls. "I had a bit of a cultural shock, finding myself among people of diverse faiths and cultures." It was her strong faith that sustained her all throughout. Luckily, too, her, mother and two siblings were living nearby.
"In graduate school, the number of women was very small," continues Angelita. "The 4-story Physics building had only one restroom for women." She had the same experience when she first began working at NASA.
"I was usually the only woman in a roomful of men at technical working group meetings. Most of the men treated me politely and some were even helpful; one or two had an attitude but eventually came around, Angelita recounts. "The initial challenge was to show them that I was just as capable as they were to do the job. The trust and respect came once they saw that I could contribute to the success of the mission."
At Goddard Space Flight Center, she also made more awesome discoveries: "the depth and breadth of the space endeavor, the diversity of scientific and engineering disciplines, and the many career opportunities to contribute to the space program."
One of them was being the Project Manager of the Shuttle/Spacelab Data Processing Facility, where she learned about negotiating with space personnel at other NASA centers and in other countries – a preparation towards becoming the EOS MOM.  Then, she started making history.
One Step for Angelita
Her contributions to the several missions she spearheaded at NASA were soon recognized by both her kababayans and colleagues.
In 1993, she received then President Fidel Ramos' Presidential Award, Pamana ng Bayan for Science and Technology. She was also named one of UST's Ten Outstanding Thomasian Alumni for Science and Technology.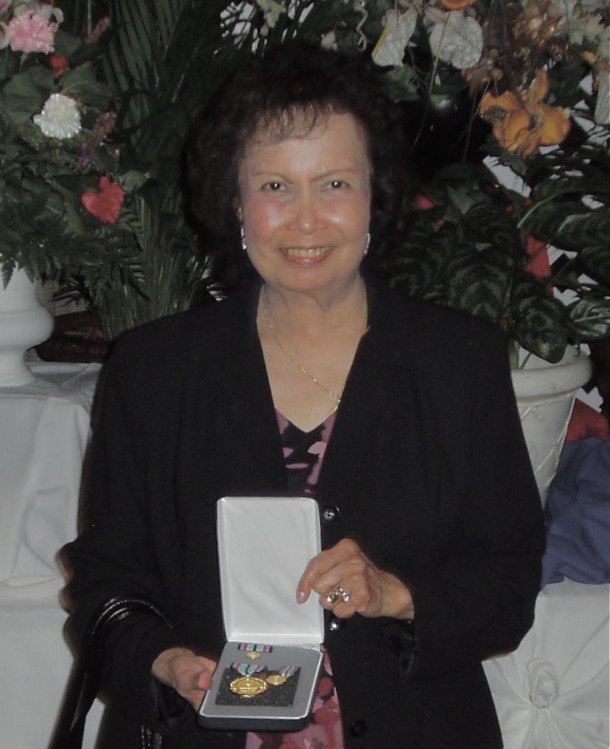 Over the years, NASA has conferred her the following honors: Goddard Space Flight Center Exceptional Service Medal, Manned Flight Program Launch Honoree, Astronauts' Manned Flight "Snoopy" Award, GSFC Exceptional Performance Award, Flight Project's "Mission Impossible" award, and recently, the NASA Honor Award Exceptional Achievement Medal (2007, 2009, 2010), and numerous group achievement awards including the NASA Honor Group Achievement Award for the Constellation Mission Operations Working Group. She was also acknowledged as one of the 100 Most Influential Filipina Women in the US by the Filipina Women's Network.
Angelita emphasizes, though, that she's also been very fortunate to work for managers who've given her the chance to blossom in her career because they trusted her with the responsibility of representing NASA at meetings with other organizations in the US and abroad.
Her mother had been very helpful too. "My Mom came to live with us after the birth of our third child. (She) made it possible for me to go to work every day and be able to concentrate on my work without worrying about the children," she shares.
She and her husband Dr. Francis Kelly, also a physicist, consider their three children both an achievement and a blessing. "I made a decision after getting married to take time off to learn to be a wife and eventually a mother.  I have no regrets losing four years when I could've been working," reveals Angelita who spends most of her free time with her grandkids. "I think women shouldn't put off marriage and having children just to have a career."
One Leap for the Filipino
Maybe she was born under a lucky star. Maybe it was written in the stars. But she's still most thankful to God for His many blessings. "Whatever success I have today is from God, who gave me the grace of a education, and who gave me a wonderful family and a loving husband," Angelita says humbly.
Any advice she can give to kababayans who still hesitate to walk the road less travelled?
For anybody to succeed in their career, she believes one needs to "develop strong skills in written and oral communication, a good attitude, a willingness to get the job done no matter what, and flexibility. Don't do only what's required—go above and beyond if needed."
But more importantly, she believes in staying true to Filipino values: being God- and family-centered, honest, hardworking, and determined.
"Never forget to pray! Take God with you whatever you do and wherever you go," Angelita underscores. "Trust in Him — He'll guide you to places you haven't even dreamt about today."
Even in space.