Thoughtleader – Edgardo Suniga
Engineer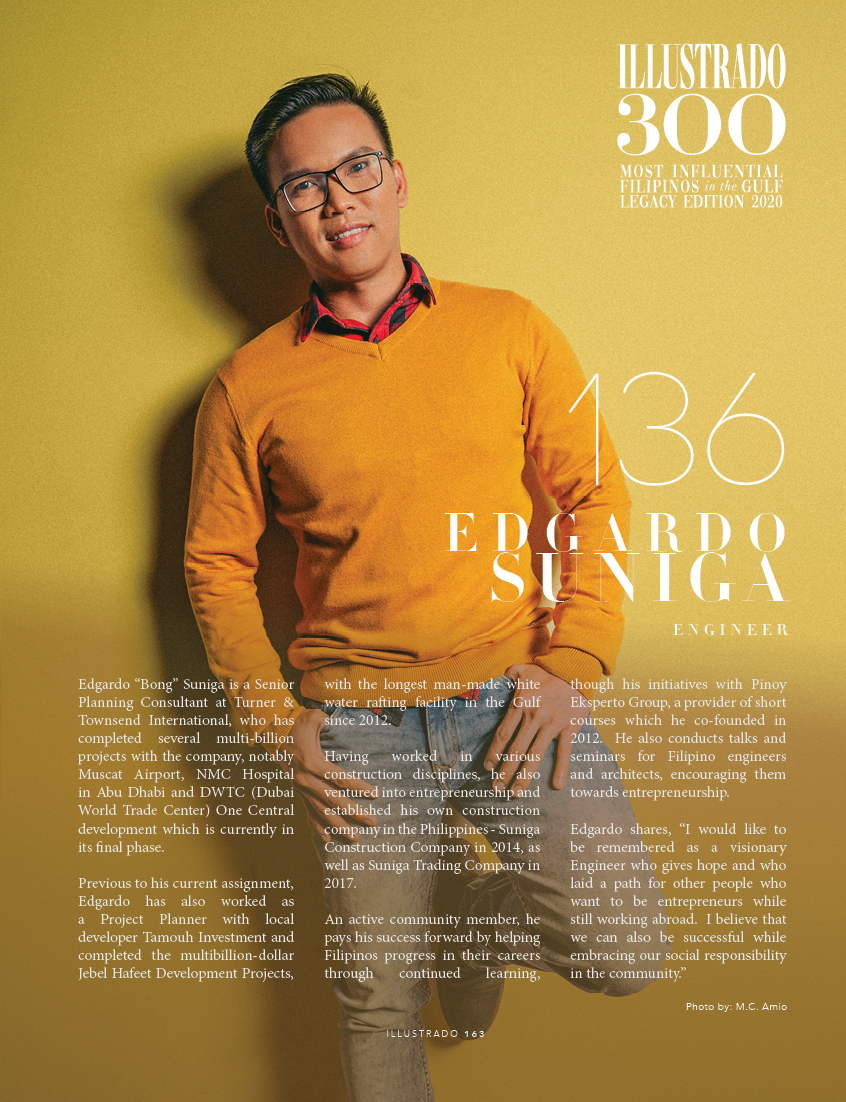 Edgardo "Bong" Suniga is a Senior Planning Consultant at Turner & Townsend International, who has completed several multi-billion projects with the company, notably Muscat Airport, NMC Hospital in Abu Dhabi and DWTC (Dubai World Trade Center) One Central development which is currently in its final phase.
Previous to his current assignment, Edgardo has also worked as a Project Planner with local developer Tamouh Investment and completed the multibillion-dollar Jebel Hafeet Development Projects, with the longest man-made white water rafting facility in the Gulf since 2012.
Having worked in various construction disciplines, he also ventured into entrepreneurship and established his own construction company in the Philippines – Suniga Construction Company in 2014, as well as Suniga Trading Company in 2017.
An active community member, he pays his success forward by helping Filipinos progress in their careers through continued learning, though his initiatives with Pinoy Eksperto Group, a provider of short courses which he co-founded in 2012.  He also conducts talks and seminars for Filipino engineers and architects, encouraging them towards entrepreneurship.
Edgardo shares, "I would like to be remembered as a visionary Engineer who gives hope and who laid a path for other people who want to be entrepreneurs while still working abroad.  I believe that we can also be successful while embracing our social responsibility in the community."
Illustrado 300 Most Influential Filipinos in the Gulf is Supported by: Kaya Skin Clinic,  Emirates Airline, and Unilever.
Special Thanks to Michael Cinco, Ezra Couture , Giordano, Darcey Flowers, IKON Solutions, Victors Freight, MPQ Tourism, Asia Gulf Companies –La Carne & Filfood, WOL Water
Get a copy of Illustrado 300 Most Influential Filipinos in the Gulf Legacy Edition