Fahed AlBlooshi
Vlogger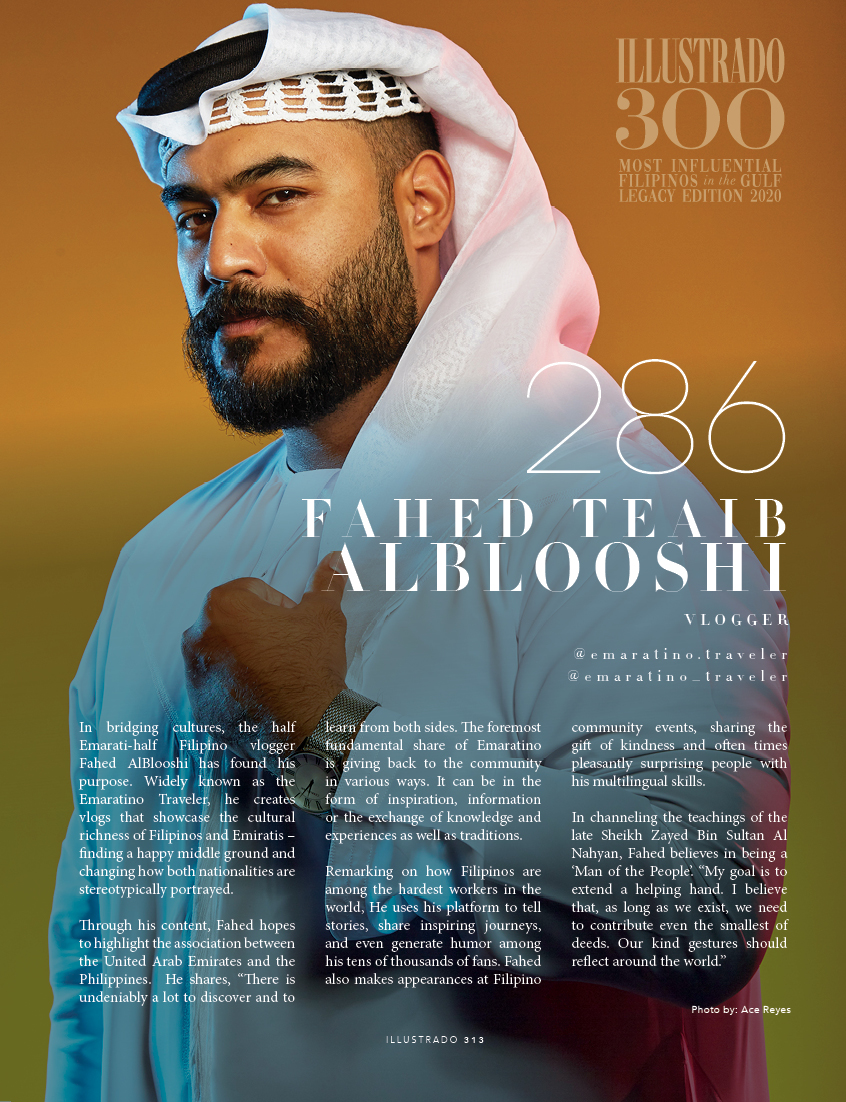 In bridging cultures, the half Emarati-half Filipino vlogger Fahed AlBlooshi has found his purpose. Widely known as the Emaratino Traveler, he creates vlogs that showcase the cultural richness of Filipinos and Emiratis – finding a happy middle ground and changing how both nationalities are stereotypically portrayed.
Through his content, Fahed hopes to highlight the association between the United Arab Emirates and the Philippines.  He shares, "There is undeniably a lot to discover and to learn from both sides. The foremost fundamental share of Emaratino is giving back to the community in various ways. It can be in the form of inspiration, information or the exchange of knowledge and experiences as well as traditions.
Remarking on how Filipinos are among the hardest workers in the world, He uses his platform to tell stories, share inspiring journeys, and even generate humor among his tens of thousands of fans. Fahed also makes appearances at Filipino community events, sharing the gift of kindness and often times pleasantly surprising people with his multilingual skills.
In channeling the teachings of the late Sheikh Zayed Bin Sultan Al Nahyan, Fahed believes in being a 'Man of the People'. "My goal is to extend a helping hand. I believe that, as long as we exist, we need to contribute even the smallest of deeds. Our kind gestures should reflect around the world."
Illustrado 300 Most Influential Filipinos in the Gulf is Supported by: Kaya Skin Clinic,  Emirates Airline, and Unilever.
Special Thanks to Michael Cinco, Ezra Couture , Giordano, Darcey Flowers, IKON Solutions, Victors Freight, MPQ Tourism, Asia Gulf Companies –La Carne & Filfood, WOL Water
Get a copy of Illustrado 300 Most Influential Filipinos in the Gulf Legacy Edition