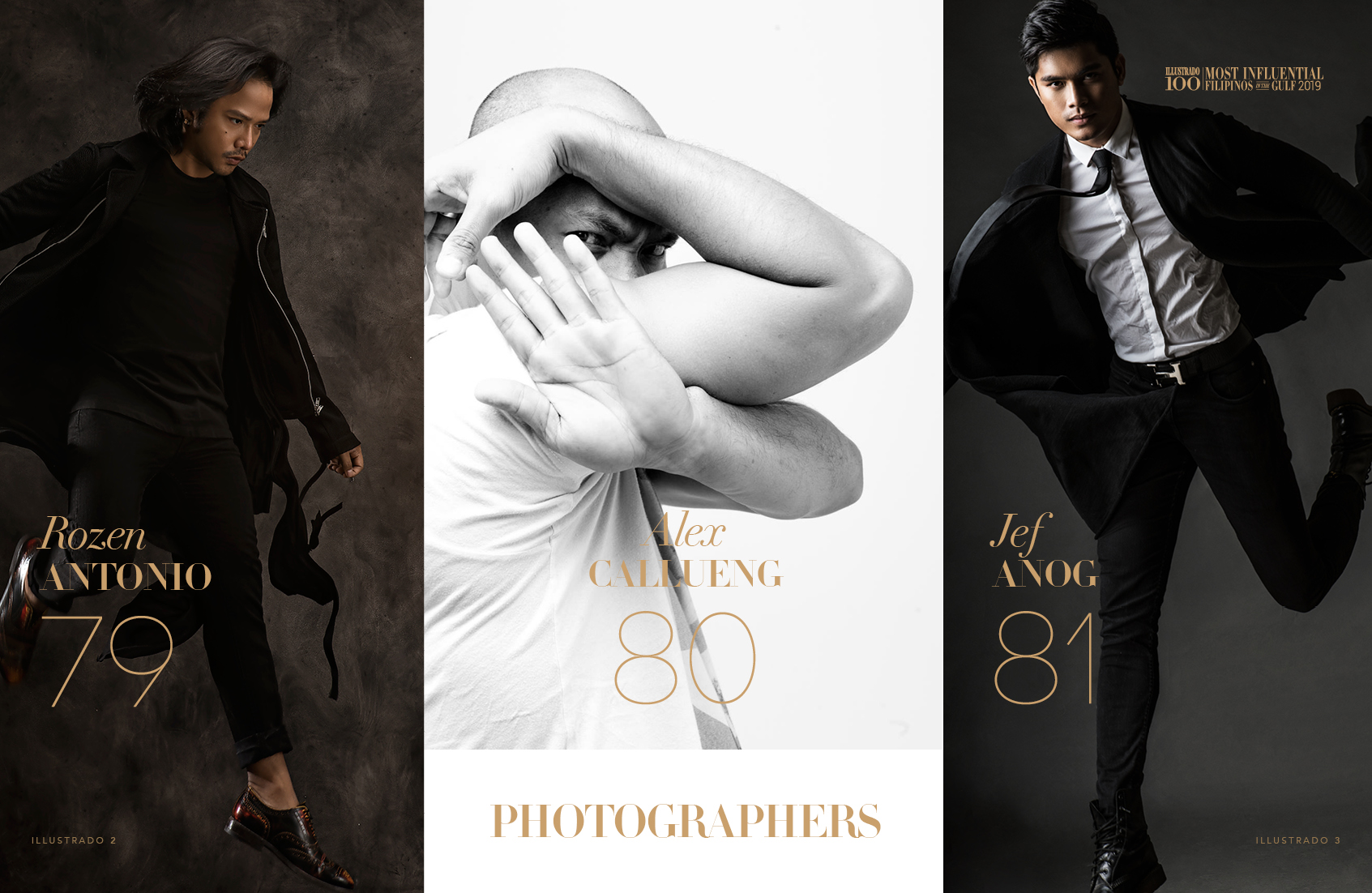 Rozen Antonio
Rozen Antonio's work speaks for itself. A fashion photographer armed with a striking body of work – consisting of projects for publications like Velvet, OhLaLa, and the Art of Living, not to mention commercial projects for brands like Himalaya, Coca Cola, Lords, and United Colors of Benetton, his eye for captivating imagery is nothing short of profound.
While 2018 has jolted even the most prolific industry professionals, Rozen has persistently brought several exciting projects to life as the photographer of choice for the region's most highly revered designers. A master at spinning fantasies from a single composition, this year was marked by an extraordinary feat for Rozen having shot Filipino fashion's 'Holy Trinity' – Michael Cinco, Furne One, and Ezra Santos for the cover of Illustrado Magazine's 12th Anniversary Fashion Issue. Of the landmark project he shares: "The latest cover of Illustrado Magazine is very important for me as it was the first time we had the 3 of the best fashion designers to collaborate." On another front, as an entrepreneur running his events management company Houz of Zen, Rozen has also worked with hotels and renowned brands, providing design services for weddings, events, and other occasions.
In the continuous pursuit of knowledge and experience, Rozen voices the sheer importance of adaptability when it comes to thriving within such a fast-changing economic environment: "The world is moving so fast, and we need to keep up with it and learn continuously. You can never learn enough."
Alex Callueng 
Despite shifting career trajectories not too long ago – from leaving the corporate world, to becoming a full-time photographer – Alex Callueng has made a fantastic impact at such a short time.
Now fully immersed within his craft and regarded as one of the most successful fashion photographers in the city, Alex has quickly surpassed field veterans, having worked alongside some of the region's most well-known fashion houses, publications, and businesses. Alex has produced work for Harper's Bazaar Middle East, Grazia Middle East, Riva Fashion, and Bedouin Studios to name a few. The highlight of 2018 for him was shooting an exclusive fashion editorial for Vogue Arabia.
Maintaining a consistent track record and relevance is every photographer's challenge each year, besides familiarizing oneself with market activity and developing strategies to succeed.  Alex shares that always having something new to offer is of paramount importance: "In this industry, we have to be constantly evolving, innovating, and re-inventing ourselves."
Jef Anog
Jef Anog had come a long way from his corporate beginnings as an accountant back in 2010. Today, as one of Dubai's most sought after and accomplished photographers, he runs his free zone agency, tackling a growing list of regional and international clients from government agencies, couture houses, magazines, and publishers. Some of his most recent notable projects include shooting fashion editorials for Michael Cinco, Ezra Santos, Amato, and Mona Al Mansouri, as well covers for Eluxe Magazine – Paris, and Zahrat Al Khaleej.
Apart from his commercial projects, Jef counts his most recent involvement with the Philippine Consulate's initiatives for the community as part of his achievements for the year. "It has been eight years since I started working in the UAE, and I owe everything that I've achieved to the people who've helped me. It is time to pay it forward.  So, whenever I have the chance to participate in any projects for the Filipino community, I'm always more than willing to help."
Hard work prevails for this artist/entrepreneur in the end. In pursuing his future ventures, Jef always puts his best foot forward. "I always show my commitment not only to an on-going project but also to any of my promises. I want to create a reputation for not just working hard, but also showing clients that I put my heart in my work."
……………………….
Special thanks to our sponsors: Emirates Airline, Stars n Bars La Mer, Liali, Instax – Grandstores UAE, Dusit Thani Dubai, Gver – Your Friendly Marketplace for Sharing, Meeting Dancewear , MPQ, CMG, Filbrit, and our partners Rozen Antonio Photography,  Alex Callueng Photography, Jef Anog Photography, and Ethereal Photography.