From the Middle East to Antarctica: A Pinay Backpacker's Story
By Kristine Abante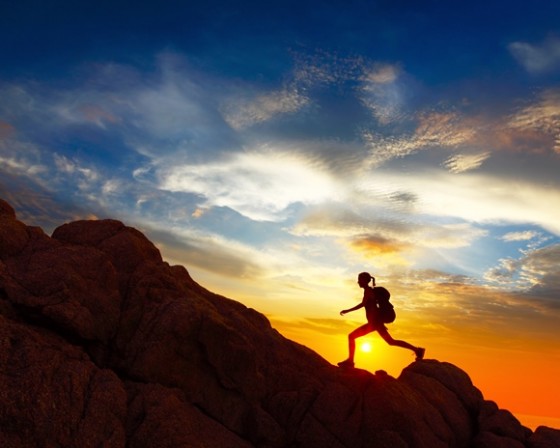 "Not all who wander are lost", goes a line from Kach Medina's travel blog quoting the great J.R.R. Tolkien, a fitting phrase that closely depicts this brave and bold Filipina adventurer's unusual journey to the top.
Making it in the Middle East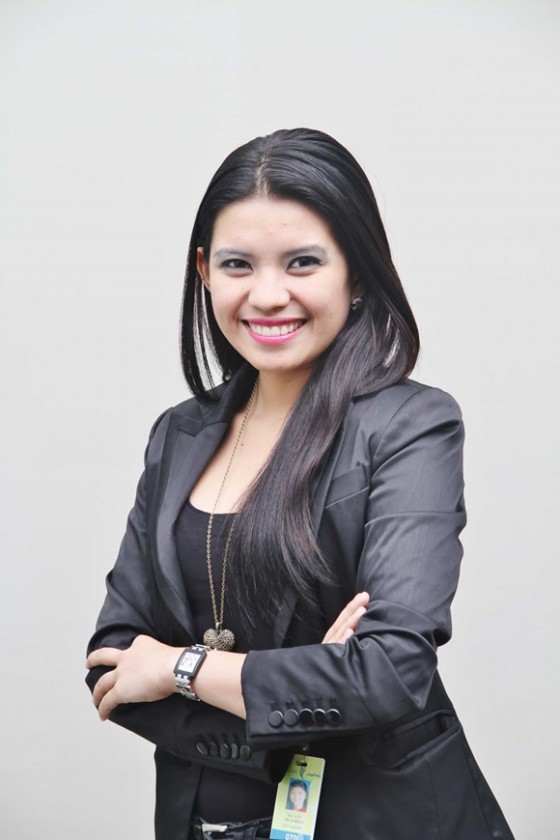 A graduate of the University of the Philippines, Katrina (Kach) Medina moved to Kuwait in 2009 to join her OFW father soon after finishing her Economics degree. Articulate and dedicated, she easily got hired to join the Quality Assurance Department of a major Dental Company. From there she worked her way up, and in 2012 she left Kuwait for a high-paying job as Communications Manager in an oil and gas company in Kurdistan, Iraq.
After four years in the corporate ladder, she had a car, her own flat, and real estate investments in her name all at a ripe young age of 24. Most people, especially fellow kabayans would say that she is a success story, but somehow she did not feel accomplished. Something was missing, a sense of fulfillment, a void that cannot be filled by a 5-digit salary and daily luxuries.
She dreamed to be free, and so she went on doing just that. In what her parents and close friends would consider an unprecedented move, she left her very stable corporate life for a life on the road. Where will it lead and how far will she have to go, she didn't have a clue at the time, all she knows was that she was ready for change.
"I began to realize that what I really wanted to do was to travel, to be completely free of work and schedules. To know that I could go anywhere in the world and not just survive, but thrive.
My peers and colleagues told me I was crazy to waste the opportunities I had. After all, how many 24 year-old women, Filipinas, had the chances and the life I had?"
Quitting the 9-5 in Iraq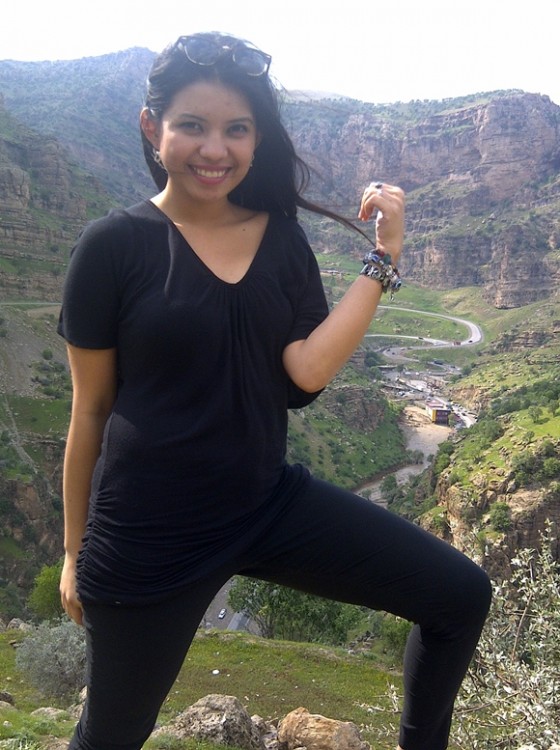 Her journey started back in 2012 soon after she joined a group of "couchsurfers" on a visit to Armenia. Inspired by their long-term backpacking lifestyle, she started doing her own research and preparations.
"I read a lot travel blogs and picked up tips from long-term travelers and experienced bloggers as I tried to map out my itinerary. I also started saving money. I was never a fan of unnecessary things like designer clothes, handbags or expensive coffee. There was no big nightlife scene in Iraq, so I never really had to to spend much money to go out partying. It didn't take long for meto finally decide to hand in my resignation."
In May 2013, I left Iraq, and headed home to the Philippines where I planned to start my backpacking tour of South East Asia."
Surviving, Thriving in South East Asia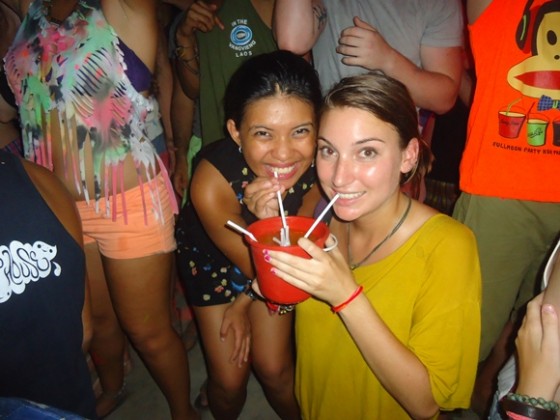 The initial plan was to tour around South East Asia for 6 months. So after her 10-day trip to the Philippines, her colorful journey began.
She traveled to Vietnam with her siblings at first and then later moved around Cambodia and Thailand on her own.
"Traveling was everything I had wanted it to be and more.  I went to places and saw things I had never seen before; the good, the bad and the completely weird!  I tasted new food (a lot of it!), had amazing new experiences and met loads of awesome people."
One of these people was a 28-year old British guy, Jonathan Howe, who had also quit his steady job in the UK, given away his possessions and begun a new life on the road.
"We met in Luang Prabang, Laos. He was easy to talk to and we seem to have very similar thoughts and ideas. You could say we were kindred spirits but we were on different itineraries and so inevitably we went our separate ways," Kach recalls of her first meeting with Jon.
She continued traveling on her own for next 2 months through Cambodia and Thailand, until she came to a pit stop.
Three months in her new nomad lifestyle she decided to sign up for a month-long yoga retreat in Ko Phangan Island to re-assess her lifestyle choices.
"I tried to understand what it was I really wanted to do in life and contemplate if my father was indeed right in saying that I was just having a quarter-life crisis."
The retreat came to an end as she was approaching her 25th birthday, and then she got a message from Jon.
"I had actually kept in touch with the British guy from Luang Prabang, who was now living and working in Hanoi.  He asked me to come back to Hanoi for a motorbike trip around North Vietnam. "
With no specific plan on hand, she decided to just book a ticket to Vietnam anyway, thinking that a big motorbike trip had been on her bucket list for a long time, so this was her chance. The supposed two-week visit got extended as she and Jon got to know each other better and she ended up living and working in Hanoi for the next 7 months.
"Having been living in Vietnam for a few months, we started planning our next big trip – a three year long around-the-world work and holiday adventure."
To be able to travel far and long, they realized they needed to prioritize sustainability.
"We both needed to save as much as possible in order to travel for at least a few months without working. Jonathan was already teaching English in a private school and took on extra work.  I decided to get my TEFL certificate so that I could teach as well.  I started teaching 1 on 1 English classes to adults as well as children in local schools. I took on a part time marketing job in a Western company and even joined a Vietnamese reality TV show!", shares Kach.
Check out other global destinations through the account of fellow Filipinos!
India, Maldives and the UK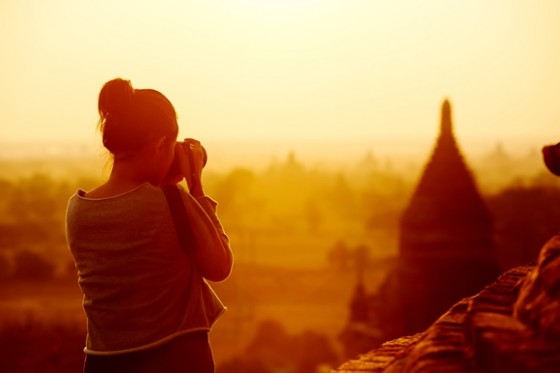 From South East Asia, Kach and Jon then spent three months travelling all over India. While in India, both them decided to invest some time and money to become certified yoga teachers and Ayurveda Massage Therapists.
"We have both been practicing yoga for some time, so we thought, why not make a living out of it?  Yoga is constantly growing in popularity across the globe and almost everyone loves a really good massage!"
Aside from picking up new skills, they also took on odd jobs to support themselves.
"We have volunteered to help out in bars and restaurants in exchange for free food. We wrote reviews and did some marketing for Hotels in exchange cheaper accommodation."
It all helped to stretch their budget further. It was this kind of thinking and experience that led them to discover Help Exchange, a website where you can find volunteer work in exchange for free food and accommodation. In their free time they explored, arranged yoga classes and massages for extra income.
As a reward for all their hard work and ingenuity, they went on a week holiday in the Maldives and then spent three weeks in the UK to meet Jon's family before flying out to South America.
South America and beyond
After meeting Jon's lovely parents in the UK, the couple was back on the road, this time headed to the Peruvian Andes and the grand Macchu Pichu. Kach pushed the boundaries of her Pinay passport and discovered that it is not that difficult to get a visa in most of South America.
"We took on a job in a hostel surrounded by mountains and Incan Ruins, in exchange for food and lodging.  After some time we decided to settle for another 6 months in Arequipa, Southern Peru where we again took on freelance teaching jobs and set up our own Yoga and Massage business. 
You could say life is perfect. We ate well, ran yoga classes for the soul seekers and healed people's aching bodies with Ayurveda massage therapy."
Two Monkeys finding Love
Kach shares that she didn't really expect to find love or at least she wasn't really thinking of meeting a life partner while travelling.
"I actually left Middle East broken-hearted so I told myself that I was going to enjoy this trip and learn to love myself fully. When I met Jon in Laos, I didn't think we would end up travelling the world together.
I dont know how to explain it might sound like a cliché but love will come to you when you're not looking for it and it will be just at the right time. The best thing with Jon is that we have the same vision, and like me he was free of commitments when we met, so we started planning our life together."
Kach and Jon started blogging and documenting their experience, sharing travel tips and basically inspiring other travelers to get on with their travel dreams. They called themselves the Two Monkeys.
It's been more than a year of travelling and the Two Monkeys are going strong with a successful blog visit www.twomonkeystravelgroup.com that has gone viral in so many places. Today the blog has taken a life of its own, with contributors from all over the world, and sponsors and advertisers that help them raise some money for their next travel plans.
The two have such lofty goals. First they want to be able to complete their journey around the world by traveling into all of the seven continents, including an ambitious trek to the southern edge – Antarctica.
First Pinay Backpacker in Antarctica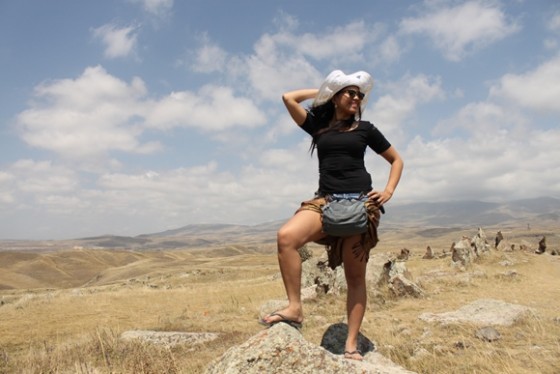 If ever, Kach will be the first Filipina backpacker to reach the South Pole.
"I've been doing my research about Filipina Travelers going to Antarctica and I have not come across anybody yet. I know there are already a lot of Filipinos who have been there but most of them are working in cruise ships.
We are targeting to go this year in November, so I'm not sure if there will be other Filipinas who will reach there before I do, but maybe I can be the first one who does it during my long-term backpacking adventure. It's kind of a challenge for me, and of course I'm excited about seeing penguins!" adds Kach.
Travel fans from around the world are at awe of her achievements, especially Filipinos who thought a travelling around the world was something that is reserved for the rich or for foreign passport holders lucky enough to have less visa restrictions.
For Kach, the sky is the limit, and as long as they both have the enthusiasm she is determined to reach for their dreams.
"Now, after almost 2 years of being on the road, I'm just living my life to the fullest. We might not own a car, a house, or a 'respectable career' but our story has so far taken us beyond our expectations. All we have now are our 15-kilo backpacks and ourselves, brimming with optimism and vision that don't seem possible in our old lives."
After conquering Antartica, Kach and Jon are aiming to set up a Yoga retreat resort in the Philippines in 2018 that will welcome and hire travelers as well as people hoping to learn from their experience.
Want to settle abroad? Check out our Filipino expat guide!
Top 10 Tips for Backpackers
1. Learn to Prioritize. Figure out where travel rests in your list of priorities in life and identify which kind of traveler you are. You can either be a weekend warrior, who travels to get away from the pressures of work, a luxury traveler who likes to be comfortable, or an adventurous backpacker who can take it as comes. Knowing yourself and being honest about your priorities makes it easier to decide on the next steps.
2. Map out an Itinerary. Contrary to what most people think, most successful backpackers are adept in planning the logistics of their journey. There is a lot of room for spontaneity and fun in between, but to be able to sustain a life on the road you need to have plan that will help you maximize your resources.
3. Start a travel fund. Save, save, save. This tip goes hand in hand with determining your priorities, but whether international travel or some other dream beckons, one needs to be financially secure and independent. Money is fuel, the more you save the farther you can go.
4. Learn as much as you can about the places you want to visit so you can make most out of your time there. There are so many available resources online that you can consult. Learn from other travelers. Kach and Jon's travel blog www.travelmonkeysgroup.com for one is a great resource.
5. Pack light. Baggage wears you down. To be free you need to let go of your attachment to a full wardrobe. Sometimes a jacket, a pair of jeans, a dress, 2 pairs of shoes and a bikini is all you need.
6. Be open to experiences. Talk to people. As Filipinos we are not very fond of small talk. Even in public transport like the jeepney, people rarely ever get friendly, but this shouldn't be the case on the road. Take advantage of your friendly easy-going Filipino personality. Smile and the world will smile with you, not to mention offer you a ride or if you're lucky a place to crash.
7. Keep learning. While you're on the road, never stop aiming for self improvement. If there are opportunities to learn something new, speak a new language, learn yoga, henna painting, beer brewing, surfing, etc. – whatever floats your boat. You are never too old to learn, and who knows these skills can be useful too!
8. Find a 'raket' to earn. Don't be afraid of menial tasks. Bartending, massage therapy, dog-sitting, housekeeping, if it's flexible enough to let you earn while exploring, then go for it, more 'rakets,' more fun!
9. Celebrate milestones and treat yourself. Life on the road is not always easy, it can also mean hard work, but if you're dedicated there is no reason not to achieve your goals. You climbed Mount Everest? Great! You learned to ride a motor bike? Good for you. Big or small, celebrate your milestones and find time to treat yourself.
10. Pay it forward and share your experiences. Sharing is caring as they say, and the more you share the more you will be rewarded. Traveling will reward with you a treasure trove of stories, anecdotes and tips that people can relate too and learn from. Share your stories and inspire the next backpacker.
Read more inspiring travel stories on Illustrado Life.