Illac Diaz
Social Entrepreneur
A campaigner to bring a better life to the poor of the world, Illac Diaz has quite literally become the bringer of light not only to regions across the Philippines but to communities across the globe. Through his global grassroots movement, Liter of Light, he has brought simple and sustainable technology providing solar-powered illumination to impoverished families with little to no access to electricity.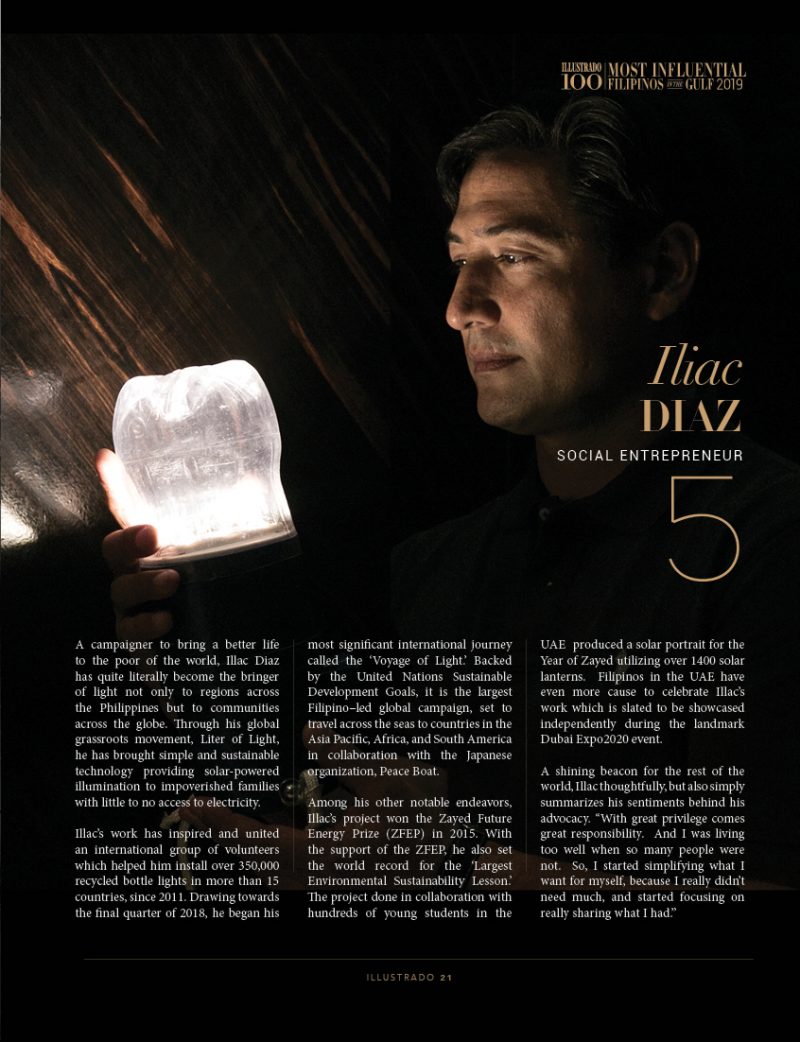 Illac's work has inspired and united an international group of volunteers which helped him install over 350,000 recycled bottle lights in more than 15 countries, since 2011. Drawing towards the final quarter of 2018, he began his most significant international journey called the 'Voyage of Light.' Backed by the United Nations Sustainable Development Goals, it is the largest Filipino–led global campaign, set to travel across the seas to countries in the Asia Pacific, Africa, and South America in collaboration with the Japanese organization, Peace Boat.
Among his other notable endeavors, Illac's project won the Zayed Future Energy Prize (ZFEP) in 2015. With the support of the ZFEP, he also set the world record for the 'Largest Environmental Sustainability Lesson.' The project done in collaboration with hundreds of young students in the UAE  produced a solar portrait for the Year of Zayed utilizing over 1400 solar lanterns.  Filipinos in the UAE have even more cause to celebrate Illac's work which is slated to be showcased independently during the landmark Dubai Expo2020 event.
A shining beacon for the rest of the world, Illac thoughtfully, but also simply summarizes his sentiments behind his advocacy. "With great privilege comes great responsibility.  And I was living too well when so many people were not.  So, I started simplifying what I want for myself, because I really didn't need much, and started focusing on really sharing what I had."
……………………….
Special thanks to our sponsors: Emirates Airline, Stars n Bars La Mer, Liali, Instax – Grandstores UAE, Dusit Thani Dubai, Gver – Your Friendly Marketplace for Sharing, Meeting Dancewear , MPQ, CMG, Filbrit, and our partners Rozen Antonio Photography,  Alex Callueng Photography, Jef Anog Photography, and Ethereal Photography.