Jimi Buenconsejo
Fashion Designer for Dubai's Royal Family
One of the greatest compliments a designer can ever earn in their career is being asked to exclusively design for one of the most prominent families not only in Dubai, but also in the world, and Jimi Buenconsejo has had that pleasure as a royal designer for over twenty years.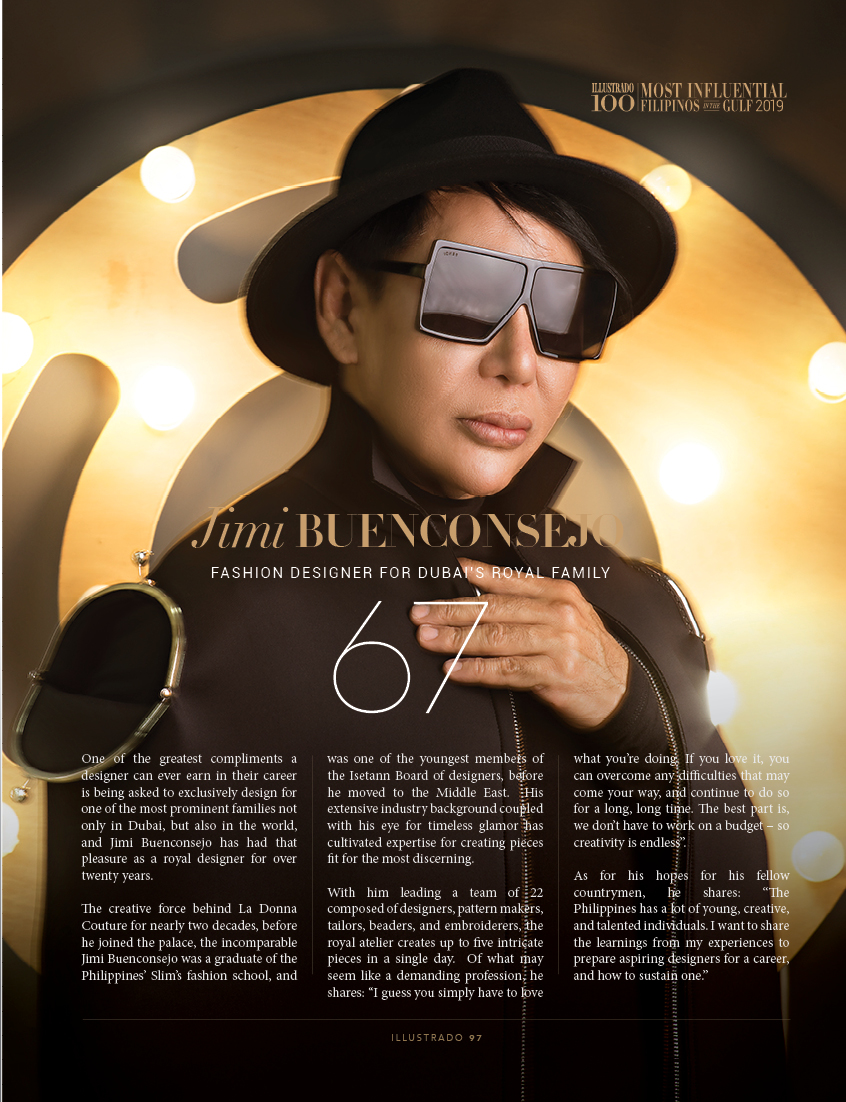 The creative force behind La Donna Couture for nearly two decades, before he joined the palace, the incomparable Jimi Buenconsejo was a graduate of the Philippines' Slim's fashion school, and was one of the youngest members of the Isetann Board of designers, before he moved to the Middle East.  His extensive industry background coupled with his eye for timeless glamor has cultivated expertise for creating pieces fit for the most discerning.
With him leading a team of 22 composed of designers, pattern makers, tailors, beaders, and embroiderers, the royal atelier creates up to five intricate pieces in a single day.  Of what may seem like a demanding profession, he shares: "I guess you simply have to love what you're doing. If you love it, you can overcome any difficulties that may come your way, and continue to do so for a long, long time. The best part is, we don't have to work on a budget – so creativity is endless".
As for his hopes for his fellow countrymen, he shares: "The Philippines has a lot of young, creative, and talented individuals. I want to share the learnings from my experiences to prepare aspiring designers for a career, and how to sustain one."
……………………….
Special thanks to our sponsors: Emirates Airline, Stars n Bars La Mer, Liali, Instax – Grandstores UAE, Dusit Thani Dubai, Gver – Your Friendly Marketplace for Sharing, Meeting Dancewear , MPQ, CMG, Filbrit, and our partners Rozen Antonio Photography,  Alex Callueng Photography, Jef Anog Photography, and Ethereal Photography.