Jun Ricaforte
Fashion Designer, King of the Abaya
Designer/entrepreneur Jun Ricaforte has brought diversity to the very competitive field of fashion design by being the premiere Filipino designer of abayas in the region. Through his brand, Dune Abaya, he has created classic and timeless pieces of refined elegance for many powerful women, including royalty in the Middle East. Being the most notable Filipino in the sector, Jun stands proudly knowing that he has penetrated a niche market and distinguishing himself from the rest.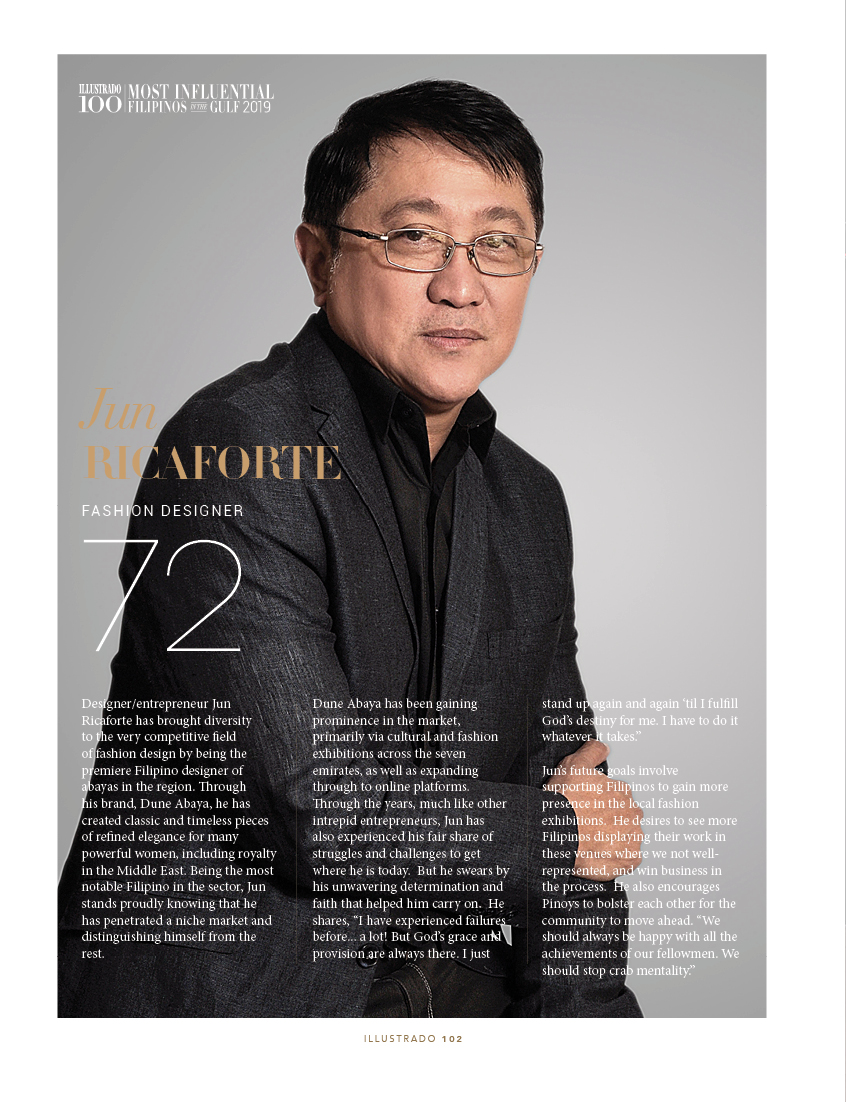 Dune Abaya has been gaining prominence in the market, primarily via cultural and fashion exhibitions across the seven emirates, as well as expanding through to online platforms. Through the years, much like other intrepid entrepreneurs, Jun has also experienced his fair share of struggles and challenges to get where he is today.  But he swears by his unwavering determination and faith that helped him carry on.  He shares, "I have experienced failures before… a lot! But God's grace and provision are always there. I just stand up again and again 'til I fulfill God's destiny for me. I have to do it whatever it takes."
Jun's future goals involve supporting Filipinos to gain more presence in the local fashion exhibitions.  He desires to see more Filipinos displaying their work in these venues where we not well-represented, and win business in the process.  He also encourages Pinoys to bolster each other for the community to move ahead. "We should always be happy with all the achievements of our fellowmen. We should stop crab mentality."
……………………….
Special thanks to our sponsors: Emirates Airline, Stars n Bars La Mer, Liali, Instax – Grandstores UAE, Dusit Thani Dubai, Gver – Your Friendly Marketplace for Sharing, Meeting Dancewear , MPQ, CMG, Filbrit, and our partners Rozen Antonio Photography,  Alex Callueng Photography, Jef Anog Photography, and Ethereal Photography.