Marlon Aquino Malinao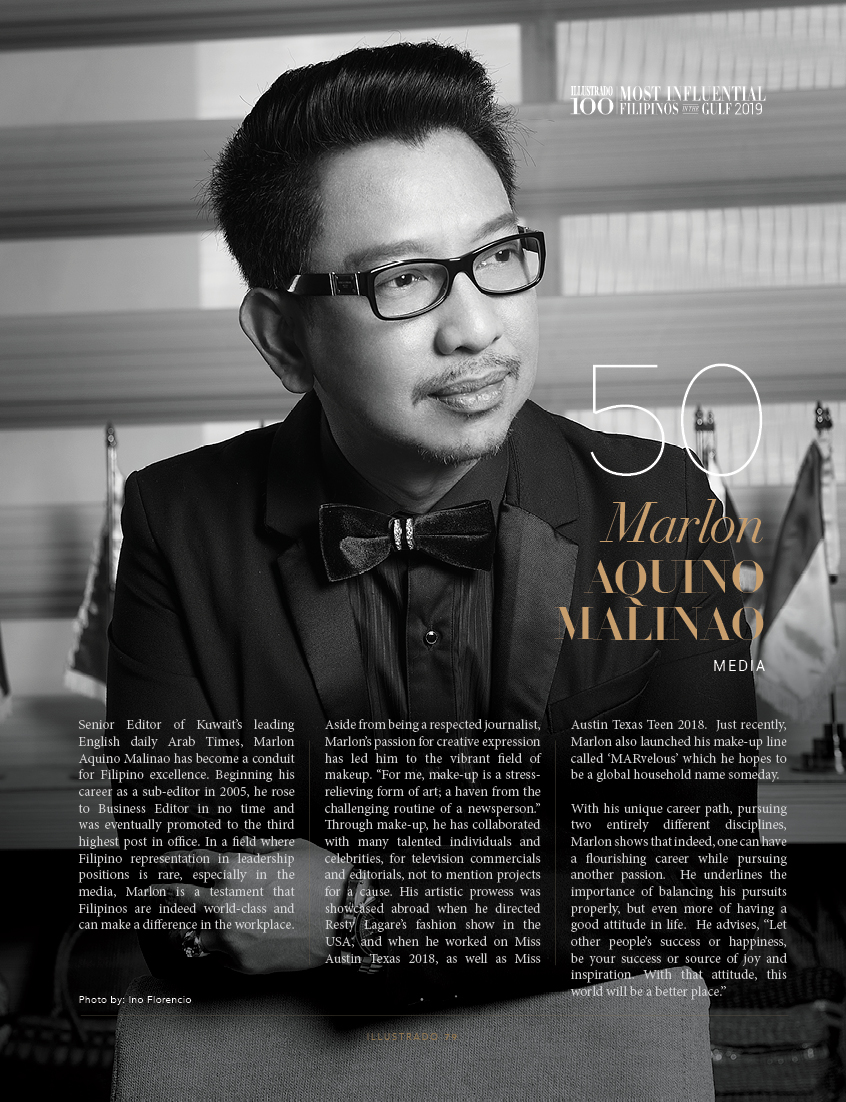 Senior Editor of Kuwait's leading English daily Arab Times, Marlon Aquino Malinao has become a conduit for Filipino excellence. Beginning his career as a sub-editor in 2005, he rose to Business Editor in no time and was eventually promoted to the third highest post in office. In a field where Filipino representation in leadership positions is rare, especially in the media, Marlon is a testament that Filipinos are indeed world-class and can make a difference in the workplace.
Aside from being a respected journalist, Marlon's passion for creative expression has led him to the vibrant field of makeup. "For me, make-up is a stress-relieving form of art; a haven from the challenging routine of a newsperson." Through make-up, he has collaborated with many talented individuals and celebrities, for television commercials and editorials, not to mention projects for a cause. His artistic prowess was showcased abroad when he directed Resty Lagare's fashion show in the USA, and when he worked on Miss Austin Texas 2018, as well as Miss Austin Texas Teen 2018.  Just recently, Marlon also launched his make-up line called 'MARvelous' which he hopes to be a global household name someday.
With his unique career path, pursuing two entirely different disciplines, Marlon shows that indeed, one can have a flourishing career while pursuing another passion.  He underlines the importance of balancing his pursuits properly, but even more of having a good attitude in life.
"Let other people's success or happiness, be your success or source of joy and inspiration. With that attitude, this world will be a better place."
……………………….
Special thanks to our sponsors: Emirates Airline, Stars n Bars La Mer, Liali, Instax – Grandstores UAE, Dusit Thani Dubai, Gver – Your Friendly Marketplace for Sharing, Meeting Dancewear , MPQ, CMG, Filbrit, and our partners Rozen Antonio Photography,  Alex Callueng Photography, Jef Anog Photography, and Ethereal Photography.