Mayet Malang Evans
 Entrepreneur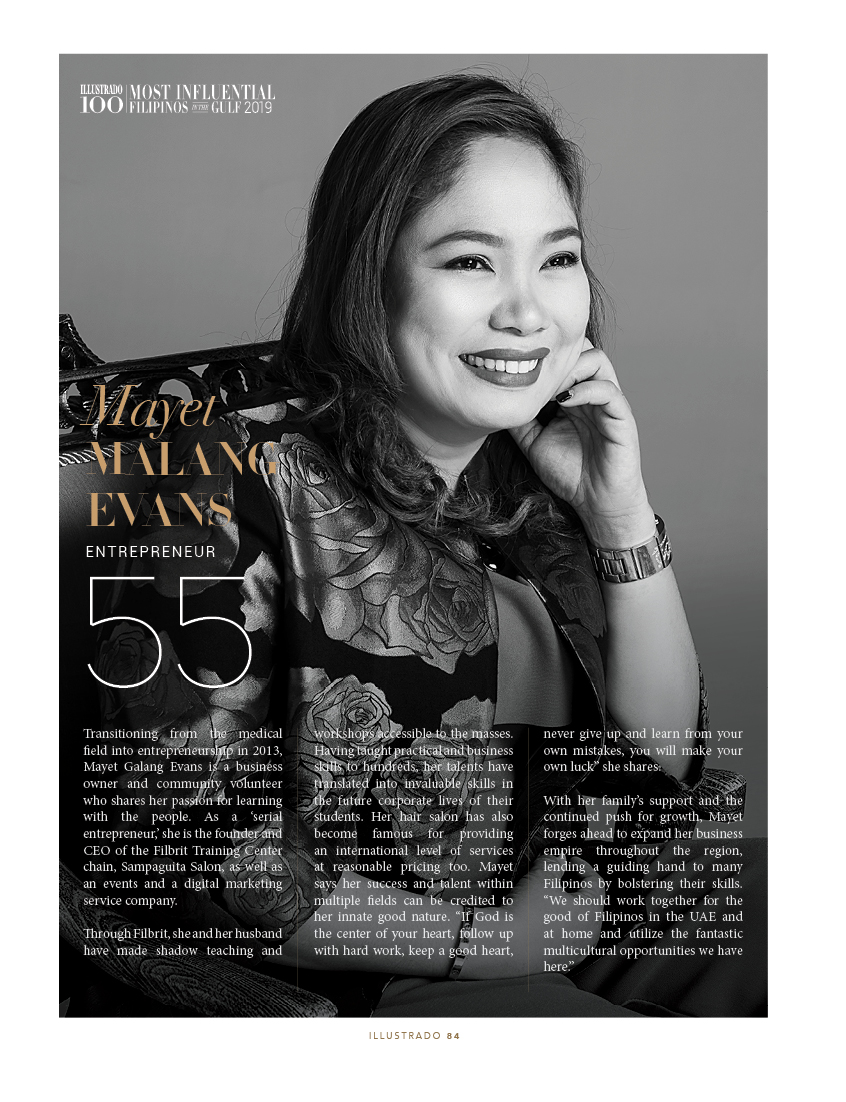 Transitioning from the medical field into entrepreneurship in 2013, Mayet Galang Evans is a business owner and community volunteer who shares her passion for learning with the people. As a 'serial entrepreneur,' she is the founder and CEO of the Filbrit Training Center chain, Sampaguita Salon, as well as an events and a digital marketing service company.
Through Filbrit, she and her husband have made shadow teaching and workshops accessible to the masses. Having taught practical and business skills to hundreds, her talents have translated into invaluable skills in the future corporate lives of their students. Her hair salon has also become famous for providing an international level of services at reasonable pricing too. Mayet says her success and talent within multiple fields can be credited to her innate good nature. "If God is the center of your heart, follow up with hard work, keep a good heart, never give up and learn from your own mistakes, you will make your own luck" she shares.
With her family's support and the continued push for growth, Mayet forges ahead to expand her business empire throughout the region, lending a guiding hand to many Filipinos by bolstering their skills. "We should work together for the good of Filipinos in the UAE and at home and utilize the fantastic multicultural opportunities we have here."
……………………….
Special thanks to our sponsors: Emirates Airline, Stars n Bars La Mer, Liali, Instax – Grandstores UAE, Dusit Thani Dubai, Gver – Your Friendly Marketplace for Sharing, Meeting Dancewear , MPQ, CMG, Filbrit, and our partners Rozen Antonio Photography,  Alex Callueng Photography, Jef Anog Photography, and Ethereal Photography.