Thoughtleader – Agness Stott Briggs
Real Estate Expert & Image Consultant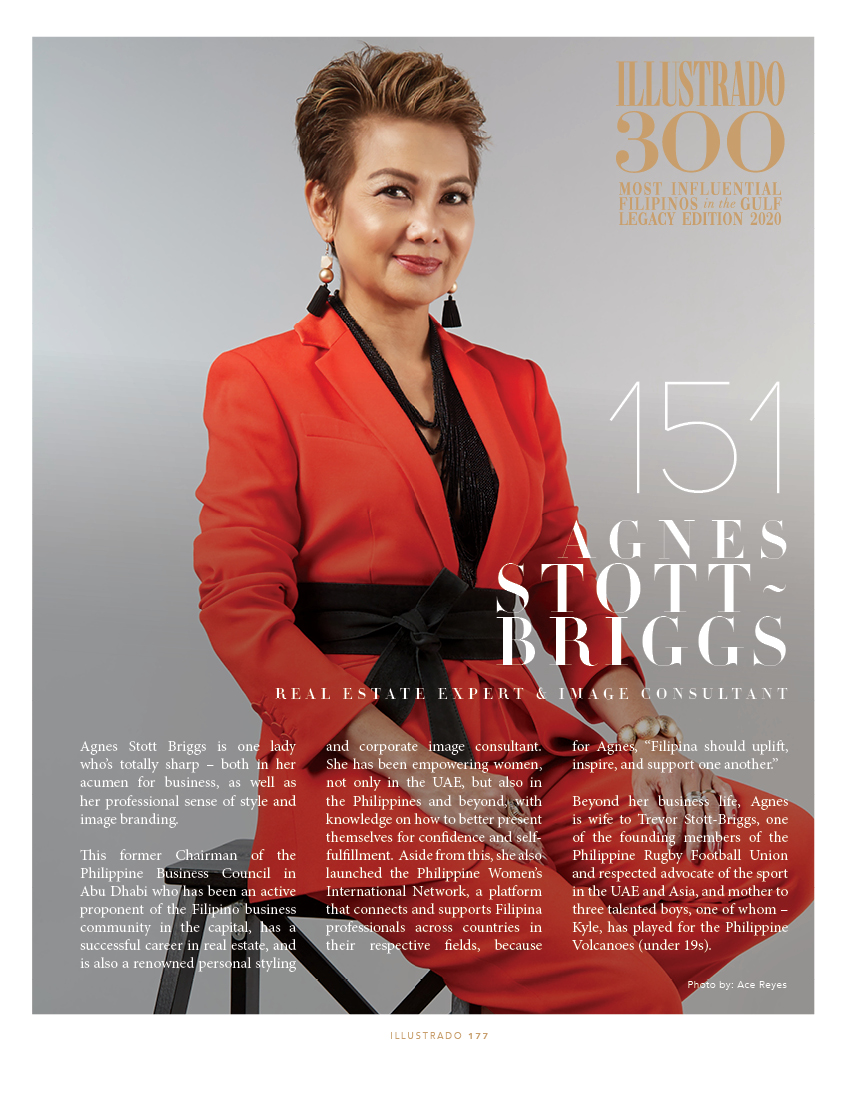 Agnes Stott Briggs is one lady who's totally sharp – both in her acumen for business, as well as her professional sense of style and image branding.
This former Chairman of the Philippine Business Council in Abu Dhabi who has been an active proponent of the Filipino business community in the capital, has a successful career in real estate, and is also a renowned personal styling and corporate image consultant.  She has been empowering women, not only in the UAE, but also in the Philippines and beyond, with knowledge on how to better present themselves for confidence and self-fulfillment.  Aside from this, she also launched the Philippine Women's International Network, a platform that connects and supports Filipina professionals across countries in their respective fields, because for Agnes, "Filipina should uplift, inspire, and support one another."
Beyond her business life, Agnes is wife to Trevor Stott-Briggs, one of the founding members of the Philippine Rugby Football Union and respected advocate of the sport in the UAE and Asia, and mother to three talented boys, one of whom – Kyle, has played for the Philippine Volcanoes (under 19s).
Illustrado 300 Most Influential Filipinos in the Gulf is Supported by: Kaya Skin Clinic,  Emirates Airline, and Unilever.
Special Thanks to Michael Cinco, Ezra Couture , Giordano, Darcey Flowers, IKON Solutions, Victors Freight, MPQ Tourism, Asia Gulf Companies –La Carne & Filfood, WOL Water
Get a copy of Illustrado 300 Most Influential Filipinos in the Gulf Legacy Edition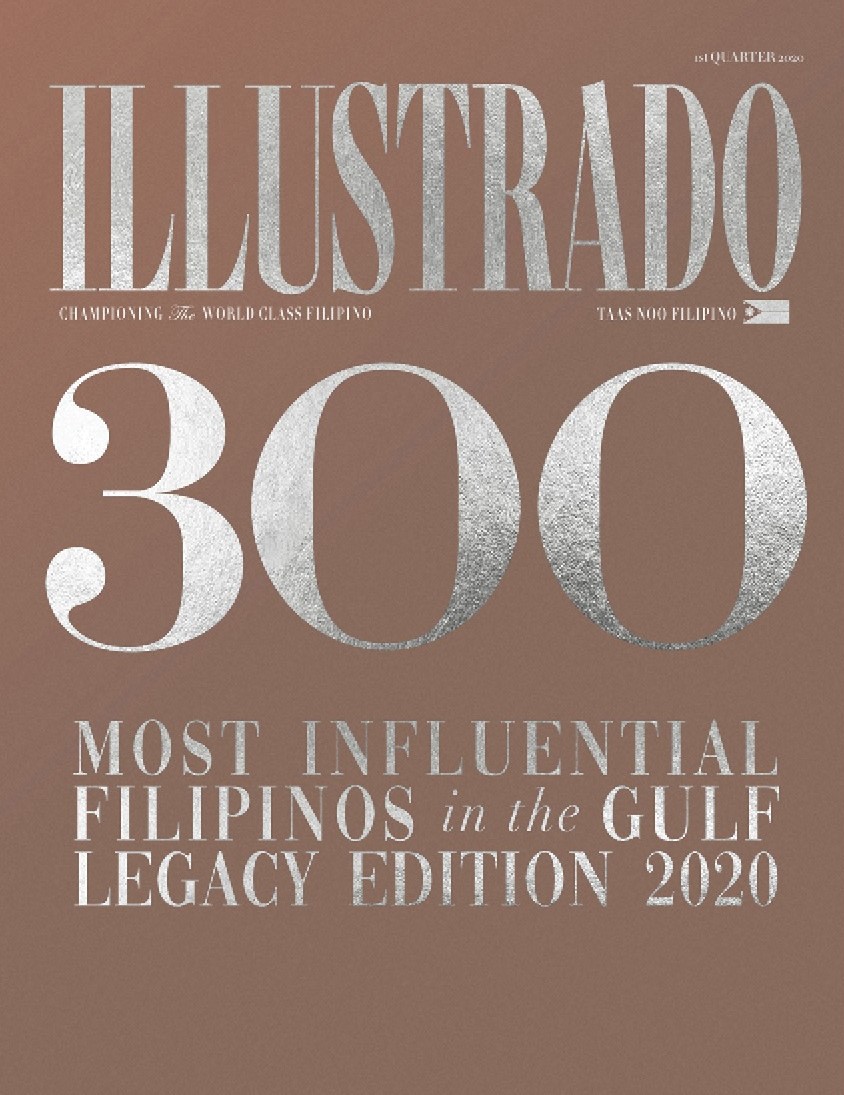 The Briggs Family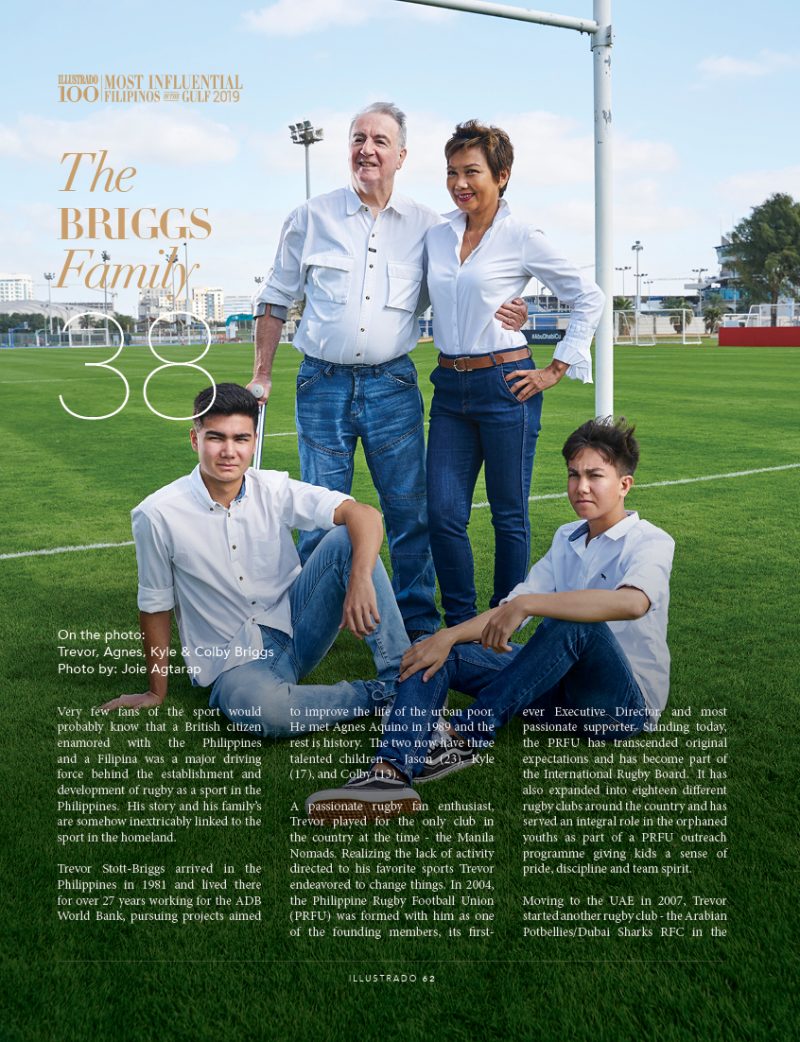 Very few fans of the sport would probably know that a British citizen enamored with the Philippines and a Filipina was a major driving force behind the establishment and development of rugby as a sport in the Philippines.  His story and his family's are somehow inextricably linked to the sport in the homeland.
Trevor Stott-Briggs arrived in the Philippines in 1981 and lived there for over 27 years working for the ADB World Bank, pursuing projects aimed to improve the life of the urban poor.  He met Agnes Aquino in 1989 and the rest is history.  The two now have three talented children – Jason (23), Kyle (17), and Colby (13).
A passionate rugby fan enthusiast, Trevor played for the only club in the country at the time – the Manila Nomads. Realizing the lack of activity directed to his favorite sports Trevor endeavored to change things. In 2004, the Philippine Rugby Football Union (PRFU) was formed with him as one of the founding members, its first-ever Executive Director, and most passionate supporter. Standing today, the PRFU has transcended original expectations and has become part of the International Rugby Board.  It has also expanded into eighteen different rugby clubs around the country and has served an integral role in the orphaned youths as part of a PRFU outreach programme giving kids a sense of pride, discipline and team spirit.
Moving to the UAE in 2007, Trevor started another rugby club – the Arabian Potbellies/Dubai Sharks RFC in the Emirates.  But life for Trevor and his family changed in the blink of an eye in 2011.  An accident while playing broke Trevor's neck rendering him a paralyzed quadriplegic.  His wife Agnes – real estate broker, image consultant and former Chairman of the Philippine Business Council in Abu Dhabi, had to stand as the family's primary support system and its symbol of strength, despite the hardships.
Still, being an optimistic family, the Stott-Briggs' managed to conquer what others are unable to. Trevor says, "It's the distinctly Filipino TLC that helped me get back on my feet."  Now he walks with crutches, drives, and works. He even published a book called 'TSB: Confessions of an Ex-Hooker (aged 66 and a half) AKA Don't Stop Believing', about having faith in oneself and your body's ability to recover.  Never giving up on their passion, the family also returned to their love of rugby, starting up mixed-touch rugby in Ruwais where they now live and where Trevor coaches.
Somehow, life came full circle in 2018.  Amazingly, a number of the kids who have come under Trevor's coaching have moved on to join national teams.  Most significantly, their son Kyle, who shares the love of the sport with his father, has been selected to play for the Under 19s Philippines Volcanoes squad.  Kyle has joined the team in November for the Division 1, Asian Championship – significantly being part of the team and the movement his father helped build.
Ultimately proud and fulfilled, the Stott-Briggs family looks back to their past and their future, where it seems Trevor's legacy and their divine link to the sport of rugby in the Philippines, will continue on.
……………………….
Special thanks to our sponsors: Emirates Airline, Stars n Bars La Mer, Liali, Instax – Grandstores UAE, Dusit Thani Dubai, Gver – Your Friendly Marketplace for Sharing, Meeting Dancewear , MPQ, CMG, Filbrit, and our partners Rozen Antonio Photography,  Alex Callueng Photography, Jef Anog Photography, and Ethereal Photography.