Philippine fashion veteran CHRISTIAN DE LEON ESPIRITU gives us a seasoned review of Filipino designer ALBERT ANDRADA's show at the Philippine Fashion Week Spring Summer 2012 Grand Allure.
ALBERT ANDRADA'S UNDYING MAGIC
A couple of days after the eight day non-stop unveiling of fashion collections at the Philippine Fashion Week Spring Summer 2012 came to a halt, the die-hard fashionistas are presently comparing and sharing notes cum personal observations. Some go the length of passing on judgments such as who had the tackiest collection, or to their prejudiced mind exhibited the best.
Some base their judgments on which collection gathered the loudest bravo and brava tossed by fashion near-addicts who left the comforts of their homes so as not to miss the eagerly awaited miracles taking place on the fashion runways.
Albert Andrada is classified by many as one of the princes of Dubai fashion, hand-in-hand with the other bright fashion star, Michael Cinco. For PFW SS2012, the duo was joined by the fair Ezra Santos, likewise a name to reckon with in that abounding city in the world today.
GRAND ALLURE was the third outing of visiting Albert Andrada in the latest Philippine Fashion Week. Both his first and second foray was met with generous applause and wild whistles from his stunned audiences.
In the most recent PFW's Grand Allure, his loyal fans behaved differently. When his initial teasers materialized on the ramp there was near stillness and silence among the spectators.
This occurrence can easily lead his detractors to bitch and conclude accusingly that the Andrada magic is no more! The clueless can easily be swayed by this unfair conclusion. Yet, ten thousand people with such opinion can all be wrong!
When this erstwhile fashion person was still in the grove of putting up fashion collections, I welcomed such near silence during my shows. The late Elvira Manahan, Chona Kasten and their gang mate Ramon Valera were the ones who enlightened me that when the audience is quiet it is a sign that they are so engrossed and smitten by the beauty and elegance of one's collection. That is what they then told me, anyway.
The latest Andrada body of work was inspired by an ingenious theme. Hiawatha, Pocahontas are embodied in Albert's Grand Allure Collection. There are so many arresting details fiercely led by the American eagle emblazoned on his signature outfit on Ria Bolivar – his piece de resistance.
Kilometric silken fringes inventively draped on the shoulders of his lovely models are guaranteed to take anyone's breath away. In a very harmonious mode, the intricate filigree work floating on the skin toned basic tulle gowns can gladden even the most stoic members of the crowd that blessed Sunday afternoon.
 Albert, believe your Maestro.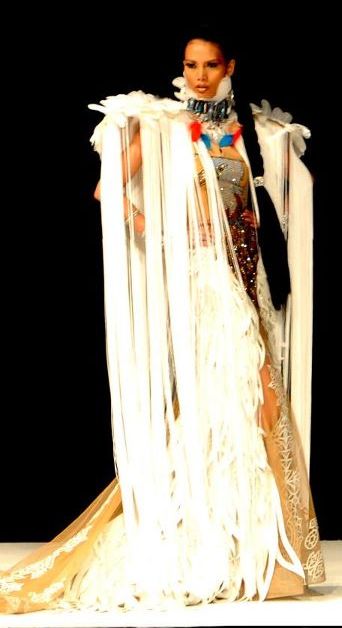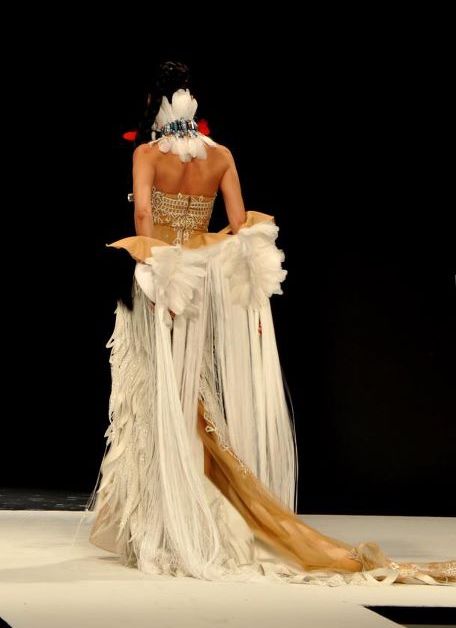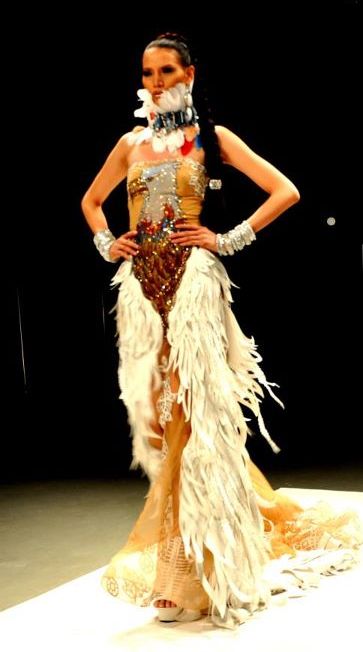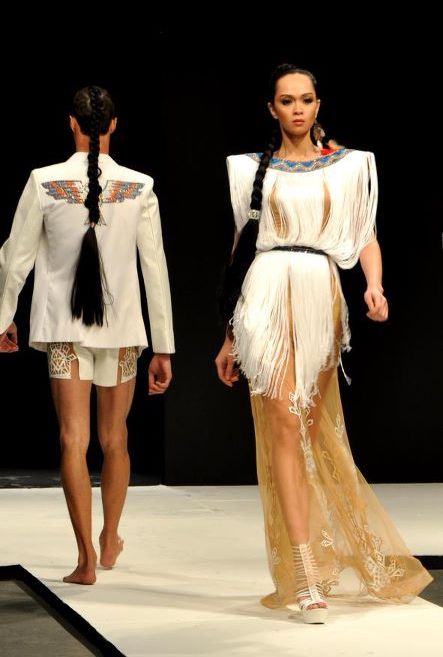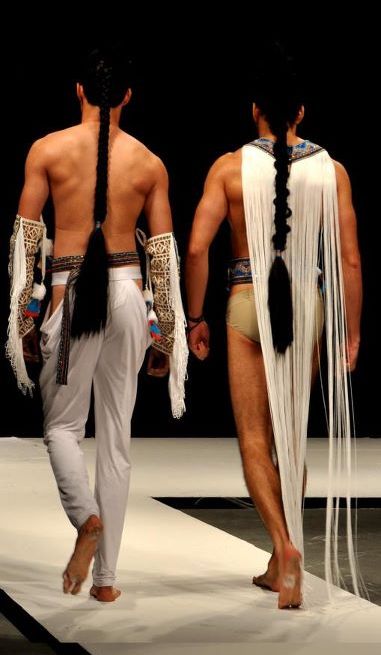 Photos courtesy of Christian De Leon Espiritu