Tastemaker – Alberto Opena
Mixologist and Entrepreneur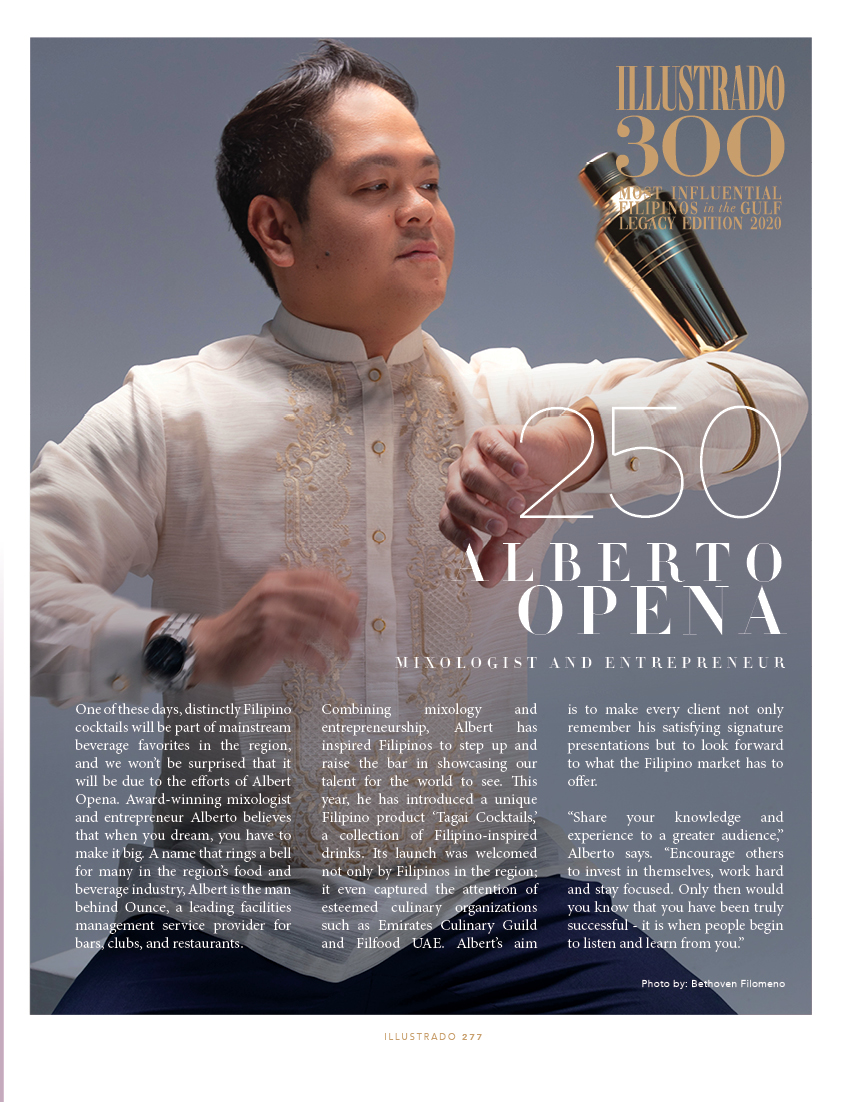 One of these days, distinctly Filipino cocktails will be part of mainstream beverage favorites in the region, and we won't be surprised that it will be due to the efforts of Albert Opena. Award-winning mixologist and entrepreneur Alberto believes that when you dream, you have to make it big. A name that rings a bell for many in the region's food and beverage industry, Albert is the man behind Ounce, a leading facilities management service provider for bars, clubs, and restaurants.
Combining mixology and entrepreneurship, Albert has inspired Filipinos to step up and raise the bar in showcasing our talent for the world to see. This year, he has introduced a unique Filipino product 'Tagai Cocktails,' a collection of Filipino-inspired drinks. Its launch was welcomed not only by Filipinos in the region; it even captured the attention of esteemed culinary organizations such as Emirates Culinary Guild and Filfood UAE. Albert's aim is to make every client not only remember his satisfying signature presentations but to look forward to what the Filipino market has to offer.
"Share your knowledge and experience to a greater audience," Alberto says. "Encourage others to invest in themselves, work hard and stay focused. Only then would you know that you have been truly successful – it is when people begin to listen and learn from you."
Illustrado 300 Most Influential Filipinos in the Gulf is Supported by: Kaya Skin Clinic,  Emirates Airline, and Unilever.
Special Thanks to Michael Cinco, Ezra Couture , Giordano, Darcey Flowers, IKON Solutions, Victors Freight, MPQ Tourism, Asia Gulf Companies –La Carne & Filfood, WOL Water
Get a copy of Illustrado 300 Most Influential Filipinos in the Gulf Legacy Edition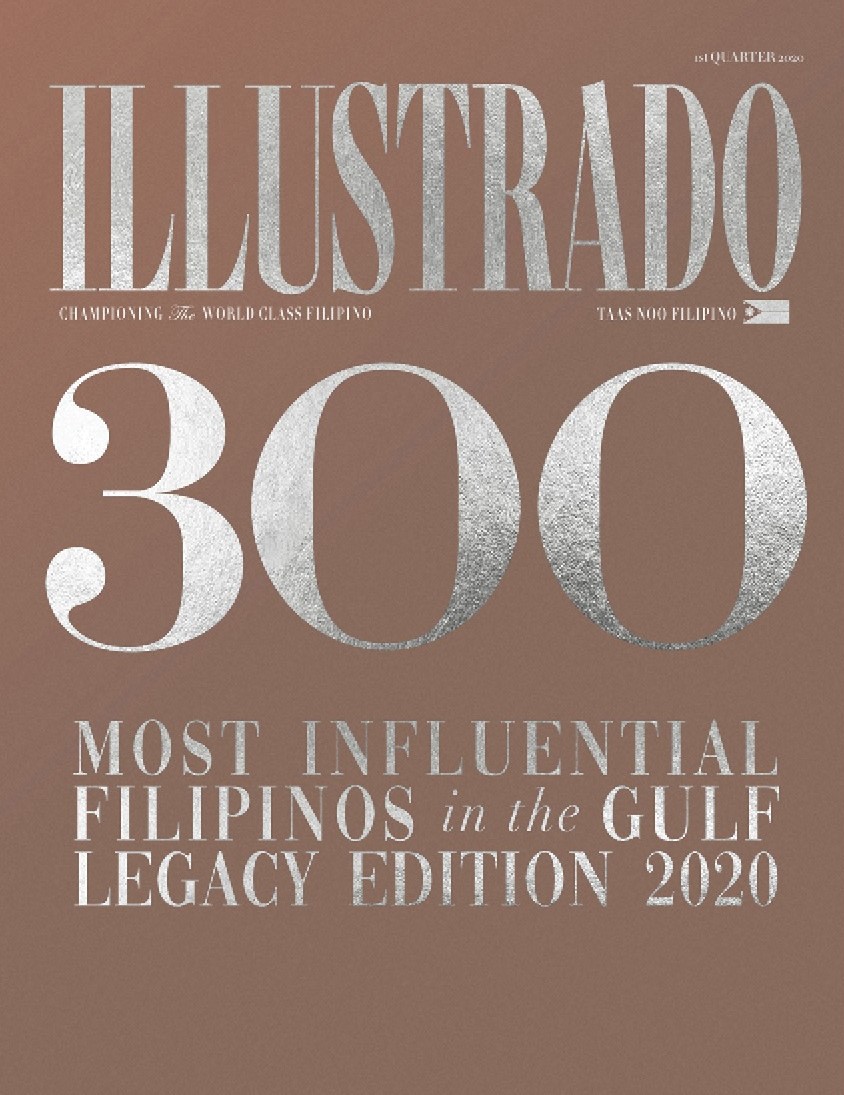 Alberto Opena – Ounce Oz
Mixologist and Entrepreneur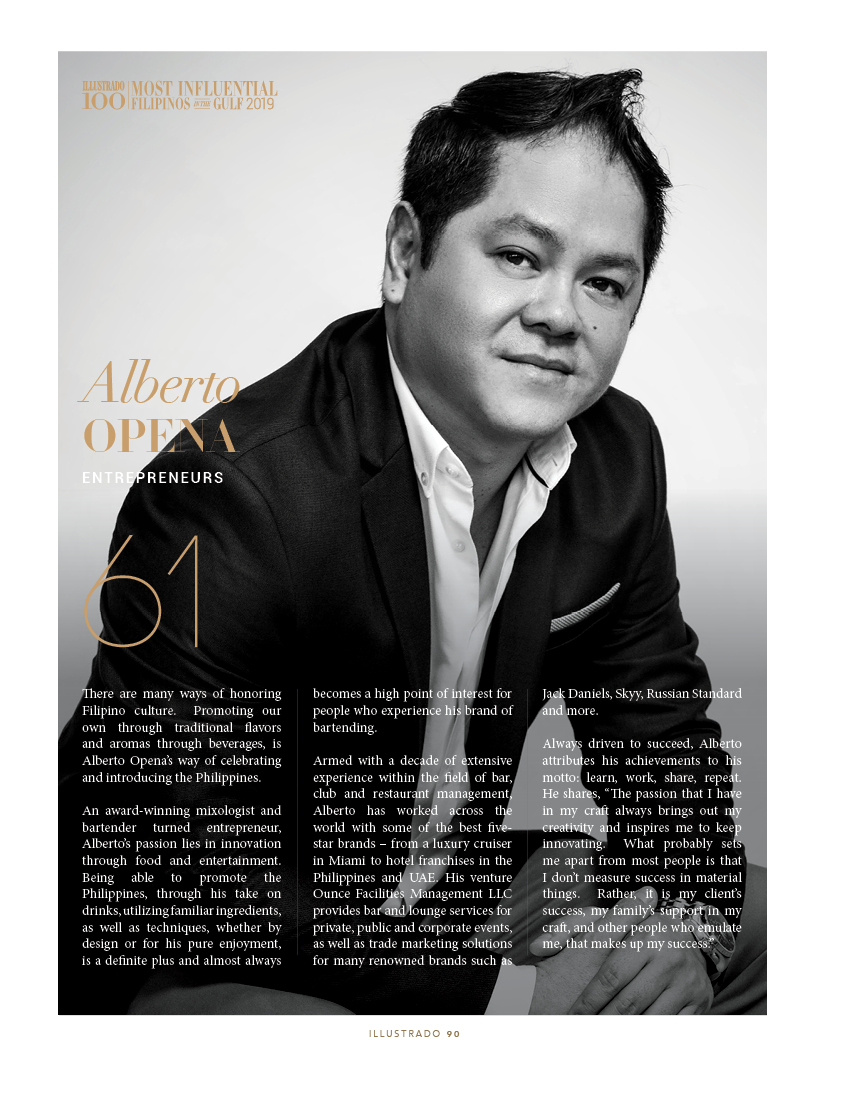 There are many ways of honoring Filipino culture.  Promoting our own through traditional flavors and aromas through beverages, is Alberto Opena's way of celebrating and introducing the Philippines.
An award-winning mixologist and bartender turned entrepreneur, Alberto's passion lies in innovation through food and entertainment.  Being able to promote the Philippines, through his take on drinks, utilizing familiar ingredients, as well as techniques, whether by design or for his pure enjoyment, is a definite plus and almost always becomes a high point of interest for people who experience his brand of bartending.
Armed with a decade of extensive experience within the field of bar, club and restaurant management, Alberto has worked across the world with some of the best five-star brands – from a luxury cruiser in Miami to hotel franchises in the Philippines and UAE. His venture Ounce Facilities Management LLC provides bar and lounge services for private, public and corporate events, as well as trade marketing solutions for many renowned brands such as Jack Daniels, Skyy, Russian Standard and more.
Always driven to succeed, Alberto attributes his achievements to his motto: learn, work, share, repeat.   He shares, "The passion that I have in my craft always brings out my creativity and inspires me to keep innovating.  What probably sets me apart from most people is that I don't measure success in material things.  Rather, it is my client's success, my family's support in my craft, and other people who emulate me, that makes up my success."
……………………….
Special thanks to our sponsors: Emirates Airline, Stars n Bars La Mer, Liali, Instax – Grandstores UAE, Dusit Thani Dubai, Gver – Your Friendly Marketplace for Sharing, Meeting Dancewear , MPQ, CMG, Filbrit, and our partners Rozen Antonio Photography,  Alex Callueng Photography, Jef Anog Photography, and Ethereal Photography.