Tastemaker – Alex Callueng
Fashion Photographer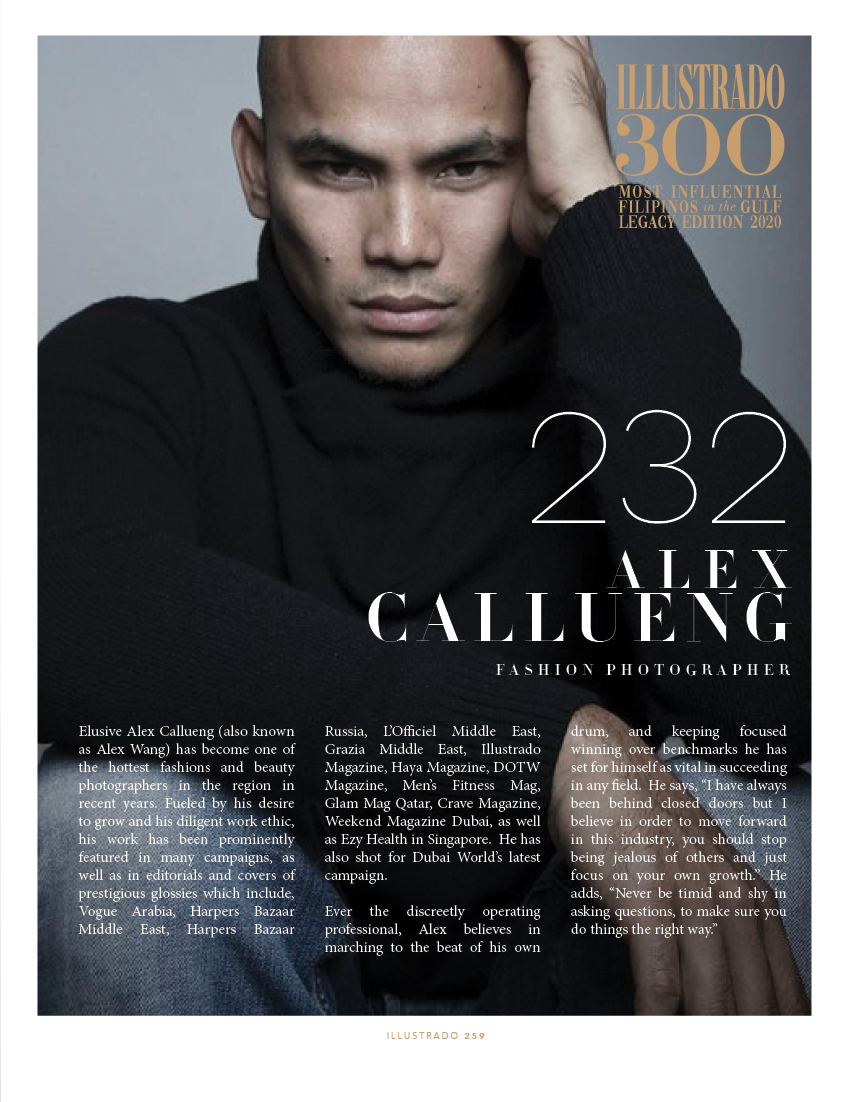 Elusive Alex Callueng (also known as Alex Wang) has become one of the hottest fashions and beauty photographers in the region in recent years. Fueled by his desire to grow and his diligent work ethic, his work has been prominently featured in many campaigns, as well as in editorials and cover of prestigious glossies which include, Vogue Arabia, Harpers Bazaar Middle East, Harpers Bazaar Russia, L'Officiel Middle East, Grazia Middle East, Illustrado Magazine, Haya Magazine, DOTW Magazine, Men's Fitness Mag, Glam Mag Qatar, Crave Magazine, Weekend Magazine Dubai, as well as Ezy Health in Singapore.  He has also shot for Dubai World's latest campaign.
Ever the discreetly operating professional, Alex believes in marching to the beat of his own drum, and keeping focused winning over benchmarks he has set for himself as vital in succeeding in any field.  He says, "I have always been behind closed doors but I believe in order to move forward in this industry, you should stop being jealous of others and just focus on your own growth." He adds, "Never be timid and shy in asking questions, to make sure you do things the right way."
Illustrado 300 Most Influential Filipinos in the Gulf is Supported by: Kaya Skin Clinic,  Emirates Airline, and Unilever.
Special Thanks to Michael Cinco, Ezra Couture , Giordano, Darcey Flowers, IKON Solutions, Victors Freight, MPQ Tourism, Asia Gulf Companies –La Carne & Filfood, WOL Water
Get a copy of Illustrado 300 Most Influential Filipinos in the Gulf Legacy Edition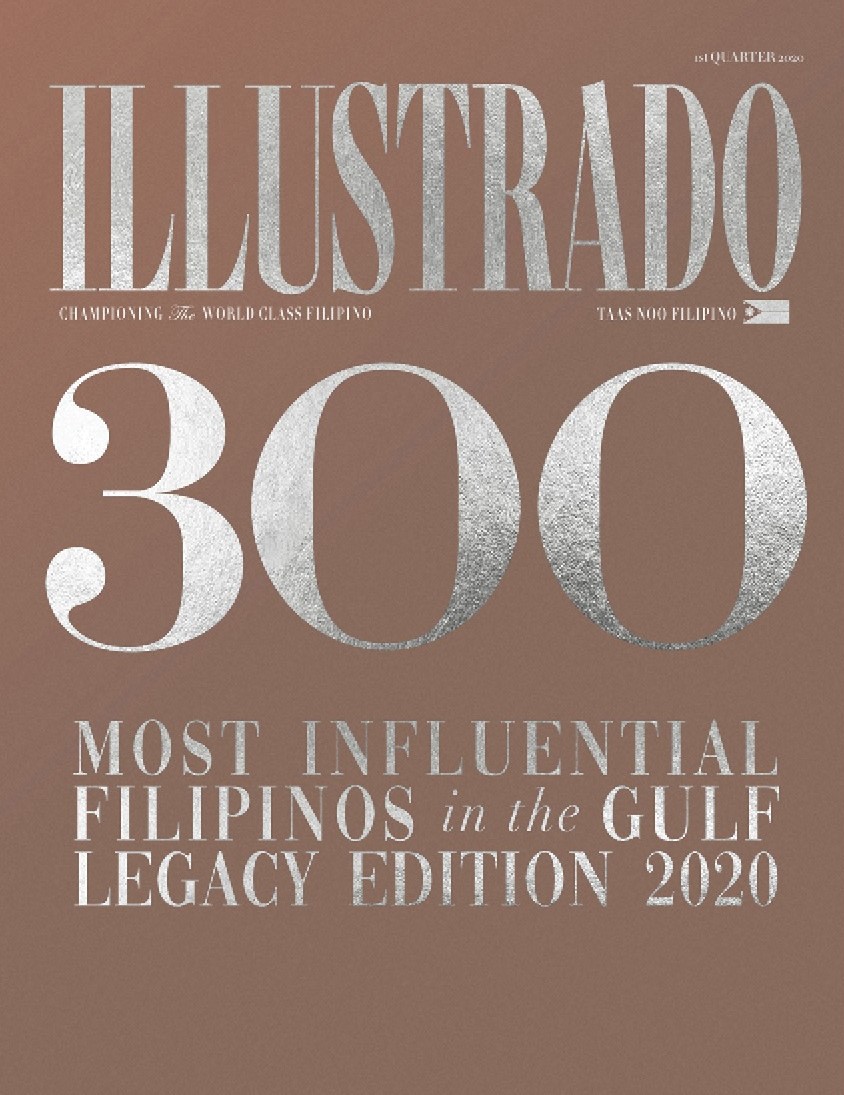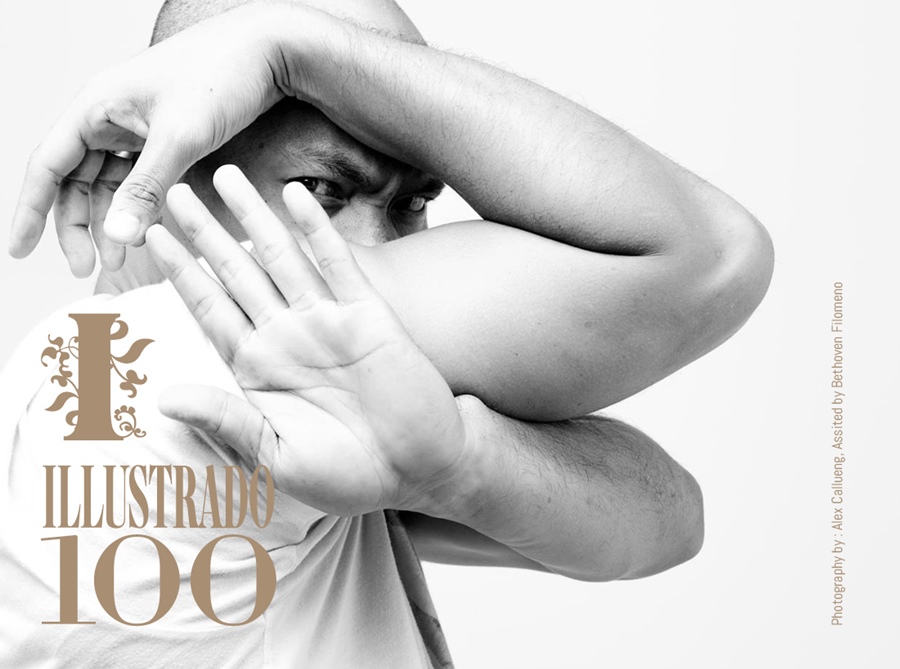 ALEX CALLUENG
Photographer
Models transitioning to photography has become a popular career shift, but not everyone has done it with the same level of success as Alex. Asked about how he has navigated the shift, he simply says, " I've become good at photography by doing it religiously and continuously. I don't stop. I never stop. And I don't take no for an answer." In just a few years, Alex has transformed from a sought-after international model into one of the region's most prolific Filipino fashion and commercial photographers. His secret: "Don't be onion-skinned. In this type of industry, you need to be able to stand up for your aesthetics, whilst staying open to constructive critique."
Photo by Alex Callueng; Photography Assistant – Bethoven Filomeno Special thanks to – Giordano, Nikon, Liali Jewellery, Lulu, Mitsubishi and Western Union.