Alpha Media Productions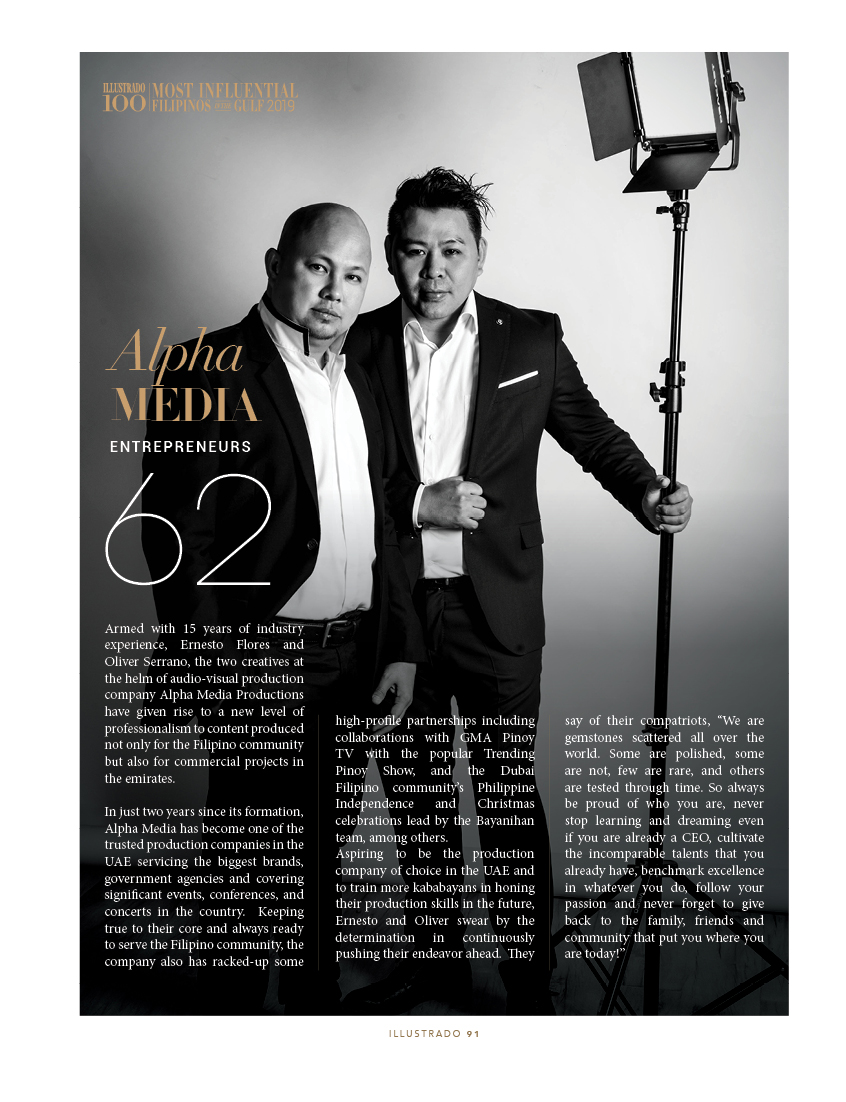 Armed with 15 years of industry experience, Ernesto Flores and Oliver Serrano, the two creatives at the helm of audio-visual production company Alpha Media Productions have given rise to a new level of professionalism to content produced not only for the Filipino community but also for commercial projects in the emirates.
In just two years since its formation, Alpha Media has become one of the trusted production companies in the UAE servicing the biggest brands, government agencies and covering significant events, conferences, and concerts in the country.  Keeping true to their core and always ready to serve the Filipino community, the company also has racked-up some high-profile partnerships including collaborations with GMA Pinoy TV with the popular Trending Pinoy Show, and the Dubai Filipino community's Philippine Independence and Christmas celebrations lead by the Bayanihan team, among others.
Aspiring to be the production company of choice in the UAE and to train more kababayans in honing their production skills in the future, Ernesto and Oliver swear by the determination in continuously pushing their endeavor ahead.  They say of their compatriots, "We are gemstones scattered all over the world. Some are polished, some are not, few are rare, and others are tested through time. So always be proud of who you are, never stop learning and dreaming even if you are already a CEO, cultivate the incomparable talents that you already have, benchmark excellence in whatever you do, follow your passion and never forget to give back to the family, friends and community that put you where you are today!"
……………………….
Special thanks to our sponsors: Emirates Airline, Stars n Bars La Mer, Liali, Instax – Grandstores UAE, Dusit Thani Dubai, Gver – Your Friendly Marketplace for Sharing, Meeting Dancewear , MPQ, CMG, Filbrit, and our partners Rozen Antonio Photography,  Alex Callueng Photography, Jef Anog Photography, and Ethereal Photography.