Ginny Guanco
Visual Artist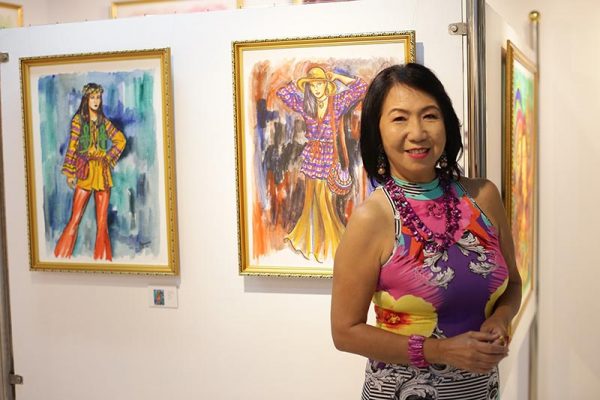 My Art
I believe that each person has a mission in life. Each individual has a calling to do something productive in life and spread that message to the world and even be an agent of change in her own little way. As human beings, many of us tend to just look at the big picture immediately without seeing value in the small things. I value small things a lot. It is through a small seed that a big tree is produced. Nothing happens overnight. It takes time, it takes dedication, it takes commitment for goals to be achieved.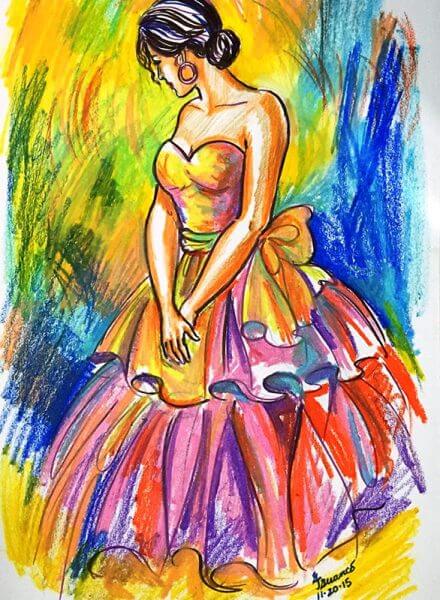 I have always been drawing since childhood. This passion continued throughout my growing up years, and on thru high school, and eventually to college where I took up Fine Arts. After college, I still pursued advanced studies in Watercolor, Drawing and Painting in Washington D.C. This was in the 70's.
My Process
First of all, I think of what subject I want to create. Will it be a still life composition of inanimate objects? Will it be a woman's face? Will it be an abstract piece? Then I research – especially if it's intended for a show or if it's a commissioned work. But if these are just studies to further hone my craft, then I just go directly to my sketchpad. Aside from personal research, I do a lot of observation: people's expressions, tiny rays of colors that form on a piece of rock, a chunk of driftwood in our backyard, etc. Inspiration is a natural thing for me. I do not have to wait to be inspired. I do not have to wait if I'm in the mood. I just let it flow out of my heart. Love should always be the motivating factor.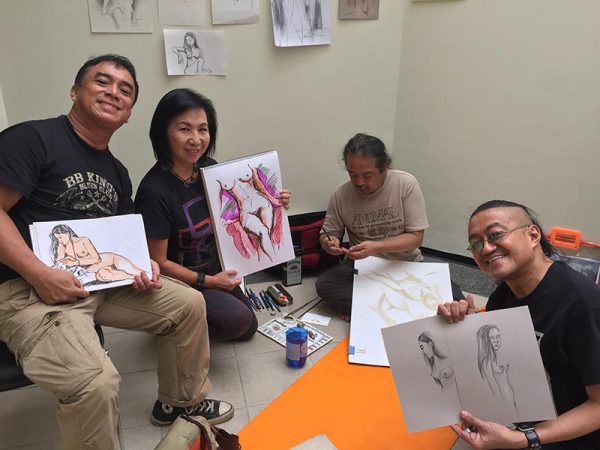 My Journey Thus Far
After all the education I received in Art, I did get to use it in two teaching jobs, and in our church ministry as a Visual Artist and also in a multi-media outfit. But somewhere along the journey, I got segued into two different careers, one after the after. One was in media, the 2nd one in PR. So for a hiatus of 15 long years from 1997 – 2012, I totally stopped drawing! In fact I was already beginning to lose confidence in myself and was scared to even hold a brush. It took the passing of one of my pet cats, Simba, to stir up that dormant spirit in me, to wake me up to my artistic senses once more, to allow this sad situation be turned into a fresh, new opportunity. I grabbed the nearest sketchpad and some coloring pencils and started drawing again. I took a shot of it and posted the image in my Facebook timeline. It garnered so many likes that my morale was boosted. Then I did a 2nd artwork, and a 3rd one, and I never stopped since. My love for art was restored, refueled by a passion I can't explain.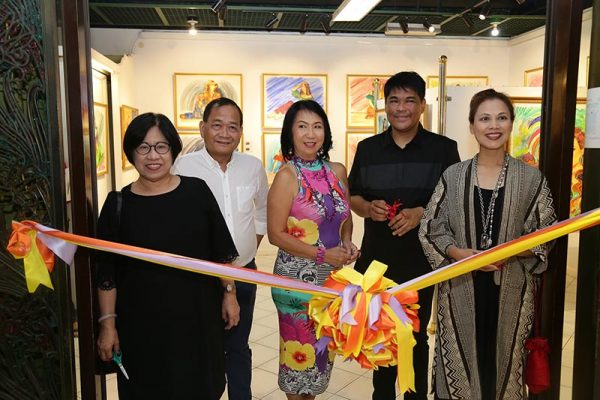 I just concluded my first One Woman Show in September of 2016. The theme was, "Boho Chic," because of my love for bohemian and hippie fashion. With my knowledge and background in both the Fine Arts and Fashion Illustration, I mixed these two entirely different disciplines together and came up with the concept of an all-women collection, with 26 females clad in bohemian fashion, and a style that is a fusion of art and fashion. These 26 females were each named after the elements. Names synonymous to earth, the environment or nature. The titles of the paintings were named after the 26 letters of the alphabet. I had Aura, Blaze, Storm, Tulip, Willow and others.
Moving forward…
In my mind, I have many different plans but have not really sat down to study the market yet. In a world where commercialism thrives, art can pose a lot of challenges. But I really want people to be educated. To see the art industry as a vital part of life. That it is not just some person's "hobby." That it should be given the recognition it deserves and not just be a poor cousin of some other profession.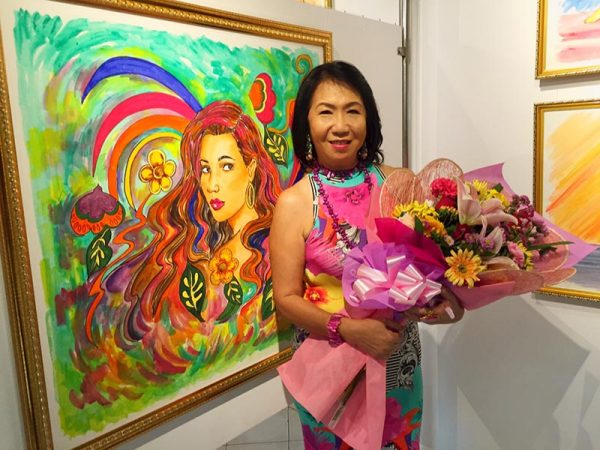 My advice to my fellow artists
There is no end to learning. There is no limit to fulfilling one's dreams. No matter how young or old a person is, if he sets his mind and heart in achieving his goals and never give up hoping, he will see his dream come true. So I really want to encourage people who are on the verge of giving up in pursuing their dreams… DON'T!!!